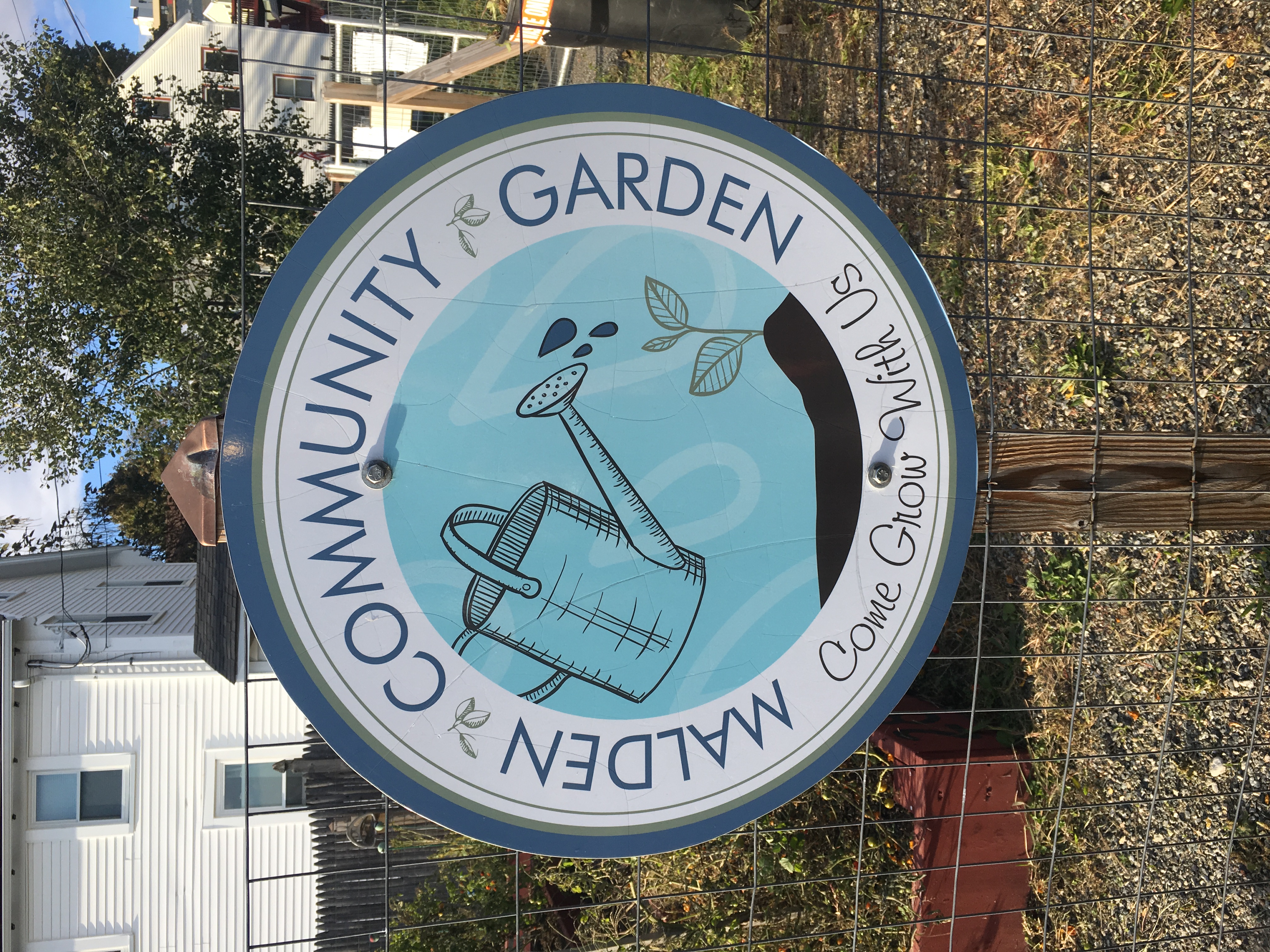 Malden's Community Garden, had their very first "Haunted Garden" event this year. It is located on the bike path, and the event took place on Saturday, October 20th, in celebration of Halloween.
Julia Mangan has now been running the garden for the past four years. Mangan explains that "the Community Garden Development Project, is sponsored by the Mayor's Office, Ward 5 Councilor Barbara Murphy, Malden Redevelopment Authority (MRA), Groundwork Somerville, Bike to the Sea Inc., and supported in part by a grant from the Malden Cultural Council-- a local agency. This project is also funded in part by the U.S. Department of Housing and Urban Development (HUD) Community Development Block Grant program. Additional funding has also been made by Keurig Coffee and Seeds of Change and Project Management was provided by Groundwork Somerville Project Manager, Clay Larsen."
The Community Garden has brought many families closer together and it was with the help from these organizations and people, that made it all possible. "The community garden has created a personal "heaven" for [her and her family].  It has given [her] a large green space to enjoy and care for, that gives [her] such a warm feeling in [her] heart and soul. In addition, the ability to share information and teach children, teens, and even other gardeners, about gardening and about different ways to spend time in the garden, has brought [her] such happiness."
It has not only benefited her and her family, but has also helped bring people together "by building friendships, sharing information, and the satisfaction of working together as a team to further thrive in gardening," says Mangan. She has many events throughout the year and it's safe to say that this year's "Haunted Garden," was a success. She expresses that she loved this event for the sole purpose of seeing "the smiling faces on the children as they have a wonderful time enjoying the garden that [she loves] so much."
The event included four different stations for kids to go- Face Painting, Pumpkin Decorating, Witch Hat Toss, and Wand Making. Kids also received candy and other treats for participating.
Junior Rodge-Neima Joseph, a Peer Leader from the YWCA TASK (Teen Advocates Sharing Knowledge) Program, took part in the event and thought it was "really nice even though it was kind of stressful." There were so many kids coming up to the Face Painting Station all at once, "but the parents looked so grateful and the kids were so happy afterwards that they would smile and that would just make [her] feel like such a good person."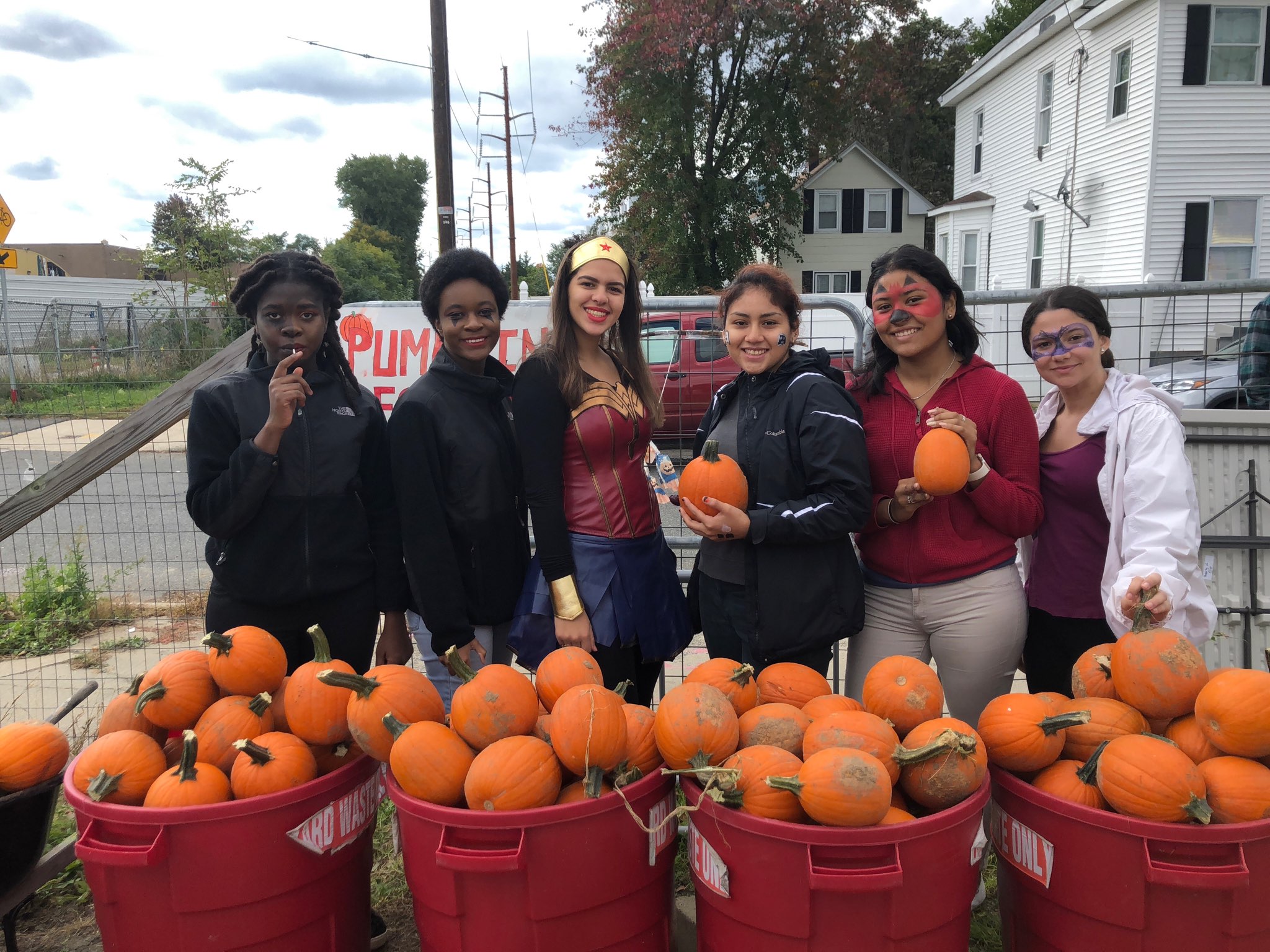 Joseph also mentions that she "loves" all the events that the community garden does because Mangan makes it so special. "She doesn't get paid for any of it. She does it out of the kindness of her heart and [Joseph is] so grateful for her."
Junior Emily Geer, another Peer Leader from the Program, also took part in the event and said that she thinks having The Community Garden and the events that take place there, are important because "it brings the community together. It gives people a place to grow healthy food and some people who can't get food, can get it from the community garden.
The Mass in Motion Coordinator and the YWCA TASK Advisor, Christina Murphy, said they thought it'd be nice to have the "Haunted Garden" event because "it was a nice way to celebrate halloween and bring people down to the bike path to get a look at the Community Garden."
Murphy believes that the Community Garden is filled with opportunities. She says "it gives people a chance to grow their own food and once they do that, they can eat more fresh fruits and vegetables." Murphy also says that the garden has "a summer youth employment program for kids and the YWCA girls have worked down here since the inception of the garden. It also has many events and people can learn gardening techniques."
The Community Garden has formed a safe and enjoyable place to be with your family and friends and Mangan hopes that "[we] have sent a message to the community of Malden that the garden is about sharing and caring for [our] fellow residents."
Check out the photo gallery posted last week here.