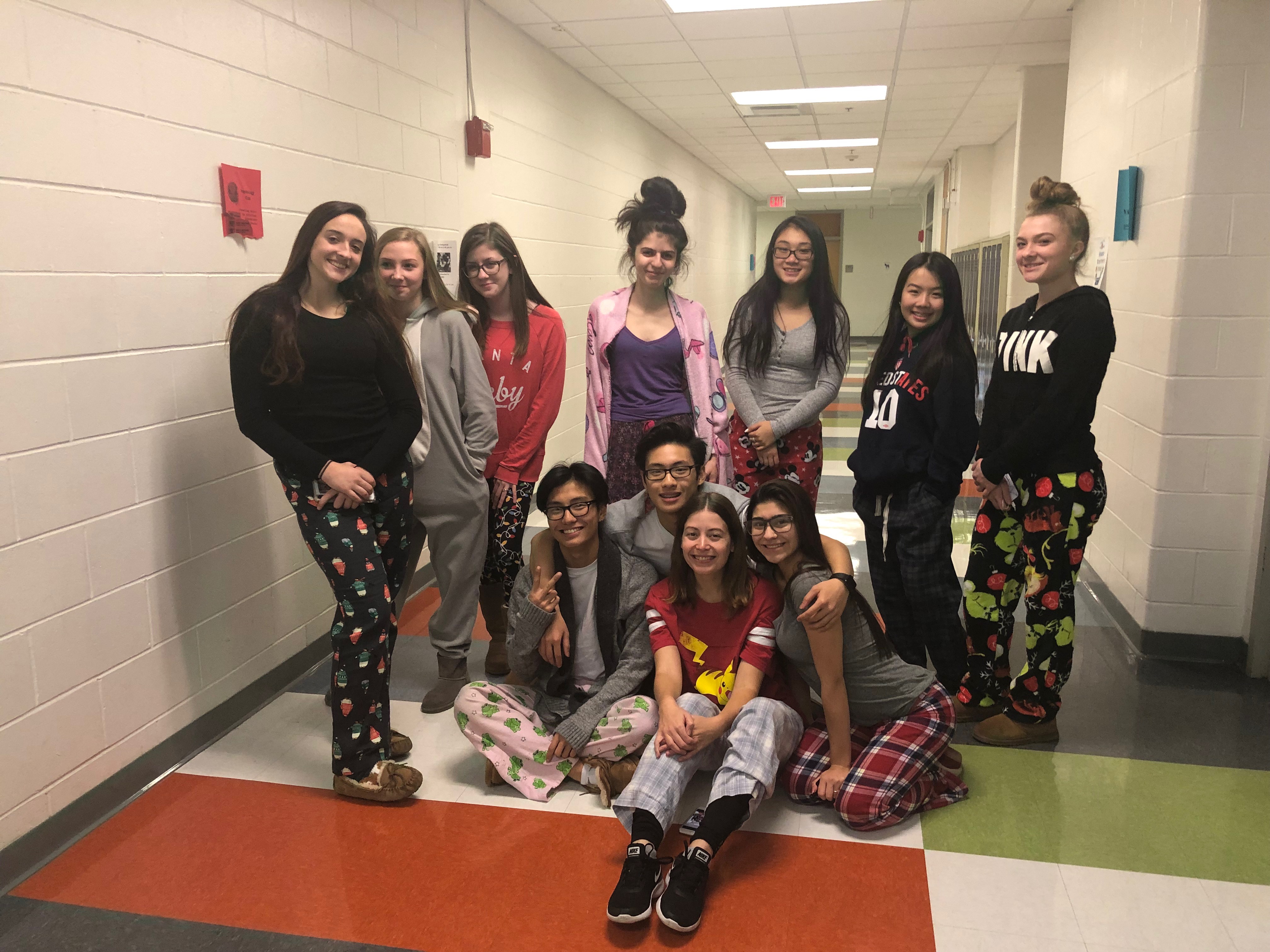 Spirit week 4: Adrienne D'Agostino's Italian 2 Honors class on Pajama Day. Photo by Julie Yu.
Spirit week prepared Malden High School students for the optimistic spirit they were going to encounter at pep rally.
This year the National Honors Society (NHS) came up with two new traditions: Twin Day and Meme Day. Paul Marques, the teacher who runs NHS, stated that the officers initially had the idea to have both Meme Day and Twin Day and met with principal, Chris Mastrangelo, to get the new traditions approved before officially announcing the days of spirit week.  
It all started on Thursday, November 15th. Students searched through their closets to find clothing pieces to match with their friends on Twin Day. Seniors placed first, juniors placed second, sophomores placed third, and freshmen placed fourth.
After scouring the internet for their favorite memes, students recreated a variety of different memes on Friday, November 16th. Some student chose to imitate more recent and up-to-date memes while some chose older memes that are still popular today. The final score for Meme Day was seniors in first place, sophomores in second place, juniors in third place, and freshmen in fourth place.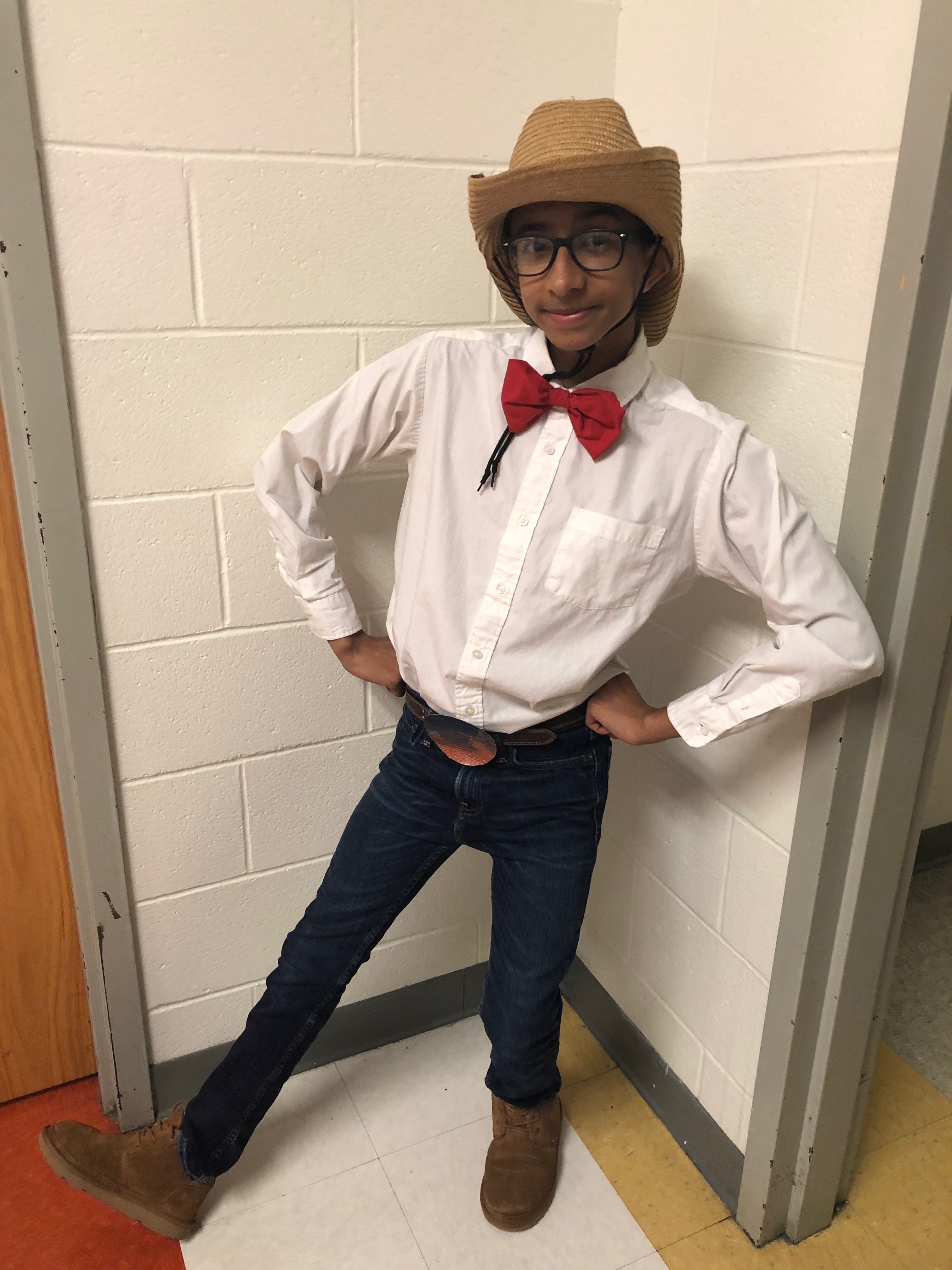 On Monday, November 19th, students chose their most comfortable pajamas and showed their spirit. Not only did many students participate but also many teachers were able to teach comfortably. As a result, seniors were in first place, juniors were in second place, freshmen were in third place, and sophomores in fourth place.
On Tuesday, November 20th, students got creative and thought of the wackiest and tackiest outfit combination they could think of, from wearing unusual accessories to wearing the brightest most colorful clothing pieces. The final scores for Wacky Tacky Day were seniors in first place, sophomores in second place, juniors in third place, and freshmen in fourth.
Lastly, Wednesday, November 21st, was Spirit Day or Blue and Gold Day. A majority of students wore their class t-shirts and accessorized with all the blue and gold they could find to show off their school spirit.
Every morning on spirit week, homeroom teachers were in charge of counting exactly how many students participated each day. Marques created a google form that was emailed to all homeroom teachers, and they were instructed to record the number of participants there.
Rebecca Corcoran, the class of 2019 advisor, said that the result of spirit week did not surprise her since seniors normally place first and freshmen normally are in fourth place. She expresses that she does not think it "hit [her] quite yet," that it was her last spirit week with the class of 2019. She thinks that she will realize the difference next year "when [she] is helping a class opposed to it being [her] own class." Corcoran stated that "[she] was proud that [the seniors] won" without any inflation of points.
Caitlin Quinn, the class of 2020 advisor, said that she thinks that it is "fun to see a friendly competition between classes." She stated that she was very confident in the junior class against the other classes and she was proud of their enthusiasm.
Cassandra Poole, the class of 2021 advisor stated that she thinks that the sophomore class has good competition against the junior class, given that there were only been a few participants for each day in her junior homeroom. Poole expressed how she was "looking forward to managing everything" for the sophomore class pep rally, and experience her first spirit week with the class of 2021
Spirit week roused up everyone's moods and spirits right on time for Thanksgiving.
Check out a photo gallery of Spirit Week here