Thanksgiving is a time to spend with family and friends. November is when the weather turns colder, preparing for the cold winters ahead. It is also Veterans Day on the 11th, a time to honor the brave men and women who serve our country. This year, Malden helped the Salvation Army by having a food drive at the Malden Public Library.
Donations were given by people to the Malden Public Library in collaboration with the Salvation Army. The drive began after Halloween and was donated before Thanksgiving to the food pantry. The drive will, however, continue throughout December for those who could not donate beforehand. Canned foods and non-perishable items were recommended by the Salvation Army. Foods such as apple sauce, stuffing mix, dry gravy, mashed potatoes, and much more were recommended. All the food that was donated, was given to the food pantry before Thanksgiving.
Tina Vegelante is a librarian from the Malden Public Library who helps with the food drive, in charge of publicizing the event and donating the foods. She is working alongside Captain Deborah Coolidge of the Mystic Valley Salvation Army.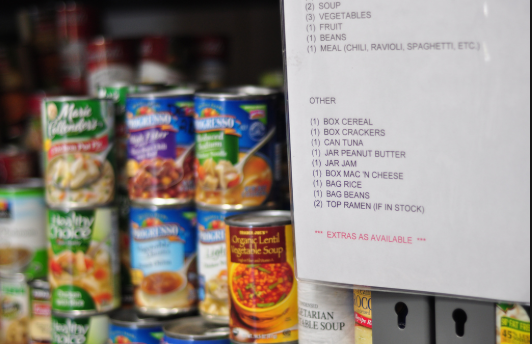 Vegelante says that the food drive "has been an annual tradition for at least 22 years." The food drive is known as a tradition to many of the staff who recall it occuring when they started working at the library. Vegelante looks forward to it each year as it is a "way to contribute to the city and to bring the community together."
John Preziosa has been helping the drive for almost two decades. He carries the bags of food to his vehicle and delivers them to the pantry each week. Others, who like to contribute, help by spreading the word online, on social media, and to Malden's local newspapers.
Donations vary each year but many locals know and donate as much as they can. The expected amount for the drive is 25 large bagfuls.  
The food is intended to only go to the Salvation Army. However, there are many other organizations who are collecting food. There is also a toy drive that will happen throughout the month of December that is also intended for the Salvation Army.
For people who would like to donate, the collection container is out on the main floor opposite the circulation desk. It has a sign above that says "Food Donations" and will continue until the end of this year.
An earlier version of the article incorrectly stated that the food drive will continue until Christmas. It will, in fact, continue until the end of the year.