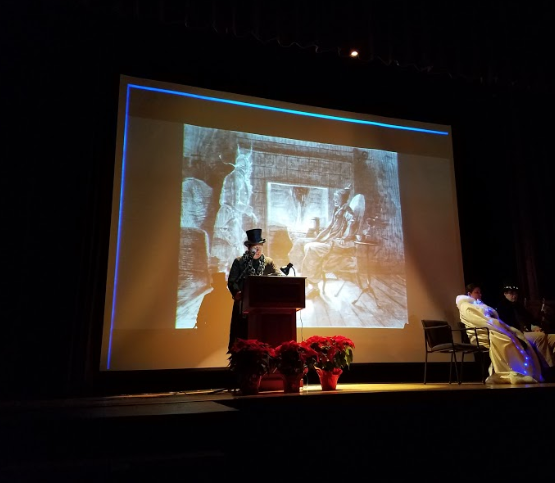 MHS math teacher, Evan Mauser, reading the role of Ebenezer Scrooge. Photo by Ana Pirosca.
Bah humbug! Malden High and Mary Ann Seager, in association with Malden Reads, hosted the dramatic reading of Charles Dickens' A Christmas Carol, performed primarily by teachers from the school as well Mayor Gary Christenson.

After the Holiday parade, Malden held the 15th annual tree lighting ceremony in front of the Malden Public Library. Holiday decorations are then hung on street lights and thus, the holiday season officially begins. In the spirit of the holidays, the timeless classic written by Charles Dickens marks the Christmas season specifically.

Between two and four pm on December 2nd, guests including Malden High students other Malden Residents were able to enjoy the dramatic reading of math teacher Evan Mauser, history teachers Rebecca Corcoran and Ellsworth Fersch, business teacher Benjamin Butler as well as Mayor Christenson.

Each were dressed up with accordance to their character in each section of the story. Mauser took up the first role as Ebenezer Scrooge, a bitter man who scorns Christmas and is reminded by the ghost of his coworker about the heavy chains he is burdening himself with by refusing the spirit of Christmas.

The cast performing A Christmas Carol. Photo by Ana Pirosca.
Corcoran took up the role of the ghost of Christmas past, who is the first of the three ghosts, that brings Scrooge to recall his childhood. Butler acted as the ghost of Christmas present, who shows Scrooge what his friends and family are doing presently. Last of the ghosts, of Christmas future, performed by Fersch, shows Scrooge's future, where he is dead and unloved.

Mayor Christenson concluded the reading as Ebenezer learned to be joyous and spread Christmas cheer to everyone.

Among the attendance, the Malden choir sang traditional Christmas songs between sections and concluded the event by bringing everyone to sing along with them.

Additionally, there were cookies and snacks provided for attendees during intermission. There was also a raffle for guests, whose seats' were dressed with Christmas hats throughout the auditorium.

Evan Mauser has participated in the dramatic reading for the past two years, this year marking his third. He felt "pretty confident" standing on the stage reading aloud to the audience since he thought "[his] first year [he] was slightly nervous," but now he knew what to expect. He also noted how it is like working with teachers from other department, "[teachers] don't get to see many other [teachers] during the school year," since meetings are normally held by department "so to work with Mr. Fersch and Mr. Butler… that was nice."

Though this event is not just an opportunity to work with new people, but also a chance to bring a diverse community together over literature. "We're just teachers and mayors but then again we are also part of a community, [it is] not just the highschool students that we look to inform or entertain or connect with, but also anyone who is interested in [The Christmas Carol]," said Mauser.

Along the same lines, Asmaa Asousy, thought that the event "[made] it a little more festive at the school" which is something she believes to be unique to Malden High. There are so few events in which students get to see their teachers outside of class, but Malden High has held its reputation of including teachers in student events such as Dancing with the Teachers, and Poetry Out Loud.
"It was cool," concluded Asousy.

From the costumes, to the lighting, to the projections and backgrounds. The spirit of the holiday season has entered Malden High, and opened itself up to the city much like Scrooge opened up his windows on Christmas Day shouting "Merry Christmas!"