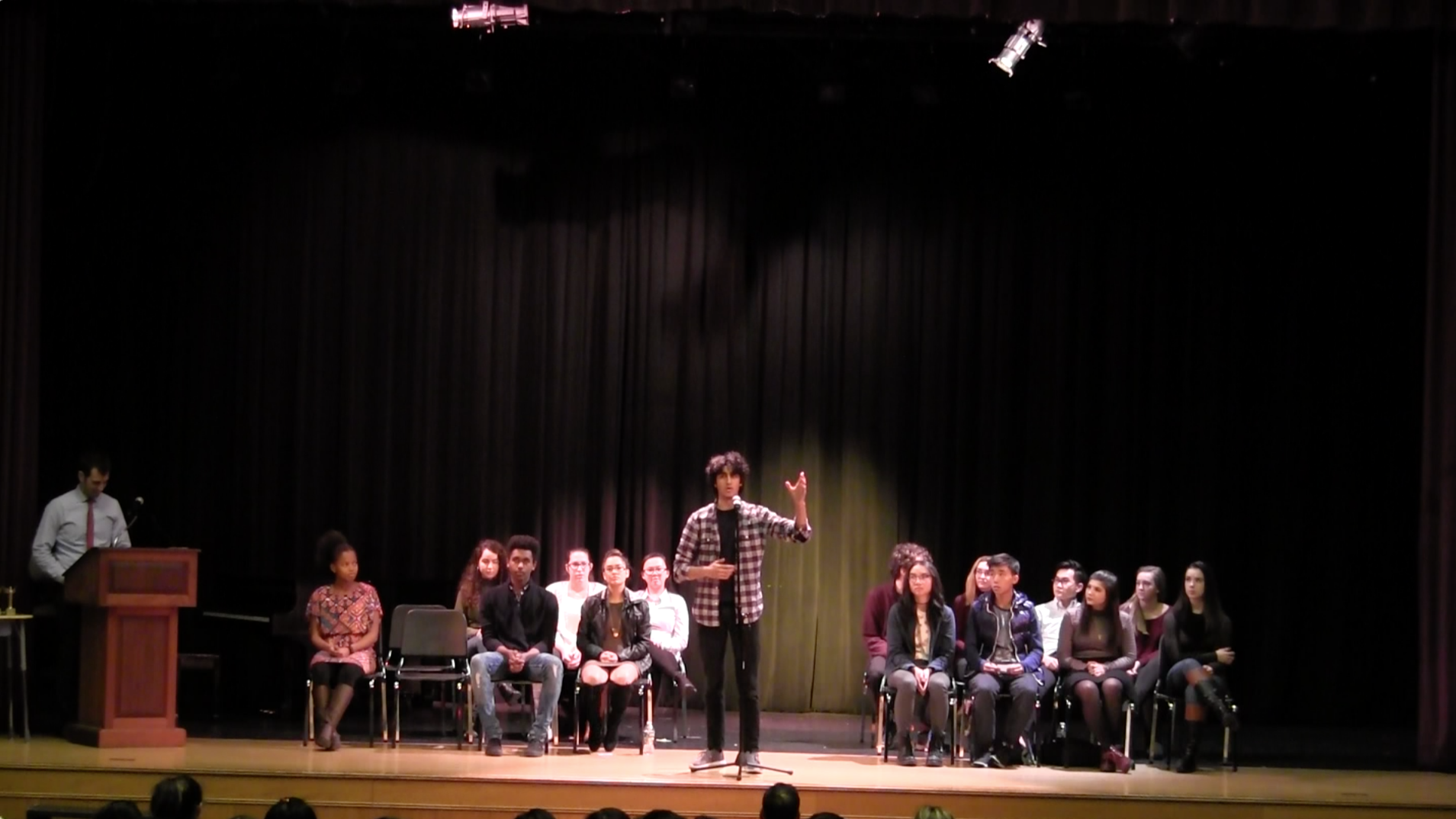 Poetry Out Loud 2017 Winner Paul Araiza recites his poem. Photo from the Blue & Gold archives.
Poetry Out Loud is an annual tradition for all English classes, not only at Malden High but also for many other high schools across the nation.

Poetry Out Loud is a poem recitation contest created by the National Endowment for the Arts in 2006. Students are instructed to select poems of their choice, memorize them and present the recitation of their poem in front of their class. Each recitation is then judged and graded by the teacher, and whoever recieved the highest score on their poem advances to the period competition.

English Teacher, Yahaira Marquez said that she has "always loved poetry, [she] sees it as an emotional outlet," as she explained that sometimes people can not find the right words in conversation to express their feelings and she believes that "poetry speaks to one's emotions." Marquez expressed that as a child she read poetry that she connected or related to on an emotional level even if she did not completely understand the meaning behind it. She added that now, she makes an effort to push herself to fully analyze poems.

Marquez stated that "[she] likes the fact that [they] do" Poetry Out Loud. She elaborates by saying that she believes that by having students from grades 9-12 participating in Poetry Out Loud "[it] establishes a sense of community within the school, in a way that no other assignment will." Marquez added that Poetry Out Loud is another form of analysis, as opposed to writing an essay, where there is a "different format to show that [students] understand the text."

After each student recites their poem in class, the student who has won the class competition advances to the period competition where they compete with students from the same period but in different grade levels. From each period one winner is chosen to compete with the other period winners at the school competition. The winner of the school competition progresses to the state competition.

Senior Jenna Vanella was one of the finalists who competed at the school competition last year. She said that she really like poetry because it is "a way for an author to express their feelings or tell a story, but still leave room for a reader's interpretation." Poetry Out Loud "allows for students to indulge in poetry" and get a chance to really understand the author's message. She believes that by having Poetry Out Loud every year, it "[keeps] poetry alive in generations."

Vanella mentioned that in previous years she liked to challenge herself, but this year "[she] picked a shorter poem so [she] could focus more on [her] presentation aspect of the recitation." She added that she thinks the concept of Poetry Out Loud is so important because "poetry is very analytical." Vanella also stated that it allows students to "learn about different writers from past generations."

Sophomore Lloni Taylor, another finalist that competed in the school competition stated that she finds it fascinating that poetry "can be written about something simple or constructed into an abstract story."

Taylor mentioned that her main goal this year is to "speak with more confidence than [she] did last year." She added that "overcoming worked up nerves [was not] easy when [she had] a large group of people silently watching [her] recite [her] poem."

Taylor believes that the end goal of Poetry Out Loud is for students "to find their inner voice and use their emotions to share a story" and "help [students] realize that people have common interests." She expressed that Poetry Out Loud is very important to the English curriculum because "[students] are able to expand our vocabulary and learn to improve our eloquence."

The official dates for the period and school competition have not yet been confirmed but they will be during the school day and held in the Jenkins Auditorium.