Senior Steven Nguyen. Photo submitted by Nguyen.
By Liam O'Toole and Ailin Toro
Every year, recruiters from different branches in the United States Armed Forces visit Malden High School to recruit juniors and seniors into the military. Students who are interested in the military are able to speak to these recruiters so that they have a better understanding of their potential future in serving in the military.

Joining the military can be a post-graduation alternative to attending a college or university, which can be a more financially responsible choice for some students. It can also be a way for many to afford college while serving part-time or on reserve duty.

In addition to tactical and practical knowledge, the training that new recruits must go through teaches confidence, discipline and physical endurance.

Seniors Fabian Xu and Danny Duong are joining the United States Marine Corps. As far as their training for the Marine Corps, they are currently attending two non-mandatory training sessions every week. Xu explained that "the more you go the more fit you will become and the more prepared you will be." Apart from that, Xu elaborated that until they head out to boot camp in the summer, they are focused on self-training to make sure they stay in shape.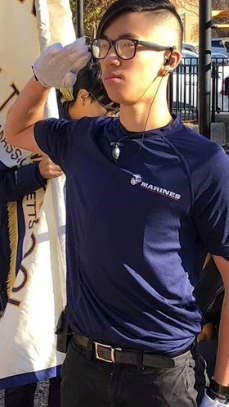 Xu explained that "training gets you really physically fit, and while workouts are extremely hard, it is supposed to be harder than at boot camp so it will not seem as hard there." Duong mentioned that there are "moments where you are frustrated but you have to push that out of your mind, and mentally push yourself."

Xu decided on the Marine Corps as his branch because of the challenge, adding that Marine Corps "have to be physically and mentally fit and prepared." Duong said that for him, he was swayed by the pride that the Marine Corps have in themselves.

Duong and Xu will be going to boot camp this year. As far as their plans in the military, Xu is is going to boot camp, and will then attend college as a reserve. After graduating college he will enlist active duty. As for Duong, after boot camp, he is going to be a full-time Marine.

Xu has been interested in the Marine Corps for years, after having been a part of a program for it when he attended Salem High School, which is what inspired him to join them. What prompted Duong to join the military was that he "want[s] to do something positive for the world."

Senior Steven Nguyen, on the other hand, decided to enlist in the United States Air Force. He will be heading to boot camp at Lackland Airforce Base in San Antonio, Texas. Nguyen's plans as of now are to do a four year contract, and then go to college.

Nguyen has been interested in joining the military for years. At 13, he was watching videos on the military, and even then he "was always hoping that could be [him] someday." He added that "[he] want[s] to be a part of something bigger than [himself]."
One of the things that drew Nguyen to the Air Force was that you earn college credit while you are enlisted. He explained that "there is time for education because the airforce encourages people to go to college." He also added that "the Air Force has a variety of jobs so people can get experience in multiple fields" and therefore attain valuable skills that can aid them in civilian life.

Another senior, Bassim Jabri, has decided to join the Massachusetts Army National Guard. He plans to be an ammunition specialist, which means he will supply any sort of materials needed to keep the fight going, including explosives, or missiles.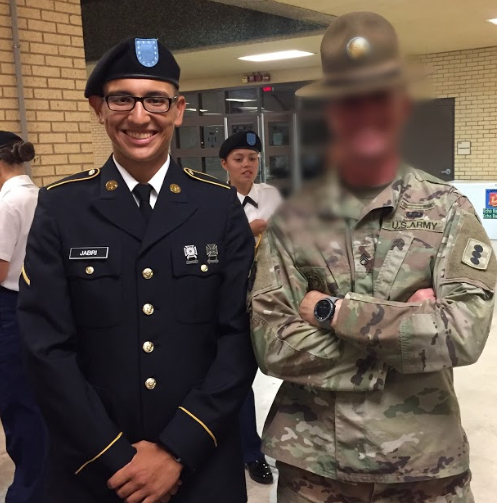 Jabri explained that he only started thinking about joining the military his junior year because he had to start thinking about college and how he was going to pay for it. Then when he saw the military benefits, he "thought it was a good opportunity to volunteer, serve [his] community, but also use it as a resource to pay for college."

Jabri officially enlisted in the Army during his junior year. In the summer of 2018, he went though 10 weeks of training in Fort Sill, Oklahoma, in order to earn the title of soldier. In Oklahoma, he "learned basic fundamentals of being a soldier." He was taught how to do first aid, grenade qualification, battle drill and tactic, army discipline, army culture. He elaborated that the "drill sergeants formed [them] into combat ready soldiers."

In June, he will go to Advanced Individual training for eight weeks to learn how to become an ammo specialist. There, "[he] will learn how to take accountability in inventory, missiles, explosives, or anything the national guard needs."

When he comes back from AIT, then he will get assigned to a unit and in that unit he will perform duties of an ammo specialist. While serving part time in the Army National Guard, he will also continue his life as a full time college student.

Jabri also plans to do ROTC (Reserves Officers' Training Corps) in college, which will help him become an officer in the United States Army after graduating. Jabri aims to be an officer because "becoming [one] is a way you can earn a lot of leadership, and be a role model for someone else." He also added that "it is an useful tool to be able to teach people to perform well, even under high stress."

Jabri reflected that joining the Army has "bettered [him] as a person, helped [him] with time management, and helped [him] deal with stress."

As advice for people who want to join the military, Nguyen said that "it is important to look at all the branches, and know all the information before making a final decision." Jabri added to this, stating that "people should go meet recruiters from different branches before making their choice to make sure they know what joining a specific branch really means."