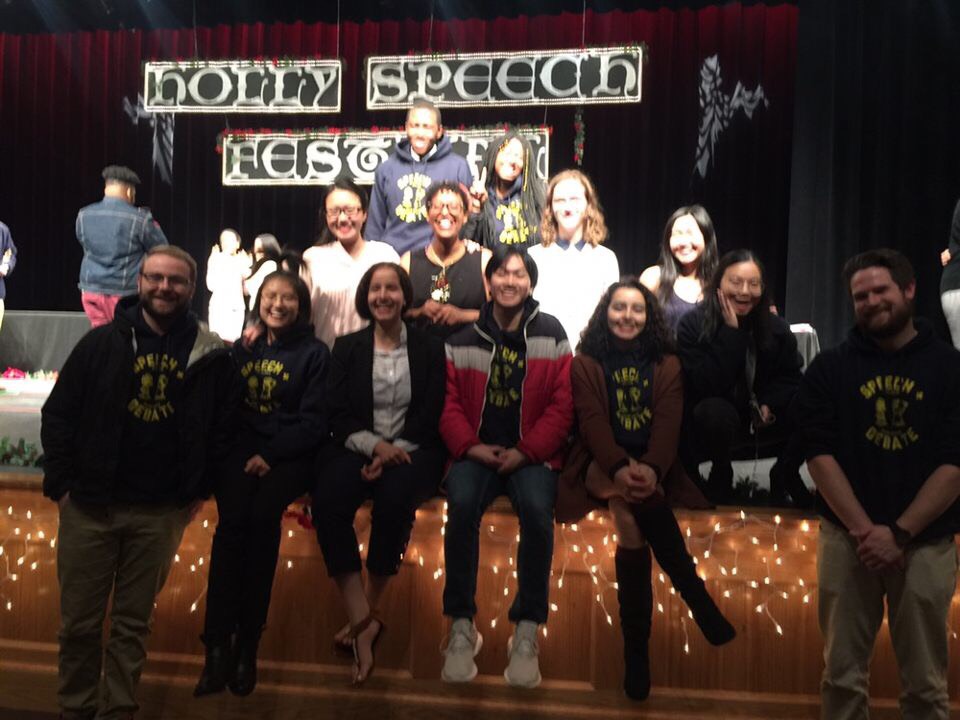 On Saturday, December 15, 2018 the Speech and Debate Team attended their third and largest tournament of the year at Natick High School, the Holly Tournament.

The Malden High Speech and Debate team competes in eight tournaments annually, and students participate in a range of different sections throughout each tournament. The club has won many first place awards for competitors in original poetry as well as group discussion.
A total of twelve students competed in this competition, but there were 35 schools represented at the tournament. "Holly is the biggest competition of the year in terms of attendance and popularity. The energy at Holly is rare and unparalleled," said Jenny Chen.

For this specific tournament "[They] meet in front of the Jenkins Auditorium at in the morning. "[they] check in upon [arriving] and the first preliminary rounds begin at 9:15 in the morning. There are usually three rounds for speech and two or four rounds for debate. Then, final round postings go live and [they] all flood to the papers hoping that we made it. After the final round, there is an award ceremony," said Chen

The scoring system of these events vary throughout each of the competition, but for specific sections, such as the group discussion, which is the debate style event, "[judges] scored on how [well competitors] are able to site evidence and further the discussion by asking good questions, leading to an end goal," according to History teacher Kurtis Scheer, the club's advisor.

Like any other tournament, this one had its difficulties. "The most challenging part was knowing each part of my poem. If [she] stumbled or messed up one part, it would screw up [her] rhythm." said senior Brukti Tsige.

There were many important aspects to a great performance by each student as Chen states, "the most challenging part of this competition was delivering [her] piece. It was difficult, intense, and demanding. [She] had to do it three times, each as flawlessly as [she] humanly could have. Even after having rehearsed it more than forty times, [it is] still a challenge each time to deliver it."

The students brought and showed all of their hard work and practice throughout their performances. "[she] delivered the three best performances of [her] speech and debate career and told a story that mattered to [her] more than all the others [she has] told before" said Chen when asked how she believed her performance went.

Another student who proforced Tsige said "[she] competed in Original Poetry, which is an event where students write their own poetry up to six minutes and perform it. [She] wanted to place into Finals," but states "[she] [did not] care what place [she] got as long as [she] broke into Finals. And [she] did."

The club meets every Wednesday in Mr.Scheer's room in B336. The clubs next tournament will be January 12th.