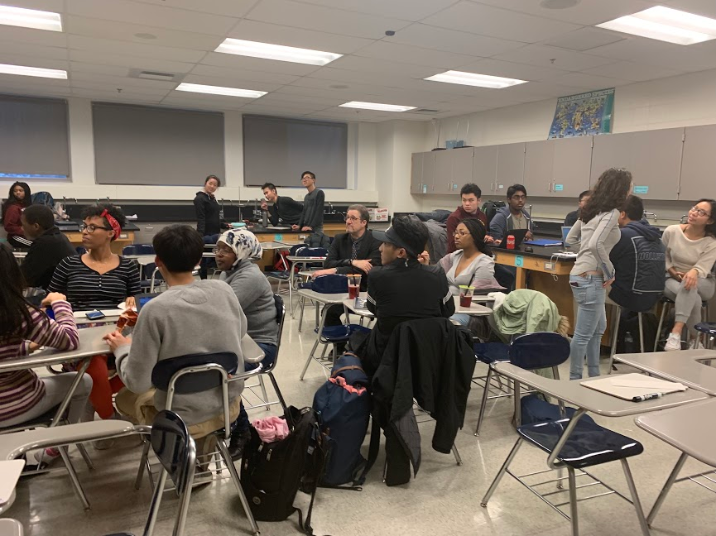 Students participating in Trivia Night. Photo by Ailin Toro.
Science National Honors Society hosted a trivia night for the second year in a row. All of the proceeds from the night went to the American Cancer Society. The trivia night was hosted after school in Chemistry teacher, Gregory Simone's room.

Mohsin Braer, the activities director in SNHS says that they decided to hold this event because of the success of the event last year. Braer says that since they "managed to fundraise a lot of money for a great cause."

Simone talks about how the idea for trivia night started because he wanted students to "competitively do educational questions without any grade attachment to do it, so they would have fun." He adds that it was a "good mix of fundraising and fun, but that still kept to the theme of science."

There were four groups who played this year. The teams were named H20, YeYeYe, Rexhars, and BLES. Each team had a buzzer, and whoever rang it first after the question had finished being read got to guess the answer. If the team that rang in first was wrong, they could not guess again, and the team who had rung in second would have a chance to guess. There were different sections in each round, including Astronomy, Anatomy, Environmental, Biology, Chemistry, and Physics.

Edward Jiang, a member of SNHS, as well as a member on the team Rexhars, says "[he] really enjoyed this event", and is "proud to be part of a club raising money for such a good cause." He added that "even though [his] team [did not] win, [he] had fun playing." Kristel Normil, another member of the team Rexhars, says that "even though science is not [her] favorite subject, it was fun to play with [her] friends." She adds that "[she] would definitely go to more events like this."

Daniel Augustin, a member from the group YeYeYe decided to do it because "[he] is interested in trivia so [he] thought it would be fun" He also decided to join because of "[his] interest in science, so [he] thought it would be a place where [he] could succeed." Of the night, Augustine says "it was fun, and [he] would do it again."

Rexhars came out in last place, H20 in third, and YeYeYe in second. In the end, BLES came out victorious, making Seniors Birukti Tsige, Emily Woo, Sammy Lee, and Junior Lana Giha the winners. The prize was a $40 gift card, which would be divided among them.

SNHS is relatively new, only having its start last year, and since then Braer thinks the club has done "very well." He talks about how "last year was a learning experience in learning how to run a club and now [they] are focusing on how to improve and grow."

Simone adds to this saying that this year is about "continuing the good things from last year, getting rid of the things that [did not] work, and trying new things." As far as the dynamic of the club, Simone says "the members are great." He says that "a lot of the members know each other, which makes it a nice, casual environment."

SNHS is planning to hold one more trivia night this year, elect new officers, and start a community garden. They are also going to try to plan one science outreach, either to middle schoolers or elementary students, to teach the kids about issues like global warming.