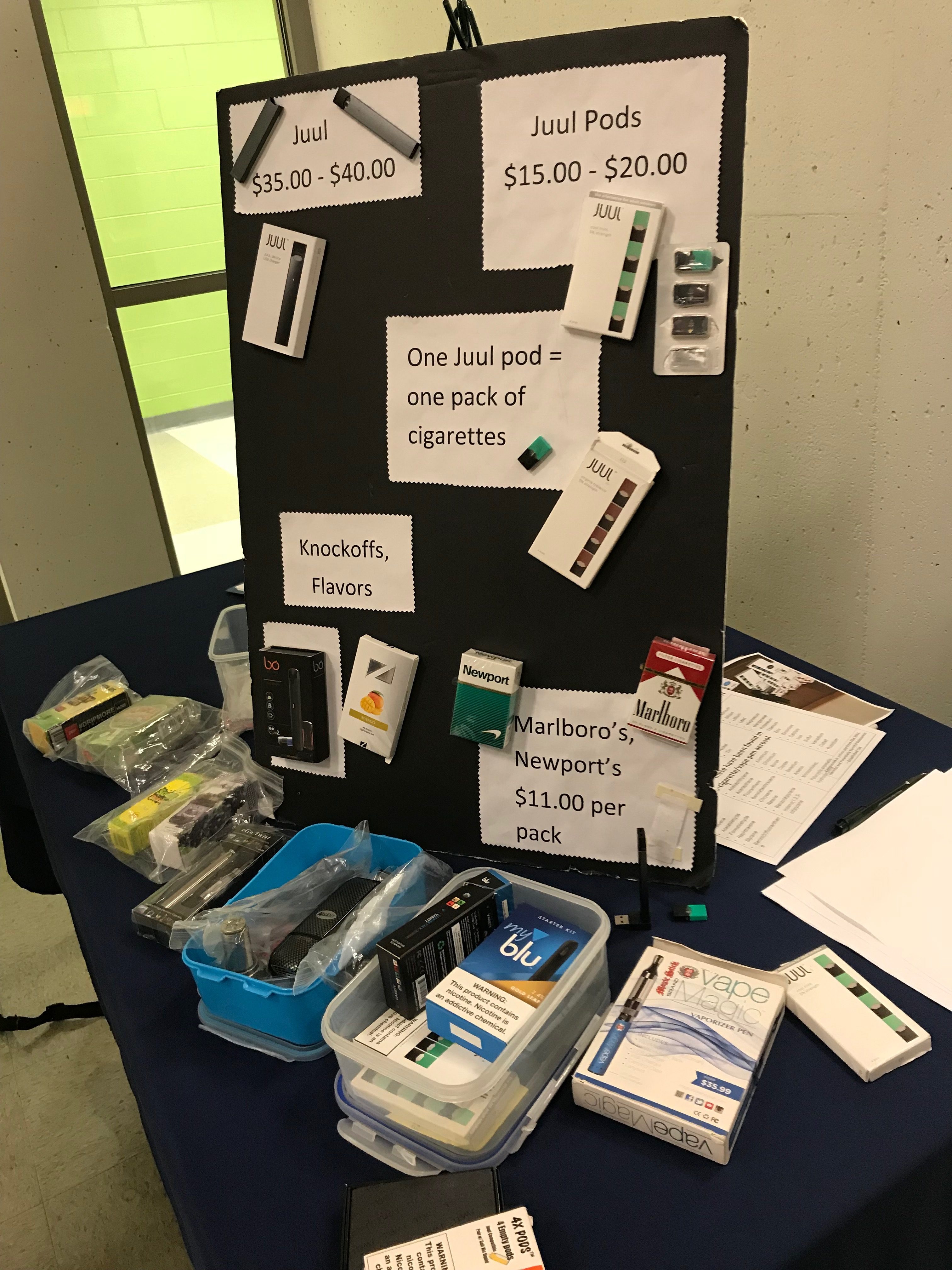 A vaping display created by Maureen Buzby including confiscated vaping products from local schools. Photo by Sydney Stumpf.
On January 9, the long-awaited vaping informational panel was held in the gallery at Malden High School, featuring panelists State Senator Jason Lewis and Maureen Buzby, an expert in tobacco and a regional tobacco coordinator. The panel drew a solid crowd including most of the high school administration team, Stephen Freker, Mayor Gary Christenson, and Chief of Police Kevin Molis. Parents and Malden students were also in attendance.
Principal Chris Mastrangelo began the panel, emphasizing the importance of the forum and the importance of change within the schools. Vaping, said Mastrangelo, is a problem affecting all students, whether they are actively participating in vaping or "Juuling," or the students who are forced into avoiding certain bathrooms and areas to avoid being caught in a situation where other students are vaping. For those who doubted the magnitude of the problem, Mastrangelo said the audience "need not look farther than [the] room." Mastrangelo and the administrative staff are "drawing the line in the sand" when it comes to the district-wide issue.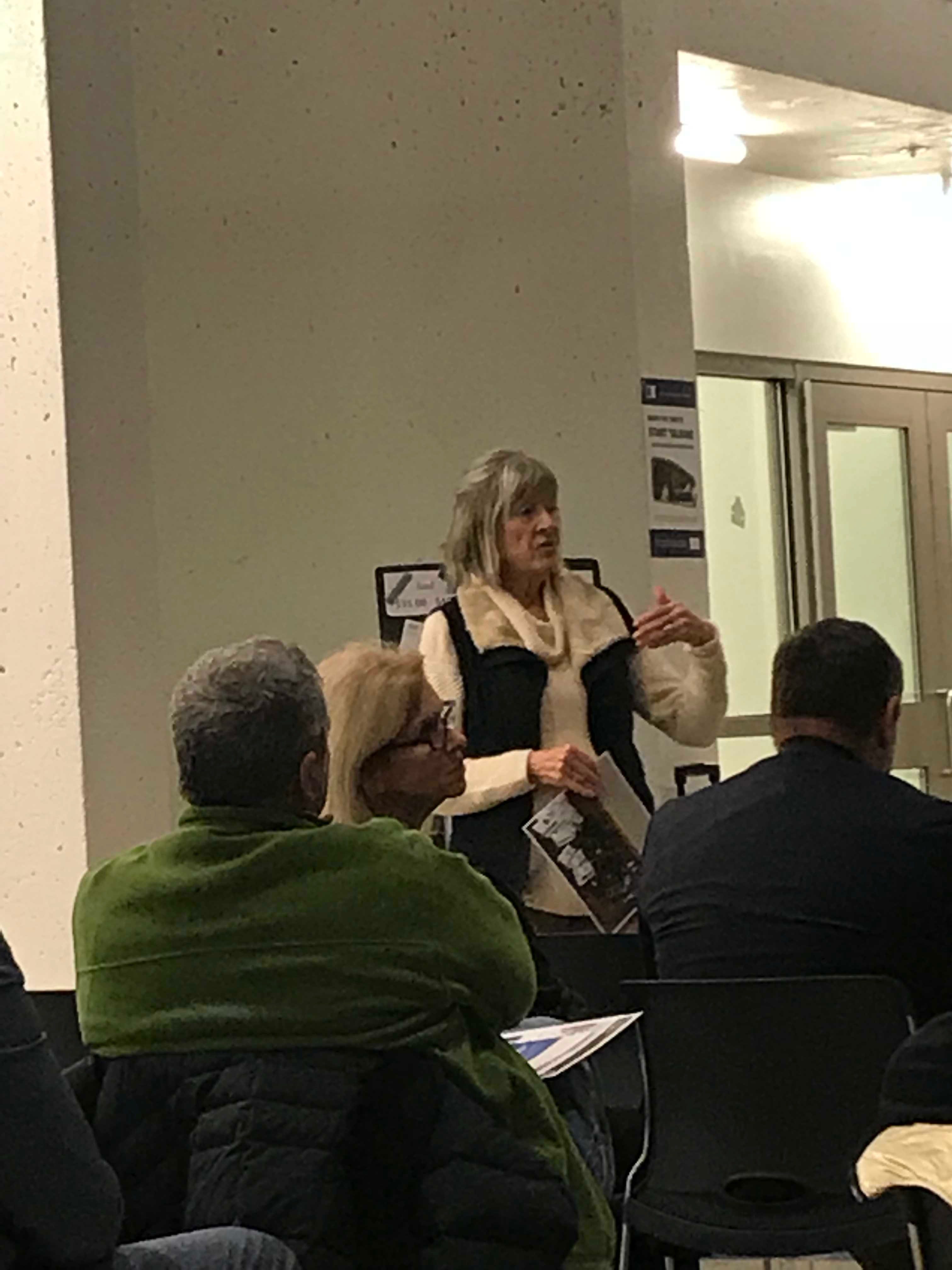 Maureen Buzby then spoke on the health-risks and dangers of vaping, bringing several examples of vaping devices confiscated by local schools. Buzby put a great emphasis on the fact that vaping is not healthier than smoking cigarettes as many students may believe. Instead of smoke, vaping involves a mist that is made up of several other chemicals. When the metal on a vaping device or Juul is heated, said Buzby, the metal on the device breaks off and is inhaled. In some cases, people who have vaped had contracted "popcorn lung" which affects breathing, leaving the affected with a cough and shortness of breath.
Further emphasizing the dangers of vaping, Buzby noted that one Juul pod is equal to one pack of cigarettes, and subsequently pulled out a newer device which allowed the insertion of three pods, equally three packs of cigarettes. Buzby credits the potency of vaping with the widespread nicotine addiction among youth, whose brains are not fully developed until the age of 25. State Senator Lewis noted how when talking about alcohol, marijuana, and nicotine, it is different between kids and adults. What is safe, or less damaging for an adult, may not have the same impact on a child.
Senator Lewis called Juul Labs in California "predators," targeting children and teenagers for their products. Action is being taken at a state-level in order to prevent the "epidemic," as some have called it, in middle and high schools in Massachusetts. As of December 31, 2018, a new state law came into effect that does three major things. The new law enacted officially raised the legal age of buying tobacco to 21, a policy already in effect in Malden. The same was true for some neighboring communities such as Melrose, though now in effect across the state. The second thing that this law has done is take the stance that vaping is a tobacco product. Previously, according to federal law, vaping is not considered a tobacco product and thus could not be regulated as such. By exclusively stating that vaping products are in fact tobacco products, this law allows for the regulation. What this means is that in places where smoking is not permitted, neither is vaping. The final major change that this law brings is that it prohibits the sale of vaping products at any health-care institutions, including pharmacies, in Massachusetts. CVS had already enacted a similar policy prior to the state legislation. Going even further, Senator Lewis is looking to increase the penalties for stores selling vaping products to people under the age of 21 or breaking any other part of this new law.
Locally, Somerville passed an ordinance which prohibits the sale of flavored vaping products to anyone under the age of 21. Malden will adopt similar ordinances regarding the flavors of vape products, which make vaping so appealing to students and young people. Senator Lewis credited San Francisco, California with being the only city with an ordinance that bans the sale of flavored vaping products entirely.
At the Malden Senior Center on Wednesday, January 16, the Board of Health and local legislators will be meeting in order to further enact policy to combat vaping in Malden youth.