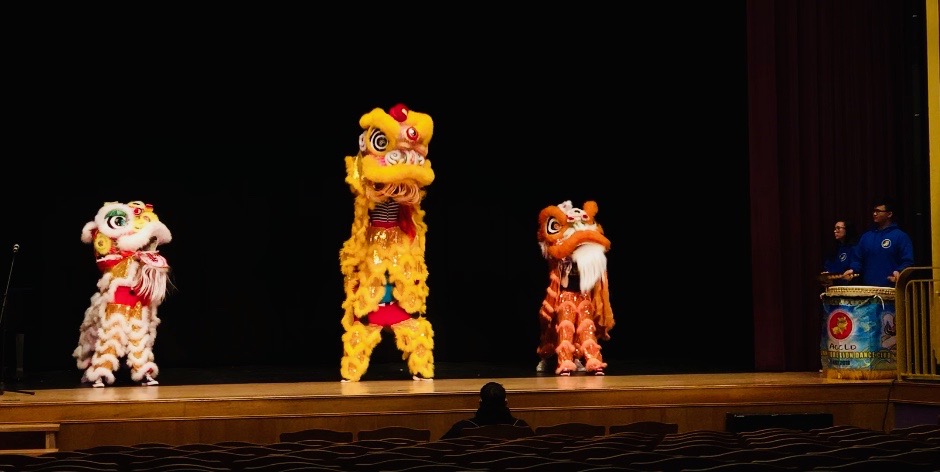 The Asian Culture Club Lion dance routine. Photo by Sophomore Julie Yu.
With the 79th Annual Junior Varieties around the corner, the Class of 2020 works to perfect the show before opening night.

The Class of 2020 chose a Late Night Talk Show theme, "due to its practicality and its spontaneity," said JV Coordinator, Olivia Santangelo. She also added that there is so much they can do with the theme and "[they did not] want anything too scripted so [the] show could be both funny and natural."

This years hosts for the show are juniors Taha Moukara and Angelena Nguyen. Nguyen explained that in order to become a host, they had to audition. For their audition, they "had to memorize a part of a skit from last year's Junior Varieties," and "also [had to] create a skit of our own [to] present it to the class officers and Ms. Quinn."

Nguyen stated that from "watching JVs in the past [she has] always been interested in being a host and [wanted] to contribute to JVs." She expressed that so far "it has been a great experience and [she can not] wait for the show to start." Nguyen explained that "writing the script," has been the hardest part of the JVs planning process. She elaborated by saying they "have to coordinate who performs, how long the performance is, if [they] had to create a skit before they performed, and also make the script funny as well."

"Late Night at JVs" consists of 21 acts ranging from singing and dancing to larger group performances. "They each bring something different and unique to the show and represents Malden in such a nice and fitting way," said Santangelo.

After holding auditions, advisor Caitlin Quinn stated that "it was more about making sure we had a good mix," of performances. Ultimately, "[they] had to eliminate a few dance groups and a few singing groups, [...] which was certainly difficult," Quinn added. Santangelo mentioned that when selecting the acts that would be in the show, they chose people "who showed commitment and dedication as well as a great overall stage presence."

For the month of January, the officers held two practices a week where each act would have time to practice once. Throughout the month of February, they have been having each act practice twice a week in front of the officers. As the opening night approaches, they will be holding practices from Monday through Thursday.

Quinn explained that her favorite part of the JVs planning process has been "watching the acts, [she thinks] that the kids are really excited get on stage," adding that "[they] have some really talented performers this year." She expresses that the toughest part is going to be the next two week leading up to the show, "making sure [they] have all the components ready to go for the night of the show which includes the lighting, the sound, the opening and closing of the curtains, and getting the stage set up for the next group."

Santangelo expressed that best part of the whole JVs planning process was "getting closer to the people involved in the show, as well as keeping the tradition of Junior Varieties alive." She added that being able to coordinate JVs is something that is very special to her because "[her] dad and two aunts also performed in the show when they attended [Malden High]." She explained that that the hardest part of JVs managing some of their practices as everyone has "very busy schedules," so it has been challenging for them to set up "dates and times that fits best for each performance."

Sophomore Jimmy Ton is Lion Dancing with the Asian Culture Club Lion Dance. He explained that he wanted the "experience of jvs," with his friends, especially "since this is [his] second year performing." Ton expressed that he was "most excited to see the audience's reactions."

Freshmen Myrvline Gilles and Alexi Dao are joining the Malden High Step Team for their step routine. Gilles explained that after performing at Pep Rally, the team captains "addressed [the] members of the club about auditioning and performing at JVs." Dao stated that she "thought it would be a excellent idea," to perform JVs. Gilles expressed that she enjoyed "the experience of performing in front of a crowd," especially after Pep Rally. She added that the Step Team "has been working really hard on [their] routine." She also mentioned that they were still "working on perfecting some of the steps but we will hopefully get them all memorized."

Sophomore Suiyenah Chen is performing a solo dance routine, which is a "combination of two choreographies." She explained that she had the idea to audition for JVs "since [...] [performing] with a group last year," and added that this year "[she wanted] to be able to show what [she] as an individual could do." Chen stated that she has completed her dance and has "received advice from talented dancers to further improve [her] moves."

Quinn advises performers to "be confident." She thinks that they will be nervous when they step on stage and see the huge audience "and get nervous but they have practiced their hearts out and they are definitely ready to perform."

Santangelo mentioned that her along with the other officers are proud of the performers this year and "their hard work and dedication they put forth [the] past few months." However, she stressed that it is important that they "practice as much as possible leading up to the day of the show."

Nguyen said that "[she is] really excited to see the thrill and excitement once the show starts," adding that "the performances will be amazing, and [she can not] wait to see [their] hard work [pay] off." Her advice to the performers would be to just "have fun," adding that they should not "let something so little ruin all of [their] hard work."
Junior Varieties is on March 8th and 9th at 7:00pm in the Jenkins Auditorium. Tickets are $7 in advanced and $10 at the door.