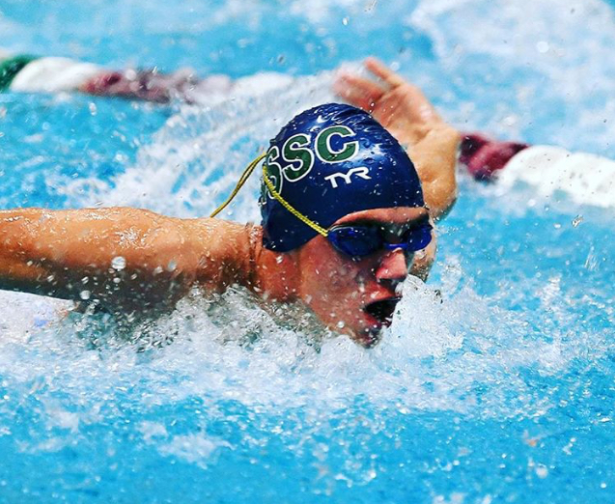 The Malden High School swim team has ended their season strong with a total of eight wins and two losses, culminating in one of the best swim seasons for many team members.
According to sophomore David Lombardi, this season was "amazing," since the swim team had lost "a great amount of talent and was unsure as to how this season would go." Defying these initial concerns, MHS swim still placed third within its conference and pulled off the "most successful records for the MHS Winter sports this season."
One very memorable moment Lombardi cites is witnessing "Kevin Ochoa make MHS school history by becoming a state champion." Lombardi reflects on how each of the swimmers' personal achievements contributed to a more positive collective mindset saying that Ochoa "had a great personal season and contributed to each meet."
Lombardi mentions that the other the four captains, Olivia Forestier, Agatha Silva, Joanne Ho and Sebastian Romani were also contributors to the team's close bonds with one another. Underclassmen Haoxi Wang, Tony Giech and Chloe Akombi "all continuously placed and contributed to the wins of the season as well."
Senior Captain Sebastian Romani agrees with Lombardi in his conclusion that their underclassmen really "pulled through," but wishes that there were more underclassmen. One of his goals for the team next year is to acquire more swimmers, saying that "it's always good to be larger in numbers."
Lombardi also hopes to gain more swim talent next season, "since the senior class contributed to half our numbers this season." Romani and Lombardi agree that they are satisfied with the effort that the team put in this year, but that they would benefit from more swimmers.
One meet that stood out to Romani was the New England Conference meet, where all different swim teams from the NEC league met together, saying "it was good to see people [he] knew that [he had] been competing with from other teams and to see how far [the MHS] team has gotten within the past season."
Although the team may have begun the season somewhat insecure, it ends the season satisfied with the progress it has made and anticipates another successful season next year.