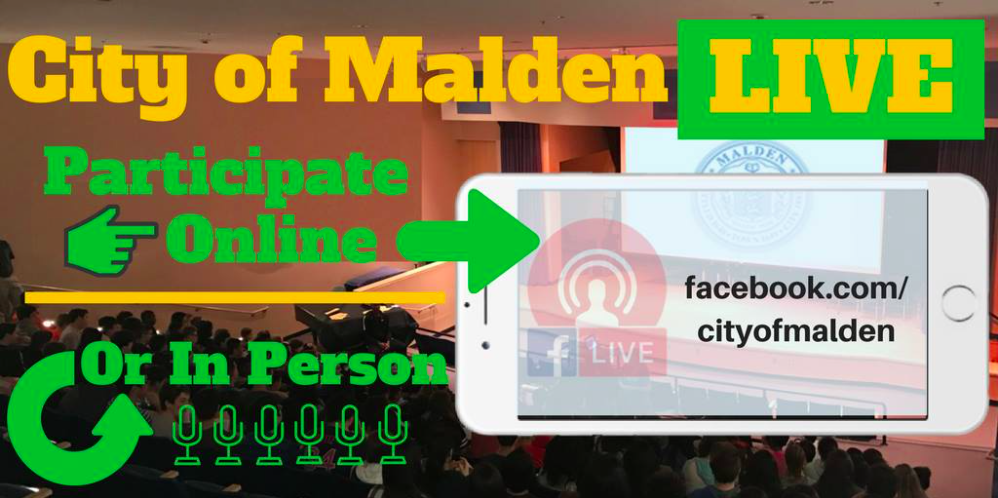 Image promoting the "City of Malden Live" event. Image from City Of Malden official Facebook page.
On Thursday, January 17th, Mayor Gary Christenson held the 6th annual "City of Malden Live" event on Facebook. The meeting was an opportunity for the residents of Malden to watch and address their questions or concerns for city officials to answer. The meeting also took place in person at Malden High School's gallery room.
These meetings are held quarterly and officials from different departments are at the meeting to address the residents and any concerns they may have. The officials that were present included the mayor, Superintendent John Oteri, Human Services Director Karen Hayes, Public Works Director Bob Knox, Chief Kevin Molis of Malden Police, Parking Director Ron Hogan, and Building Commissioner Nelson Miller.

The meeting started off with the mayor addressing the weekend's forecast with the upcoming snow storm. It then went into new changes with parking regulations. Hogan states that, "In past years [they] have always begun with the parking regulations on November 1st." Now, they are doing "something different where [they] decided to hold off on starting with the parking until the forecast showed that enough snow was going to come to require [them] to deploy significant city resources." With this change, the city of Malden was able to buy an additional seventy-seven days of not having to put any restrictions on parking.

One of the questions that came up was about the construction being done in Malden Center. The question asked by Taylor Adams was, "Do we know which stores will be going in to the new Malden Center development once construction has been completed?" Hogan answered this one saying that "[he's] constantly giving the building developer a hard time about not being able to let the cat out of the bag until [they] have gotten the final agreements signed." He continues by saying that the information reported back to him is that they are very happy with the variety of people they have lined up to each of the different retail spots. Additionally, Hogan hints that all of the them are "experienced operators and restaurants that have already been successful in other cities." The level of retail will definitely be a plus to the square.

A similar question was asked later on that stated, "Our neighbors in Medford recently got a Wegmans and Melrose will soon get a Caffe Nero. When and how can Malden hope to attract similar quality businesses rather than other businesses such as liquor stores, nail salons, or smoke shops?" The mayor responds that he thinks we will attract more of these businesses soon, within the next year even. Christenson states that he thinks, "the renovation of the Bank of America building on Exchange St. will help." For those that are not aware, the Bank of America building at Commercial and Exchange is going to convert their first floor to retail.

Hogan emphasizes that "Sometimes we lose appreciation for what is around [us]. Folks in Medford are wondering why we have a business like Boda Borg that attracts 5,000 people every week." He wants to remind residents that "We do have many great businesses and restaurants unique to us, and it's just a matter of looking around sometimes."

Another question comes from Malden resident Higor Reus and he asks, "What about ticketing overnight parked commercial vehicles based on vehicle weight instead of simply commercial license plate?" Reus's concern comes from the fact that there are a lot of people with small cars that are used for their small business, but they don't have driveways or other areas to park. Hogan responds to this question by explaining how to get a permit to park a registered Malden car overnight on the street. "All they need to do is come down to the parking office, there is a permit with a small fee…and that permit allows us to be able to distinguish that that vehicle is qualified to be able to do that." Prior regulations in Malden put a burden on residents that were driving passenger vehicles that weren't registered as such.

When asked about dedicating more resources to the youth and services of Malden as opposed to more apartment buildings, the mayor responds with saying that "it has been a strong focus of [his] since 2012." Christenson speaks about the Malden Teen Enrichment Center (MTEC) recently celebrating five years, and the recreation department that has been revamped by Joe Levine. Not to mention, there is the summer youth employment program that provides jobs for roughly 300 youth every year.

One of the last questions was from a resident that was going to be homeless by the end of the month and was wondering what her resources were. Karen Hayes answered this question by saying how sorry she was to hear this, and gave her contact information for them to follow up with. She continued to offer services such as the Warming Center (a temporary night center for those that are homeless and need a place to stay) and similar programs like Heading Home.

The livestream concluded with Mayor Christenson thanking everyone for participating, especially the people on the panel with him. He proceeds to say that "[he] may be MC in tonight's event, but trust [him] when he tells you it's about the folks here tonight volunteering their time." Christenson thinks this is a great opportunity to let the community know about all the wonderful events that are happening in the city.