Sophomore Brianna Le singing "If By Chance" by Ruth B. Photo by Ana Pirosca.
Class of 2020 held the 79th annual Junior Varieties at the Jenkins Auditorium. This years' theme was Late Night at Junior Varieties and the show was on March 8th and 9th. Tickets were $7 prior to the show and $10 at the door. The revenue generated from the show went to the class of 2020 and will directly contribute to their Senior Prom next year. This years' Junior Varieties coordinators were Olivia Santangelo and Julia Argueta. The class of 2020 advisor, Caitlin Quinn, thanks all the efforts to the students because it was all mostly student led. She enjoyed the progression of each practice leading up to the show.

The years' hosts were Juniors Angelena Nguyen and Taha Moukara. Nguyen stated that "it was a perfect opportunity to work with the class of 2020 officers." Although the show was very well produced, Nguyen felt nervous knowing that "everyone [she] knew was going to be there," along with "plenty of alumni who come to watch with their family and friends." Nguyen explained that creating the ideas and script for the show was the most difficult part and that she is "glad [she] had the courage to go up in front of the student body."

The preparation for the show is just as important as the event itself. The students worked tirelessly to ensure a smooth show. Every act prepared for the show in a different way with rehearsing for hours and months beforehand. Chan stated that "[she] barely had time to meet up with [the other members] to practice together." Chan felt that "the process was very organized." The step team had a difficult time practicing together due to everyone having other priorities. Although it was a lot of work, she says "[they] were able to pull it together and deliver a great performance." Huynh says that the rehearsal schedule was "stressful but effective".

Junior Brenda Dias volunteered to help prepare for the event. All the crew members were helping each other out, figuring the best way to organize a "few things in the best way possible." Dias enjoyed the skits in between acts because of "how entertaining it was." Junior treasurer Keri Gilligan stated that "JVs went even better than [she] expected." Gilligan had a variety of jobs to help with the preparation of the show. Her role as treasurer was needed more towards the end of the event.

The show included a variety of talented students who performed different acts. Many of which who were singers. Sophomore Renata Tomaz performed for the second year in a row. This year she sang "When We Were Young," by Adele. She stated that "this time seemed to be less stressful and was more lenient in a way." Tomaz hopes to continue singing in future shows.

Junior Kevin Fuentes sang "Sunflower" by Rex Orange County and "Mi Viejo" by Piero. He performed as a trio alongside Seniors Salma Bezzat and Santiago Portillo in a group called "Dueños Del Sol." His performance was more than just a song for a talent show. "Mi Viejo," was "a lullaby [his] grandfather used to sing to [his] mother." When he passed away after a battle against lung cancer, Fuentes cherished that song to remember him by and therefore performed "with [his] pops in mind." He stated that "[he] could not be prouder of the work and dedication that each and every act brought to the table," and is looking forward to performing again next year. For Salma Bezzat this was her first and last show she performed in. Bezzat has volunteered in previous years to help with the show but has never performed. This year she played the box drum for Fuentes' performance. She explained that "[their] whole group was nervous the first night of the show, partly because the auditorium was almost full and there were so many people [they] knew in the crowd and it was so loud, but it was still fun and an amazing experience."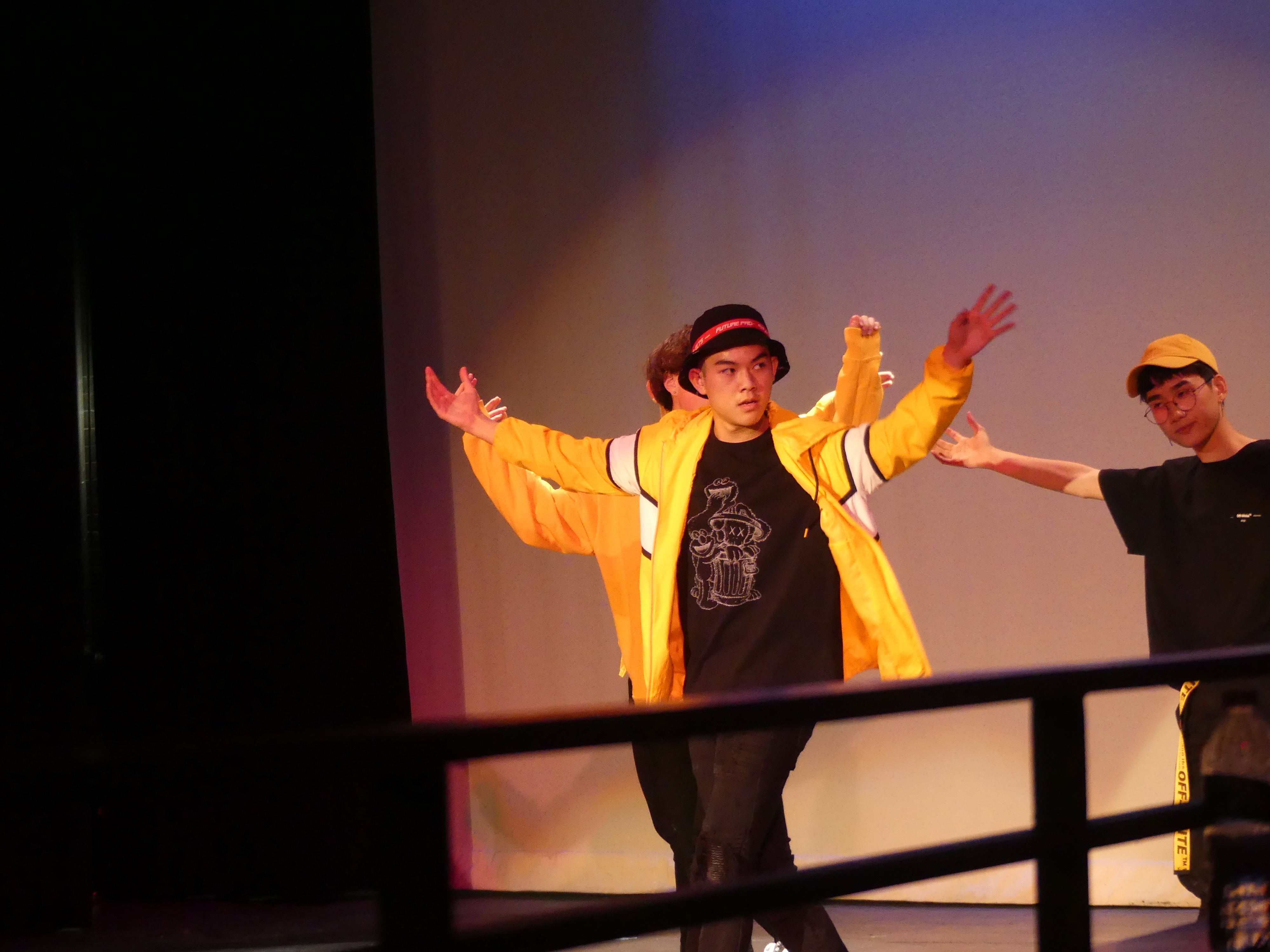 Seniors Jenna Vanella and Libby Taylor performed a dance routine to a poem by Shane Koyczan called "Sticks and Stones". The poem is about being bullied and the effects it has on children. They chose this piece because "it [was] an issue a lot of people can identify with." They hoped to convey the message for people to resonate with. Vanella performed last year at JVs, singing a song, which she stated is "much different because singing a popular song that everybody knows means" people will realize a mistake in a performance. However, with dancing, she could improvise if she forgot on stage. Vanella had high expectations for the show due to how "unique and extraordinary" every act was. Taylor, unfortunately, suffered an injury during the beginning of their last show but was able to finish the routine successfully.

Senior Chon Huynh is part of the dance group, Lotus. He performed last year in a dance group as well but this year "the level of excitement" was the "only thing that was different." Their number was a combination of different songs that built up suspension for the audience to really enjoy. Huynh stated that "JV's was an important event for [him]" and "as a senior, [he will] miss performing for the school."

Many performance groups that are well known at Malden High performed as well, one example is the Step Team. Sophomore Natalie Pham performed with the step team this year after not making the team last year. She stated that after not making the team last year that "[she] wanted to redeem [her]self and see how far [she has] came along." She found the step team interesting and "wanted people to learn more about step and the hard work/dedication that is put into each routine."

Senior Renet Chan has performed in an orchestra group for JVs since her sophomore year. The group played a medley of songs to honor the former president, Naomi Brill, who graduated last year. The songs were mellow and smooth to dedicate Chan's last JVs.

Many performances went beyond dancing and singing. Some students decided to perform poetry pieces like Senior Birukti Tsige. This is her third and last JVs, which she expressed as "bittersweet". She reflected back to her first year "thinking about how anxious [she] was [her] first year and how big the stage seemed and this year...it's become like a habit. It was cozy and actually felt small because of how often [she has] performed." Class of 2018 advisor, Kate Haskell, encouraged her to audition and that led to her performing for the rest of her high school years. She performed "Us, Black Women" by Natasha T Miller. She chose this piece because of the message it was sending to the audience. Tsige felt really connected to the poem because of how "unapologetic and direct" it was. She felt her execution of the poem was good but wishes that she controlled how fast she spoke.