Play Production going through a scene. Dexter Haag and Paige Pimental in the front with supporting cast in the back. Photo by Tonijoy Pimental.
The Malden High School's Play Production performed a preview of their semifinal show Common Space. Play Pro has been working on putting this play together since mid-December, and recently finalized minor details at the beginning of March when they were preparing for the preliminary round of Drama Festival.

Jennifer Clapp, director of Play Pro, stated that their inspiration for the play was a quote; She explained that the quote was about "seeing the beauty in things," and "finding that hidden beauty in life" reflected in the play as it follows the main character, Tucker, throughout his life in his backyard.

Throughout the whole planning process of the play, Clapp explained that the production was mainly student-run with the help and supervision of the directors. Towards the beginning of the planning process, Clapp and former Play Pro teacher and current Humanities Director, Sean Walsh, were more hand on, coaching the students "through improvisation, shaping scenes, and keeping track of the drafting materials [they] used." She explained that there were students in charge of making the sets or making sure everyone has costumes, but herself and Walsh guided them through the process.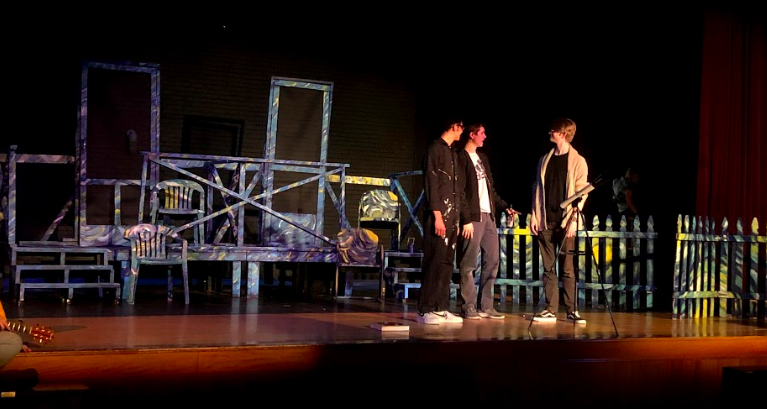 Clapp stated that for this play specifically the script was the most difficult part. She further explained that it was difficult to "find the story, and find the connections between the different stories." She shared that they were able to come up with a good idea early on in the planning process for the set, which worked out without any major issues. She expressed that she would consider painting the sets the easiest part of putting the play together adding that "everybody was good at it, and it [did not] take very long."

Clapp mentioned that Meghann McCarthy, the substitute teacher for Walsh, has been a great support for Play Pro, "she helped supervise costumes, and helped [them] take care of paperwork and all the different stuff that goes into getting the show together." Clapp also explained that she has spent "fourteen hour days in rehearsal, or at competition." She added that McCarthy has gotten to know the students really well and has many good ideas to offer.

Senior Jenna Vanella played the role of Alya Reed, the daughter of Billy, an "ambitious teenager who, taking after her uncle's love for space, [had] a huge dream of becoming an astronaut." She explained that "the most challenging part of playing [her] character [Alya] was giving her lines that didn't sound too much like [Vanella] was saying them." Vanella found herself struggling to create a character based off her own personality and have them be a completely different person with different ideas and aspirations.

Senior Dexter Haag played the role of Tucker Reed, the brother of Billy and uncle of Alya, who "constantly gives his all to everyone around him but doesn't leave much for himself." Haag explained that the most challenging part of performing the play has been indicating the time jumps. He expressed that it was a bit confusing since "age and context [are] all mixed together."

Senior Salma Bezzat played the role of Layla, Tucker's neighbor and the daughter of Adam and Rose, "a mixed girl who [does not] know anything about her father's culture, but is still a very happy child." She expressed that the easiest part about playing her character was when she got to bring her own "personality into the character and be funny." Bezzat explained that connected to the character so easily because of both her and her character are "50% Arab and 50% White American, and know little to nothing about experiencing the culture of [their] father's side."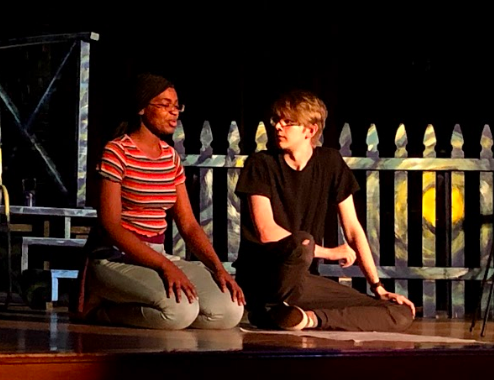 Sophomore Ayman Boudrari played the role of Johnson, one of Alya's friend, who Boudrari describes as a "goofball who [does not] really take anything seriously, but still deeply cares about Alya." Boudrari explained that "Johnson is a lot like [him], sharing a bunch of [the same] traits, caring about his friends and loving Disney," as his character made a reference to the Little Mermaid. Due to the similar personalities, Boudrari found it difficult "make him as a separate person with a separate personality."

Sophomore Ronald Batista played the role of Aiden, another one of Alya's friends, that is a "typical teenager who [is not] interested in school and [does not] want to work on the group project that was assigned" in the story. Batista expressed that being on stage with such amazing actors made being on stage "a lot easier because the ideas kept bouncing off of each other." He believes that "[they] were all able to bring something to the table and [used] that to make a great scene." Batista explained that he spent lots of time "working on standing out," to show the contrast between his character and Boudrari's character (Johnson).

Senior Vanella further explains that on one side the audience sees parental love emphasized by the characters as Alya was raised by her Uncle Tucker and occasionally her father, Billy. On the other side, the audience sees fraternal love between two brothers that moved from Jordan to America, and watch as their bond strengthens as their family grows. In the play, Tucker's dream was to travel to Hawaii with Triss, his love interest before she moves. Tucker was restricted from his future and stayed back home to help his teenage brother raise his daughter. The play focuses on how Tucker comes to terms with the fact that even though his life did not go the way he planned, it was still great and he was still able to be happy.

Malden High Play Pro performed Common Space in Semifinals at Danvers High on March 16th, but unfortunately did not progress to the Final round. However, Dexter Haag received an award for excellence in acting, while Sabrina Alayan, Isabella Geronima, Makesha Mercedat, Eliana Nieves, Lelani Nino De Guzman, and Danny Duong received awards for excellence in set design and construction, while Nathaniel Tortorella Silva and Miriam Jaber received awards for excellence in costume designs. Play Pro has also announced that they will have a school performance for Common Space but the date is to be determined.