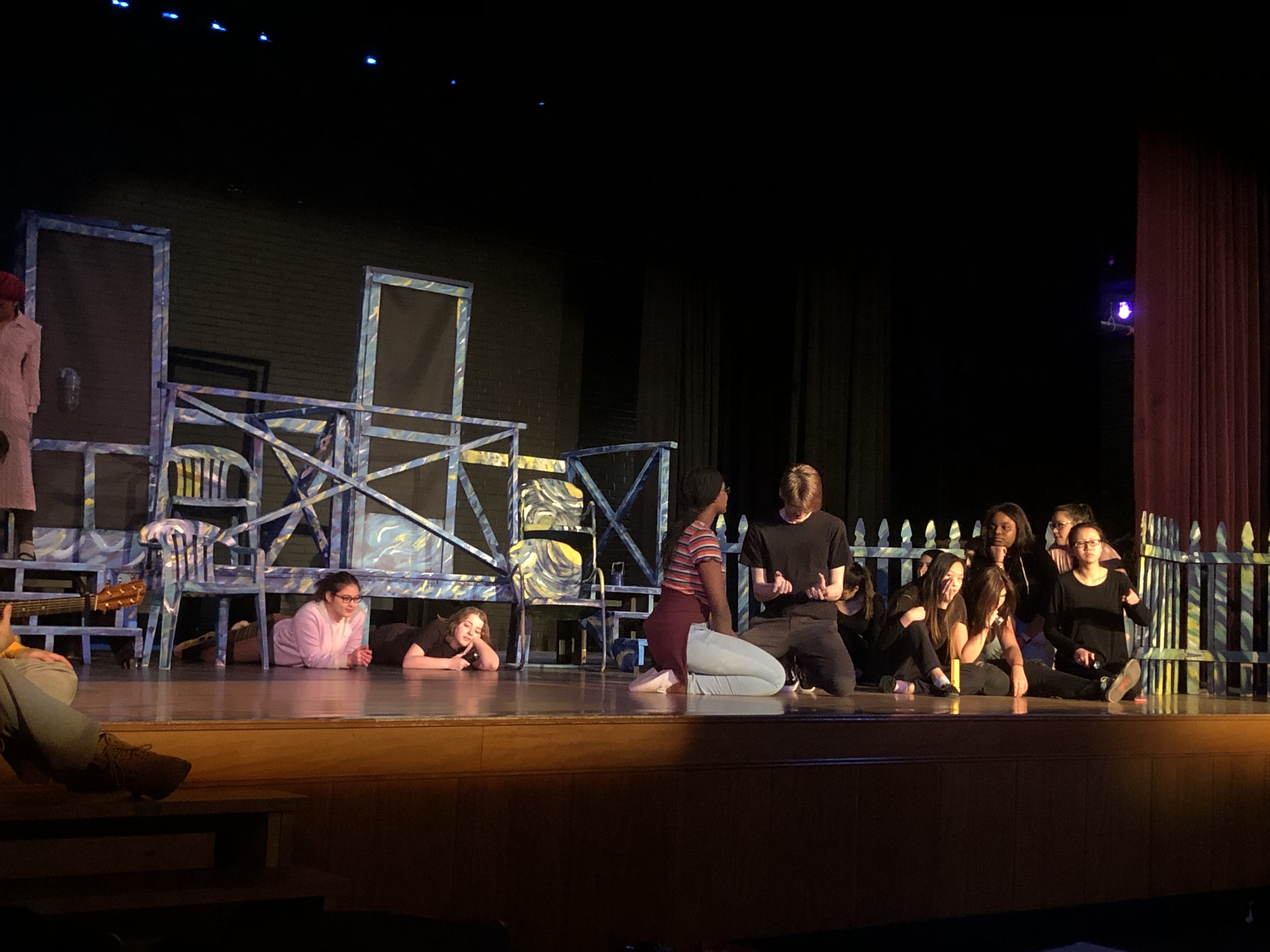 Play production members rehearsing a scene. Photo by Tonijoy Pimental.
On March 3rd the Malden High School Play Production went and performed at the annual Drama Festival at Norwood High School. MHS Play Pro placed there along with three other schools, which allowed them to progress through preliminaries and onto the next round. The show was supposed to be on March 2nd but was pushed back to the third due to snow.
During the event, not only did MHS Play Pro win, but it also had multiple students win individual awards in different categories, including Kristel Normil for her role as Grandma, Quang Nguyen for music and Sabrina Alayan for design.
The production MHS presented, Common Space, was written by the students and the teachers and explores a particular love story as it develops within a small community of people.
Competing was an exciting time for Play Pro, which has been working for many months on perfecting its performance of this show. "The performance was super exciting, [students] got to work really hard and make a show of the issues [they] faced at home and that [they] could relate to," said senior Nour Tafraoui, who played Adam.
The event was originally postponed because of a snowstorm, which is why students were unable to make it to the event and many roles were recast, contributing to some uneasiness going into the competition. Still, the "fest went very well, even though [the actors were] a little nervous at first," added on sophomore Nick Murray, who played Billy Reed.
Between each performance at the event, students were able to mingle with casts from other schools and befriend other students. "[She] think[s] that is was cool to get to meet other theater kids and being able to learn from others experiences and bond over the love of being on stage," said Sophomore Sandra Rivadeneira who was apart of the ensemble. Other students also had this same reaction and excitement towards the event. "[He] found it really cool how many new people [he] really got to meet and how all the schools really came together. It made it feel like less of [them] competing against each other," said Murray
It was also a very big learning experience for many who had never been a part of an event quite like this one.
"[He] learned what it meant to really compete but also act in front of judges. It was hard for [him] because [he has] only ever acted in front of people [he knows]," said Murray
Fest was also a very special time for many seniors who will be graduating this year. "[She] really liked introducing new people in Play-Pro this event. It's a very special time of the year for [her] and to get to share that with another group of people in the best. [She] loved seeing their initial reactions," explained senior Michelle Chan who played Dani in this production
The students left that show feeling proud of a number of different reasons from the show overall to their personal achievements. They were also not only proud of themselves but also their peers "[She is] most proud of our lead actors, it is a very emotional piece," said Rivadeneira. Other students were just proud of their general success. "[He is] most proud of making it through prelims and making it into the next round," explained Tafraoui.
Although the students did have a lot of fun there was also a lot of nervousness with competing for a number of different reasons. Chan "gets nervous about exposing the newcomers to the high school theatre atmosphere. Going into Play-pro [her] sophomore year, [she] wasn't aware how predominantly white it is and being in Malden [she] really forget[s] that. Sometimes things get messy with either discrimination from other schools or feeling like an outcast but it really bonds the group through supporting one another and learning to be unapologetic about who [they] are."
Other students dealt with the intimidation from other school's performances. "[He] had a hard time waiting to go on and seeing all the others shows go up, it was scary knowing that [he] was going up against such good shows," described Murray.
Being a part of the competition, the students feel as though they learned a lot that will be able to help them at their competitions going forward. "This performance gave [her] a hint on how the audience reacts. [They've] only had her directors and crew watch so there aren't many fresh eyes on it anymore. Even from the wings it's hard to hear what people react to but hearing their feedback and what the judges say is always really helpful," said Chan.
Playpro will continue to perform their next show March 16th at Danvers High School.