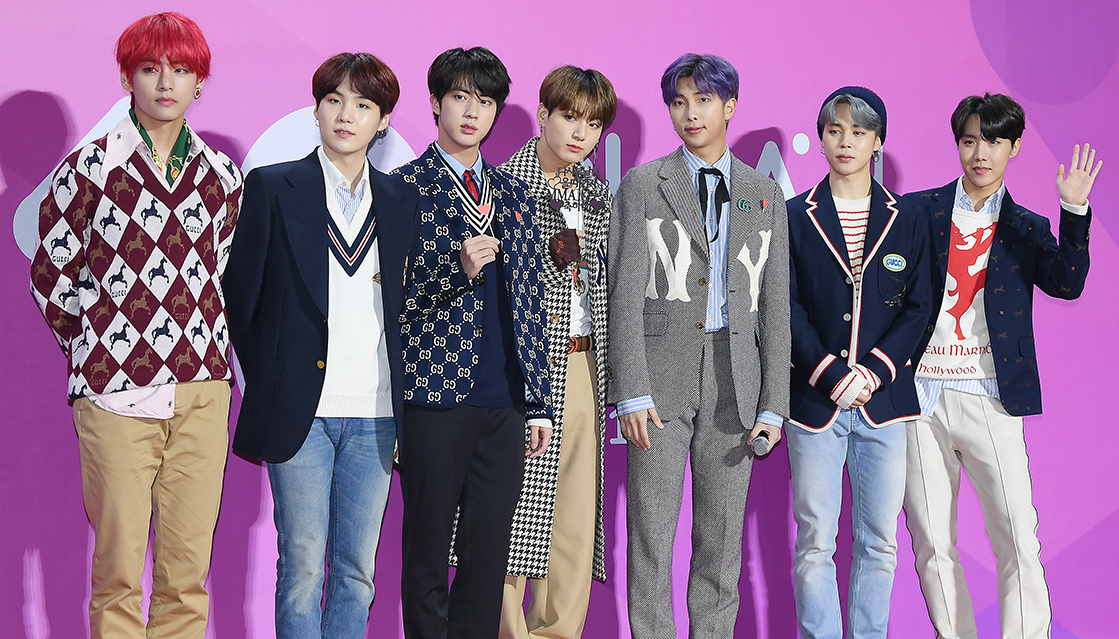 Photo from Wikimedia.
In The Mood for Love Pt.1 Album Review - BTS

'In The Mood for Love Pt.1' or also known as 'The Most Beautiful Moment in Life Pt. 1,'is an album from the renown k-pop group BTS. The album first came out on May 5th, 2015 and the band has generated a lot of recognition ever since. It consists of several popular songs that the group is known for. The album is from The Most Beautiful Moment in Life series that is made up of Extended Plays, a collection of albums, from the HYYH era, also known as HwaYangYeonHwa which is translated from Korean into the albums name in English, In The Mood For Love.

Intro: The Most Beautiful Moment in Life: Throughout this track you can really hear the frantic and aggressive rapping coming from one of the group members who composed the song, Yoongi, in which he is comparing life to a game of basketball. He connects his bottled up feelings to the sport that seems to eat him, and his emotions up. Specifically, Yoongi goes into depth about how he was frustrated and stressed about his happiness and future that he seems to never reach, comparing it to the rim of a basketball hoop. Overall, many of the lyrics bring a melancholy and suspenseful impression to the song.

I Need U: Next is 'I Need U' which is the title track of the album. The song is a very dynamic track as it puts out a feeling of sentimentality and grace all together into one whole. This is because when the rapping parts become less intense, the song is able to hit into a suitable, perfect timed harmony for the chorus. The meaning behind the track is that there are times where you have to let go of a person and take them out of your life when they are causing trouble for you, even when you love them dearly. The song explores about a love that has gone violent.

Hold Me Tight: This song is great to listen to if you enjoy having a mix of ballads and hip-hop. It is a wistful song that is able to greatly balance out the two musical genres and as well as the members who are a part of the vocal and rap line, perfectly fitting in their talents into one song. The melody of the track is composed of a more slower tuned sound and with some rapping. The lyrics tell a story about a love that has gone faded and the desperation to save it before their feelings for one another have disappeared completely.

Skit: Expectation!: This track isn't necessarily a song but rather it is an audio skit where all seven members are just talking and giving their opinions about whether or not they should expect reaching number one on a Korean music program. Some of the members go into details about how they shouldn't exactly set expectations because then they'll get their hopes up and end up getting nothing. In just this one track, BTS is able to make you laugh from their commentary and allow you to take a break from the sentimental songs of the album.

Dope: 'Dope' or also known as 'Sick,' is a playful song that utilizes synthesizers in order to imitate the use of a saxophone. It also makes perfect use of crescendo as it's a great way to keep the listeners staying for more when the bass drops. The song consists of energetic rapping that has amazing wordplay. Although it is a very much lively track, the meaning behind it is a bit dark as they are talking about what people have to give up when in difficult economic situations and calls out adults and the media who shame the younger generation for not working hard enough.

Boyz with Fun: Adding on to the high-spirited mood, 'Boyz with Fun' is primarily a energetic song about having fun and letting loose. It gives a message about how you shouldn't care about the way others perceive you and rather, have fun with your life. The song makes you want to get out of your seat and feel overwhelmed, in a good way, with their enthusiasm and hyper personalities through the lyrics and the use of incredible beats.

Converse High: After, the album moves on to the funky song 'Converse High.' Yes, the song is really about Converse. It is a very simple track as it doesn't really have a deep explanation to it other than being into the brand's shoes. The song would have to be considered lighthearted due to the fact that it puts off a playful twist to the entire album and has a soft melody to it.

Moving On: 'Moving On' has a smooth tune which its composition is simple but with a few different nuances such as the joyful, muffled squeak of a child in the background, it pulls you into a place where you're feeling nostalgic and are reminiscing those times where you have struggled to get to the place where you are but have at least managed to make it here. In just under four minutes, BTS is able to convey their emotions and talk about how they recall the struggles that they've encountered during their first years as a group. Despite that, they give a clever message saying that they've moved on and took all that madness from that certain part of their life, and have since then applied it as a valuable lesson that will then take them to the next step in life.

Outro: Love Is Not Over: Lastly the outro of the album, 'Love Is Not Over' is a pure ballad that has an absence of a fast tempo beat. The song first opens up with vocals from one of the members Jungkook, which is then tagged along with soft piano chords. The piano helps out with the rhythm of the track which maintains the entire album tenderness and the smooth harmonies. The meaning behind the song is essentially the pain of wanting to love someone or have them close to you until the very end.

In my opinion, In The Mood For Love would have to be one of my favorite albums as it contains many highly enjoyable songs that I could listen to on repeat. Listening to the whole album I would have to say was an emotional rollercoaster since there were so many emotions put out such as funky, playful, and even soul-searching. All of the songs were perfectly well crafted and is a great collection of replayable tracks.

BTS later released two other albums called The Most Beautiful Moment in Life Pt. 2 and The Most Beautiful Moment in Life: Young Forever which are both a part of the same series as In The Mood For Love Pt. 1.