Danielle Higgins is a recently welcomed a new member of the special education department, currently co-teaching English 11 and Dramatic Literature.
As a young child, Higgins has always "loved working with kids" since in high school, she had worked at a daycare. During her time there, she specifically worked with a child that had autism that made her driven and motivated towards pursuing a profession in education as the experience immersed her into the world of teaching. The experience inspired Higgins' goal to "make sure that every child has an education and has access to their education."
While in college, Higgins taught at a middle school and enjoyed her experience as she stated, "high school and middle school are very similar in maturity levels."
Before coming to Malden, Higgins had taught in Lawrence and lived in New Hampshire. When looking for a new position in a different area, she was searching for a place that had a similar position to the one she had before, especially in the inner city since she has always "loved city life."
Additionally, she was also searching for a place where she would have the opportunity to "work with students of diverse backgrounds." Higgins was also attracted to Malden's "beautiful model of co-teaching."
She explained that in her previous position, she was not able to closely work with her co-teachers due to the schedule she had, whereas now, "[she] gets to plan with her co-teachers, have input on the lesson plans, and bounce ideas off of each other" as certain strategies do not always work for every student and "[she] is very much about making things universally diverse."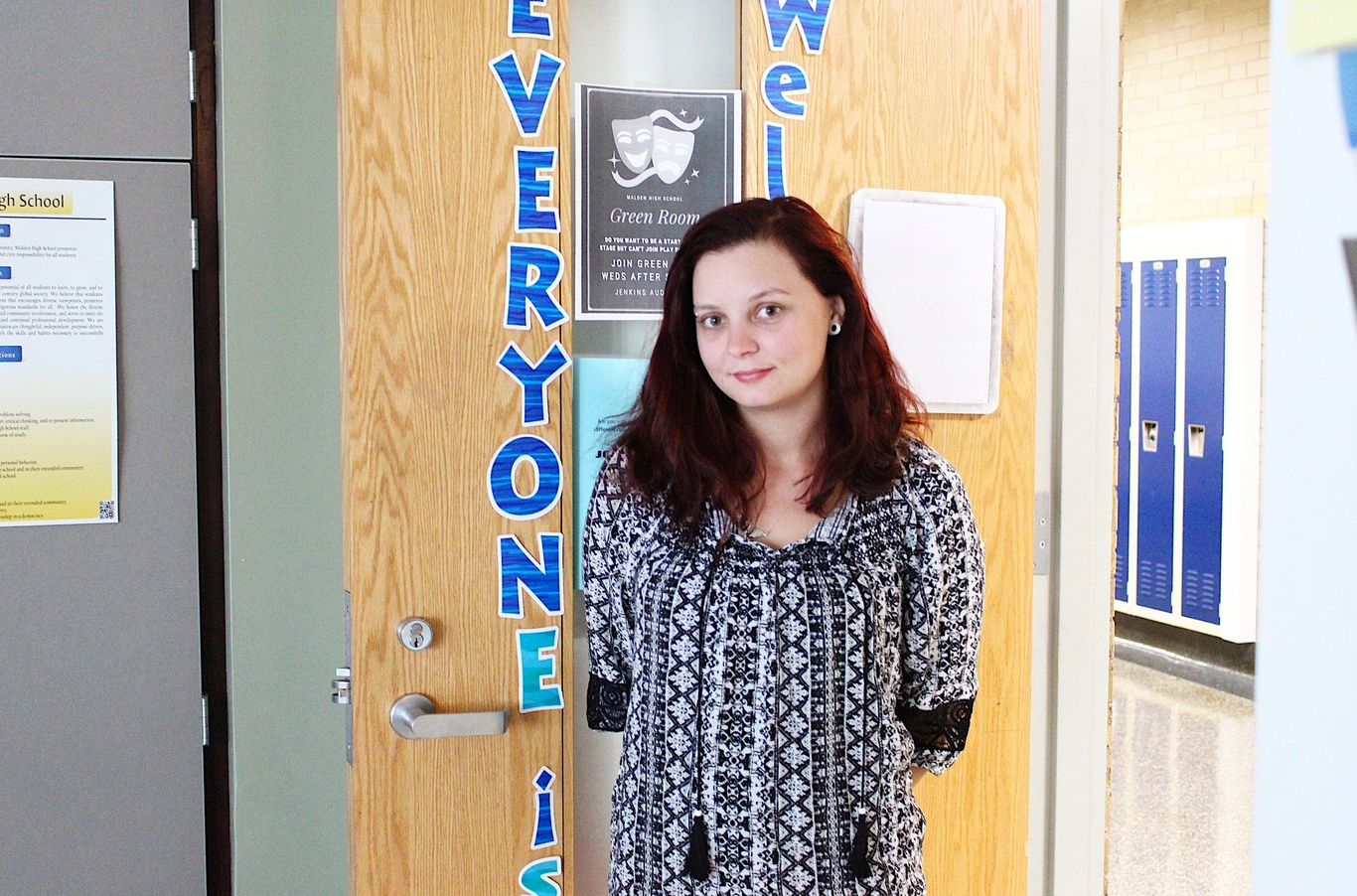 So far, she has been enjoying the vast diversity of students and "seeing how their personalities play out during class," particularly when the same lessons are being taught. Moreover, she finds it interesting how what students prefer certain classes over others.
Higgins reflected that she faced many challenges during the time that she taught in Lawrence one of them being that she only "built a few strong relationships with [her] students" because she was constantly in different classes working with various teachers and had little time to learn the curriculum ultimately making Malden more appealing.
Despite being a new teacher at MHS, Higgins has already proved that she is a well-rounded teacher. Elizabeth Smith, the Secondary Program Manager was a part of the hiring process for the new position in the special education field.
Smith mentioned that when hiring a new faculty member she looks for someone who "has experience in an urban setting, appreciates the diversity of our students, and a person who is going to approach learning in different ways."
She further explained that she felt as though Higgins seemed to be the perfect teacher who would be able to "reach our kids and relate to them, making connections and build that trusting relationship" which Smith believes is essential to teaching.
Leanne DeRosa, an English teacher who is also new to MHS and co-teaches with Higgins for English 11 and Dramatic Literature, expressed that Higgins "is incredibly organized and diligent, and always has in mind what she needs to do."
DeRosa emphasizes that whenever a student is having a hard time with class work, Higgins is "quick to jump in and help them, making sure that they're getting the feedback that they need."

English teacher, Jeremiah Smith stated that working with Higgins "has overall been a positive experience" due to her "calming nature that helps to set the environment of the classroom." He also added that she "comes across to be a very approachable person towards the students" and what they seem to notice first is her "passion for English and writing."
During Higgins' free time, she enjoys reading novels specifically dystopian novels, and tries to "read a book a day or every two days" depending upon how busy she is.
All in all, Malden High is glad to welcome new special education teacher, Danielle Higgins to the community and is looking forward to her positive impact at MHS.