Malden High School's varsity football team stepped onto the MacDonald stadium field for their first game of the season on Friday, September 13 against Melrose. Although winning the majority of their scrimmages, they lost 47-6.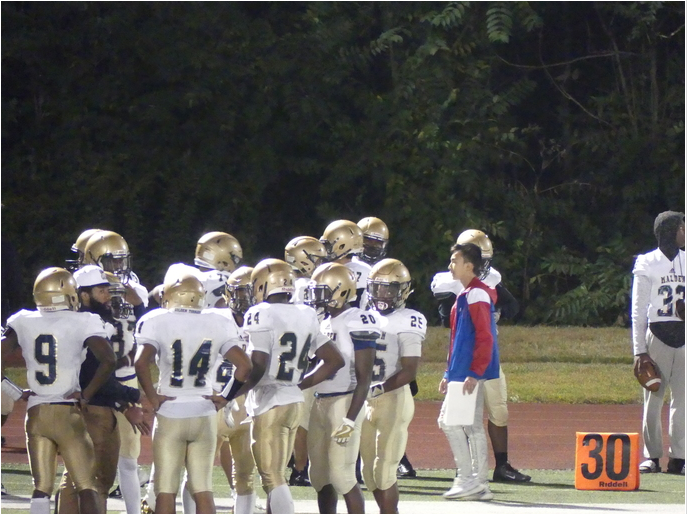 Charlie Conefrey, the athletic director at Malden High, had a lot to say about the new football season, stating that "success in the classroom is always on the top of [his] list for an area to improve upon." He then added that "educating athletes that [succeed] on the field starts in the classroom and not the other way around." 
The Greater Boston League had now been revitalized, taking Malden out of the Northeastern Conference and putting it back in The Greater Boston League (GBL).  Conefrey shares how "Malden High School Athletics [is really looking] forward to playing our neighboring cities." These neighbors would include Somerville, Medford, Everett and Revere.
Stephen Freker, head coach of the football team, is "hoping to have a successful season in many areas." He then went on to list some things they are hoping for the season, including "[developing their] student-athletes as good school citizens and as football players." They also wanted to maintain an environment around the football team where the players could feel school and team pride. "If [they] meet those goals [they] will have a chance of putting up some 'Ws' in the win column," Freker added.  
"What we really do like and look forward to this season is how happy the players are when we earn a victory and how proud they are around the school afterward," Freker says when asked what he would like to see in this season from past seasons. 
He went on to share that there were three new senior captains: Jerry Mervil, Peterson Maxis, and Ishmael Sylus. Freker added, "that the three of them have become very good leaders for [their] team."
John "JJ" Costa, quarterback, had a lot to say about his fellow teammates and himself.  Costa mentions that "[he felt] that if the team was more disciplined [they] could've walked away with a win." Scrimmages are never as stressful as an actual game and sometimes things can be done differently, Costa shares how "[he] wasn't mentally there and [he] let everything get to [him]" during an actual game in comparison to a scrimmage.
Jude Alphonse, junior linebacker and running back, shared how "[he thinks they are] physically ready but [they] need to communicate more as a team on defense." Alphonse points that if they continue to improve on their communication throughout the season "[he's] sure [they] would have won." 
Overall the new season is hoped to be a good one. Fans and players are hoping for more wins overall. The players are hoping for better communication among each other, and they are hoping to be at their total best for each and every game. 
For more photos of the Malden vs Melrose football game click here.
A previous version of this article stated that the game was against Medford and that the score was 37-6 but has now been corrected in an updated version.