Last year, Jay Hargis was a student-teacher at Malden High, co-teaching with Ms. Mateeva and Mrs. Harrison. This year, he is an official teacher of the math department, with four Math 3 CP classes and one Math 2 Honors class. 
His experience of being a student-teacher was a good experience for Hargis. As Mrs. Harrison's and Ms. Mateeva's room are next to each other, he was able to "constantly bounce back and forth" between them. He generally felt accepted by the faculty, even participating in the student-faculty volleyball game last year. 
The process to be hired as a new teacher was extensive yet rewarding for Hargis. Usually, if a person is being considered to be a potential teacher at Malden High, they would have to give a demo lesson. However, as Mr. Hargis was a student-teacher, he just had to be observed by the administration. 
Prior to that, Hargis stated he was already used to being  "formally" observed "every other week" by both teachers and administration. Hargis was also interviewed by Boyle House Principal Ms. Sibley and other math teachers. He included that a student was supposed to attend his interview as well but they, unfortunately, did not show up. The final part of the process was an interview with Mr. Mastrangelo.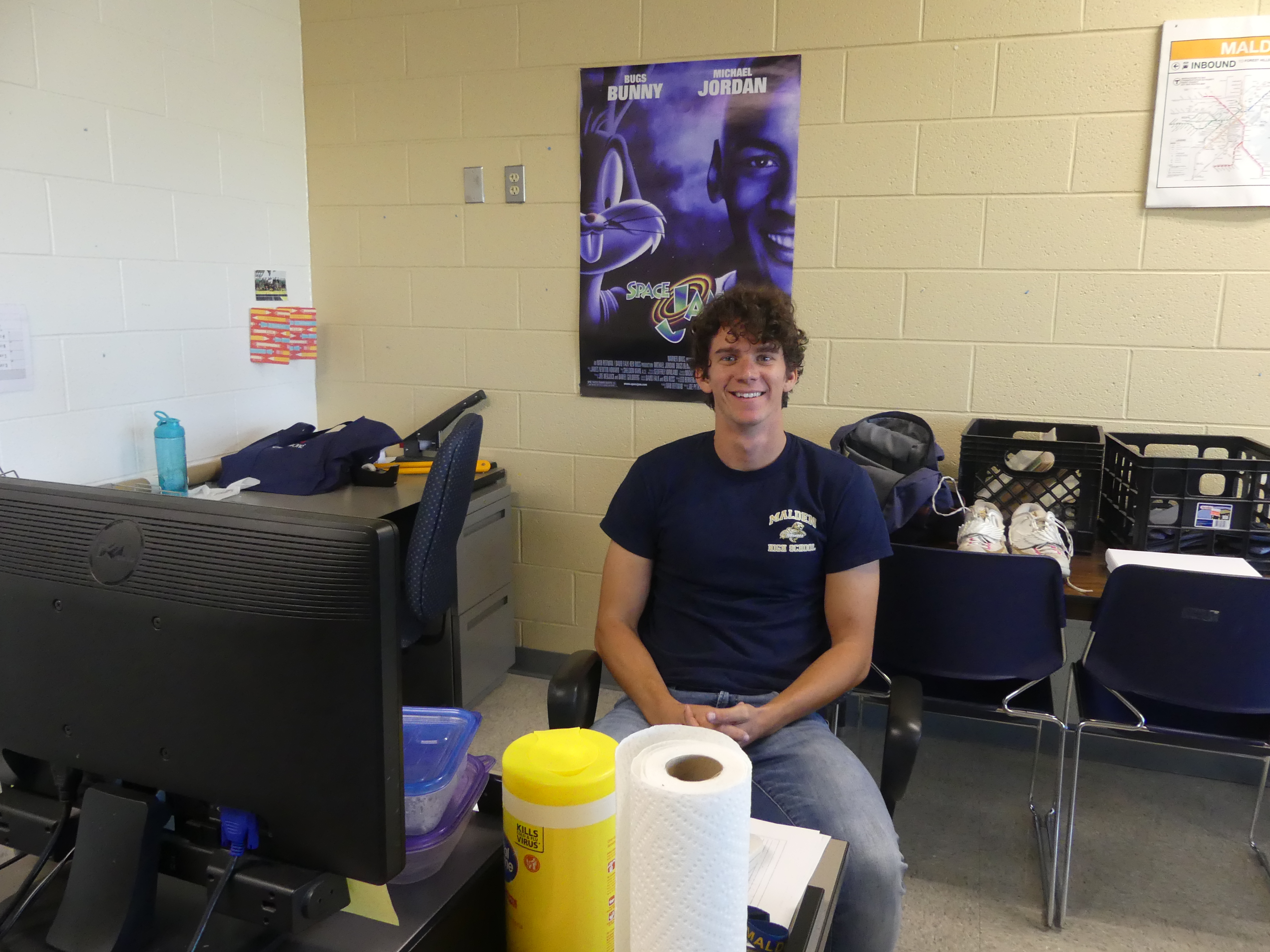 The transition from being a student-teacher to an official teacher was smooth for Hargis, as he had the benefit of knowing "familiar faces" around the hallway already. He also has reached out to other math teachers as well for resources for teaching the curriculum, adding that they have all been helpful as they have taught it previously. For Math 3, Hargis uses his memory of co-teaching Math 3 last year to make adjustments to his lessons as he goes. 
His teaching method emphasizes the involvement of all the students in his class. He aims to get students involved in some way, whether it is just voicing their agreement with a student or explaining an entire problem on the board to a class. He likes to get his students thinking about a problem and keeping them "on their toes" by trying to be "loud and fun." He hopes to take the subject he loves and "give it back" to his students. He believes that students tend to hate math due to his previous math experiences, giving him more of a motivation to make the subject more enjoyable for them. He also realizes that math can be "boring," so his goal is to make it "a little bit fun."
While Hargis is familiar with Malden High this year, he is still adjusting to Massachusetts as a whole. He attended Webster University in Saint-Louis, Missouri, majoring in math and business. Reflecting on his college experience, he says it was fun going to school in his hometown. It was a "small school," according to Hargis, but his time playing golf there helped him feel part of the community. The move to the Boston area was "very different," but he is glad he moved. 
Previously, he was only an hour drive away from his family, so he was able to go home anytime to see them. However, if he wants to visit now, he would either have to fly or take an 18-hour drive. He described being away from them as "weird," but added that it is nice to be able to "start off fresh" and be independent. To further integrate himself into the Boston area, he tries to go to the gym after school daily, while also playing softball and basketball on the weekends. 
Hargis would like to make an impact where students he does not have in his classes could ask him for help with whatever they need. Even though this is his first year being an official teacher at Malden High, Hargis has already had a couple of students ask him for help with the SATs. He hopes to be involved with the students, as they are "what really makes Malden High a fun place to work."