Click on the link to listen to the song the mural was inspired by.
The streets of Malden have gained more life, with the addition of the "Spirit in the Sky Mural" found on the corner of 110 Pleasant Street. 
The mural was made to honor former Malden resident Norman Greenbaum, who wrote the song "Spirit in the Sky" 50 years ago. 
The image painted shows a hand releasing a rainbow in the sky, representing the "spirit" from the lyrics in Greenbaum's song. 
Greenbaum was a Malden High School graduate for the class of 1960, however found himself recently back in this city to attend a huge ribbon cutting to honor his songs and his roots he made here in Malden. 
Managing Director Naomi Brave, whom worked and directed the making of the mural stated the idea for it all came from Malden Arts and the "4 themes for Phase 1 'Call to Artists' for of the ARTLine" that they chose. 
Each theme was designed to focus on an artist who was born in Malden. From there the choice was up to the artist.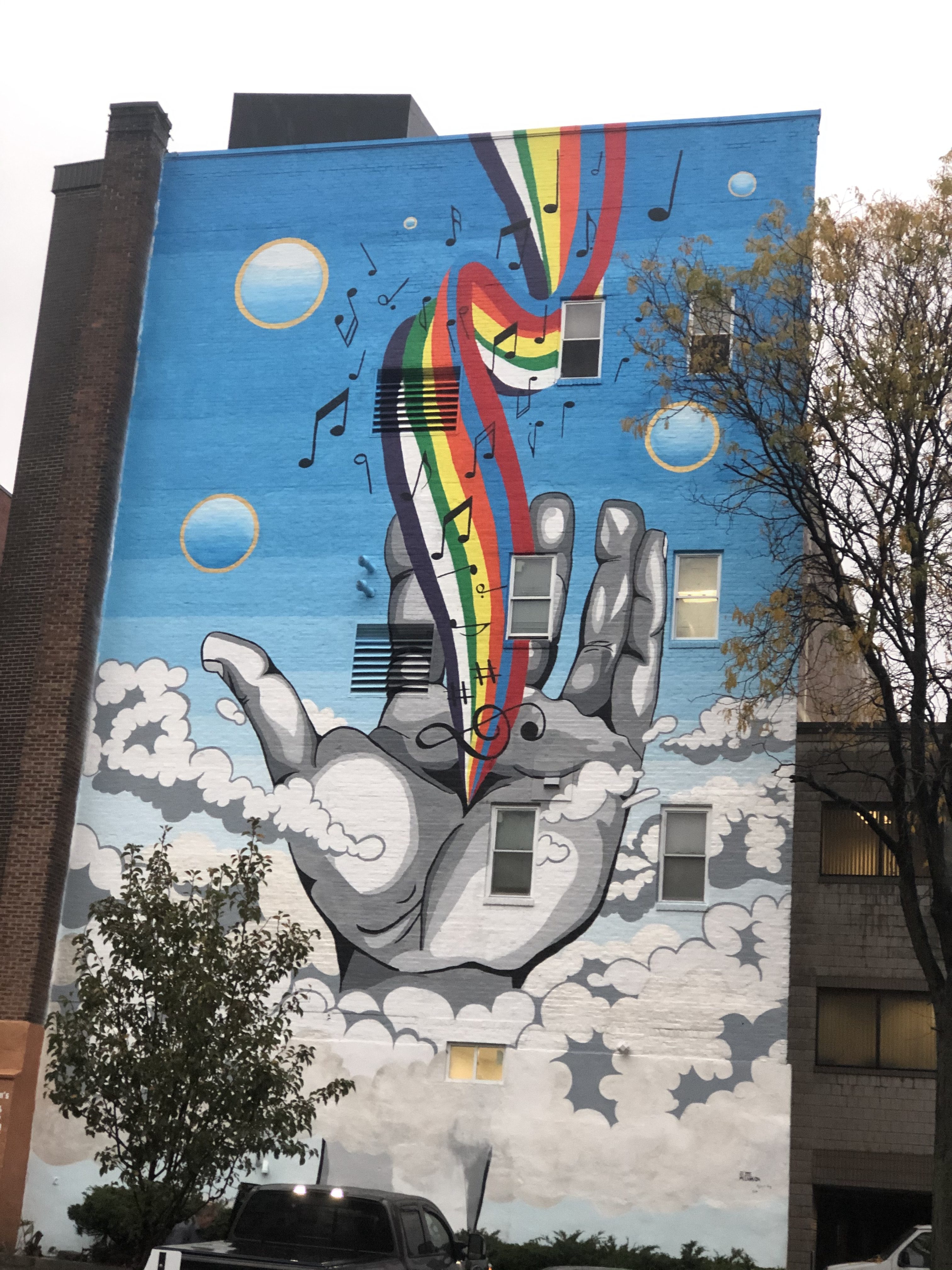 Brave stated that "artists responding to the call could choose which them they wanted to design a mural for. Themes were: Spirit in the Sky, Wonder Woman, Perry Mason and a general Asian theme." 
When chosen, working with Greenbaum was described by Naomi Brave as "a real pleasure!" 
Norman was supportive of the project and expressed that he "loved the idea of a mural inspired by his song being painted in his hometown," and loved the design of the art. 
Brave and the rest of her team were "honored that he flew home to Malden to attend the ribbon cutting!" 
The artist who created the piece of artwork is Jesse Melanson. Melanson was picked out of over 100 other artists by the Malden Arts. Brave stated that Melanson was chosen because of its beauty, its wonderful interpretation of the song, and Jesse's professionalism and ability to complete the project." 
Brave stated that Malden Arts believed "the power of art gives people a positive feeling about their community and crosses all language barriers." 
This mural has undoubtedly brought light to the city of Malden, and has given joy and spirit to the individuals who walk by it everyday. Brave stated that having beautiful art in the community "benefits residents by giving pride in their neighborhood, and a sense of place and belonging." The art itself benefits the community because it brings everyone together through the pride residents get from living in a neighborhood with such diversity.