Years ago, Malden High used to feature a student recognition award, but for unknown reasons, the tradition faded away. So this summer Principal Chris Mastrangelo and staff were talking about how they can bring back the tradition to recognize students for their outstanding effort.
After receiving a grant from the BARR Foundation, the school brought together a group of teachers and some students to observe the school from different perspectives and see what they can implement to improve the environment within the school. One of the things they decided that the school was lacking was the "vision of a graduate." Mastrangelo described that when a student graduates from the school, they should be "communicators, collaborators, critical thinkers, innovative learners, empowered citizens, and persistent individuals."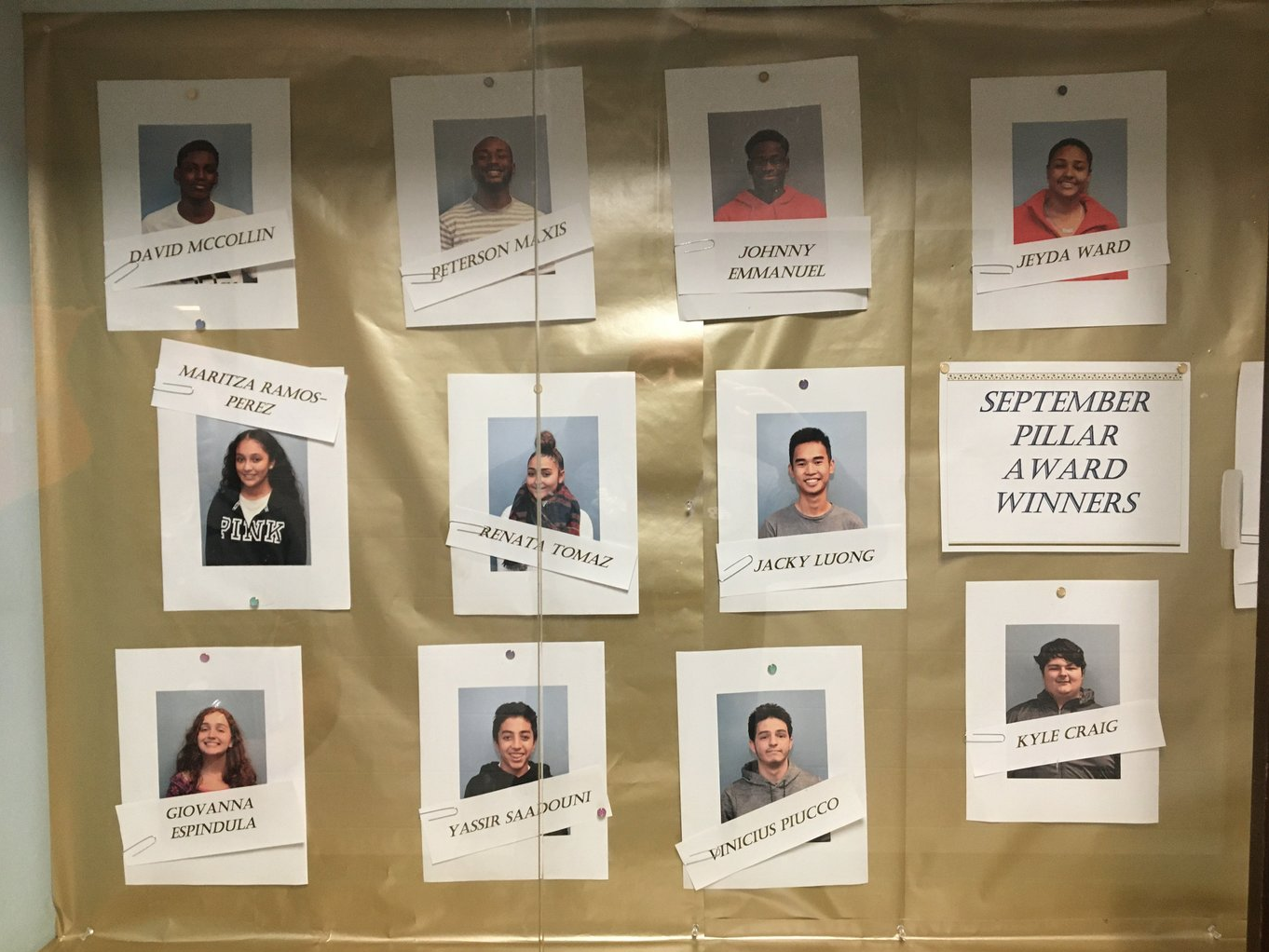 Keeping the vision of a graduate in mind, the school created the "Pillar Award." When you think about it, the pillars of a building are what it stands on—the foundation. Students nominated for the Pillar Award are an essential part of Malden High. 
To start off the program, Mastrangelo sent out an email to all of the staff members in the school, asking them to nominate students that seem to fit the picture. He received about a dozen responses and in the end there were twenty students nominated. Some students got nominated by several teachers, some teachers nominated several students. 
Initially Mastrangelo was going to have it be a quarterly award, but as a team they decided on making the Pillar Award a monthly tradition. The pictures of the students in the display currently are the September winners and in a few weeks the October nominees will be put up.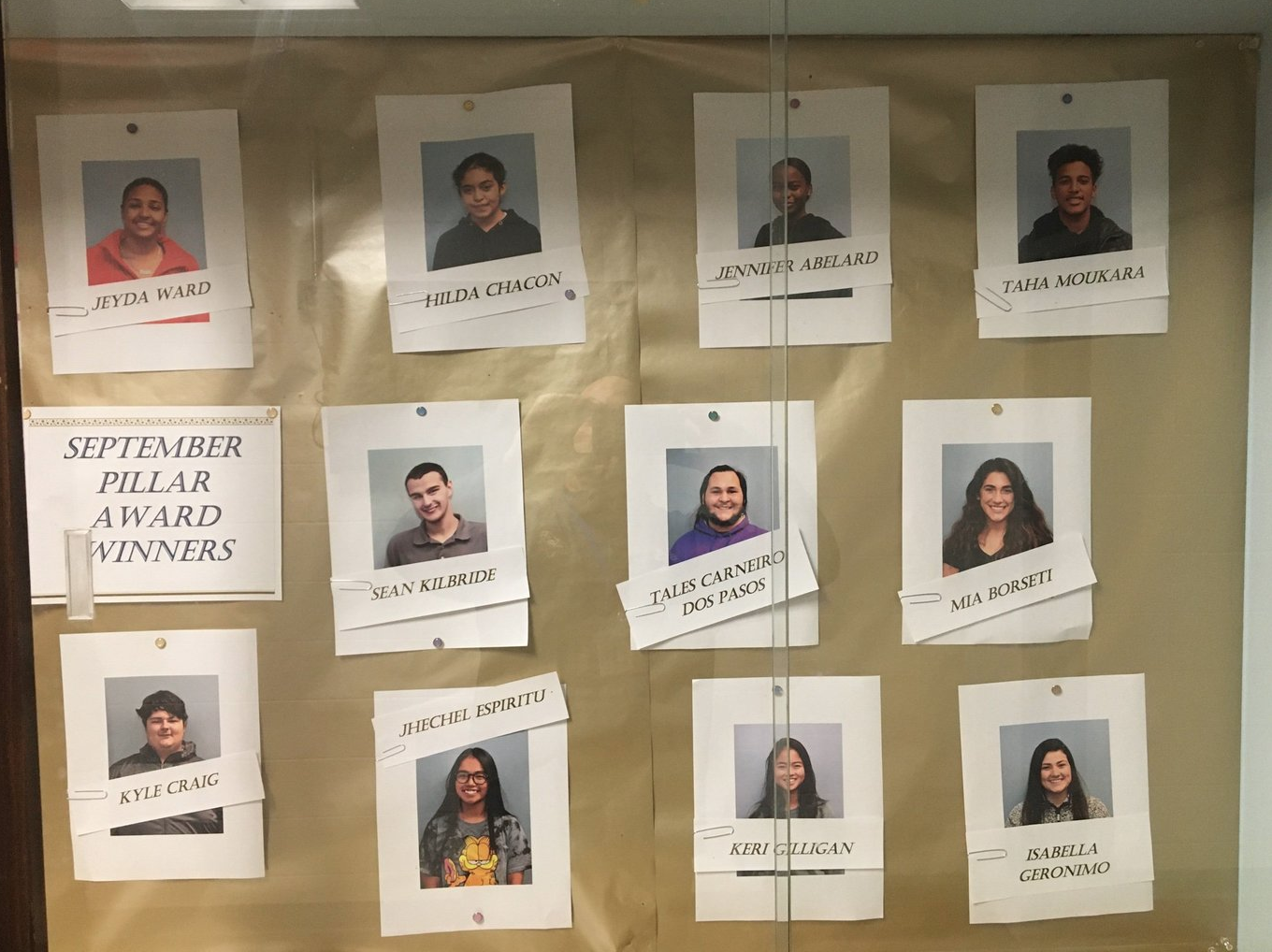 The full list of students nominated for the Pillar Award for September are as follows:
Jeyda Ward - Grade 12
Hilda Chacon - Grade 9
Jenifer Abelard - Grade 12
Taha Moukara - Grade 12
Sean Kilbride - Grade 12
Tales Carneiro Passos - Grade 11
Mia Borseti - Grade 12
Kyle Craig - Grade 11
Jhechel Espiritu - Grade 9
Keri Gilligan - Grade 12 
Isabella Geronimo - Grade 11 
David McCollin - Grade 10
Peterson Maxis - Grade 12
Johnny Emmanuel - Grade 9
Maritza Ramos-Perez - Grade 9
Renata Tomaz - Grade 11
Jacky Luong - Grade 12
Giovanna Espindula - Grade 10 
Yassir Saadouni - Grade 9
Vinicius Piucco - Grade 12
Last Wednesday, there was a "Reveal Party" for the nominees and the staff that nominated them. It is called a Reveal Party because the students did not know which one of their teachers nominated them beforehand. Mastrangelo said that the "staff is really excited" and he believes that this is "just a great way to recognize some students." 
Mastrangelo added that the students seemed to enjoy the new institution as well, based on their reactions when he called them in to tell them about their achievement. It was not uncommon for him to get emails and messages from the kids worried that they were in trouble, and it was "priceless" to see their reaction when they realized that they had actually won an award. 
Giovanna Espindula, a sophomore nominated for the Pillar Award by her English teacher Pasquale DiBenedetto admitted that she "was so shocked and caught by surprise," wondering "why they [voted] for [her] out of all of the deserving students in the school."  
Another nominee, senior Jacky Luong, expressed that when he found out he had gotten the award, he "[was not] sure what to think," but he "[remembers] feeling thankful for whoever nominated [him]." 
Life starts to become very busy when you enter high school. The expectations for both staff and students are so high, and sometimes there is just so much happening all at once, that we get in the habit of diving right into things. There is not enough time to pay attention to the little things, and in many ways, the little things are the most important ones. As a school, Mastrangelo is trying to "shift that" through the Pillar Award and taking the time to appreciate and recognize students that are representing the school and its vision.