The GBL All-Stars are the conferences' top athletic performers that are voted by the team coaches. This year, Malden's Field Hockey team finished second in the league and so they were allowed to vote for three all-star athletes. The award was given to juniors Billy Zeng, Alex Be, and Kenny Nguyen.
Coach Samantha Souza describes an All-Star athlete as "someone who works hard consistently during both practice and games." These are qualities that she saw in all three varsity players as they pushed themselves to improve further in their junior year season. Souza praises their work ethic, saying that "they practice like they play," and that it showed as they not only had great skills, but they "support, encourage and motivate their team."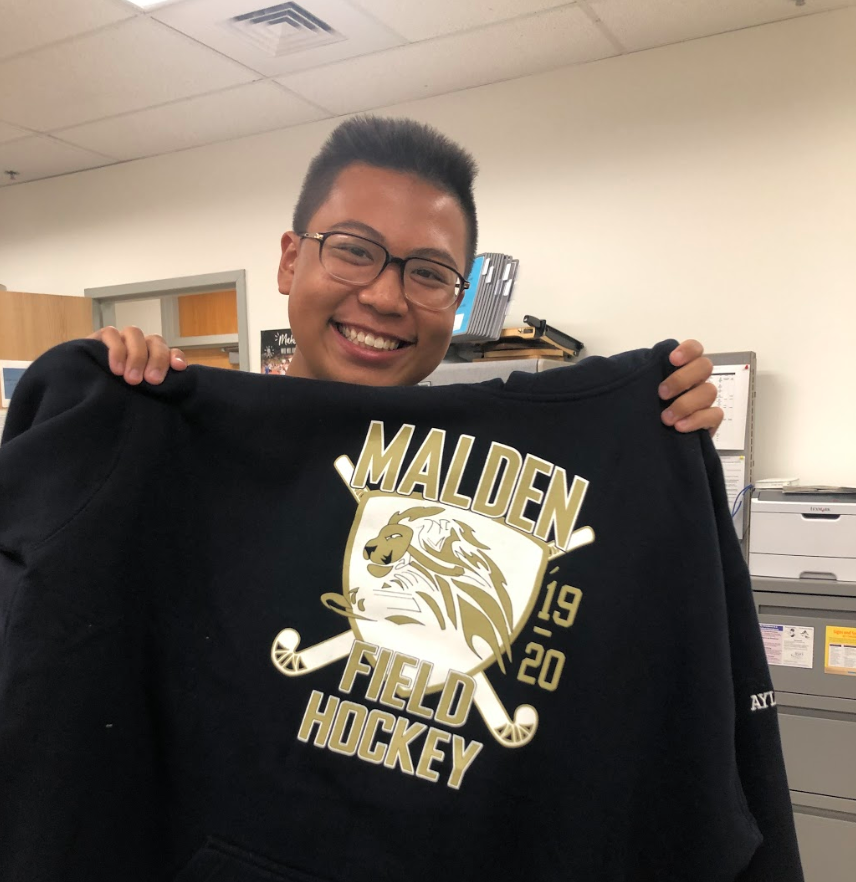 "The best players of [the] team and those who have the potential to be leaders and captains receive the All-Star award," Nguyen stated, elaborating that he "understands that the award of being a GBL All-Star is one that some of the best players of their teams earn." 
Understanding the meaning of being an All-Star made the event even more meaningful for Nguyen, as he describes himself as "ecstatic" when he was first told that he was the receiver of the title during the field hockey end of season banquet. 
"It's extremely rewarding to know that all the hard work pays off in the end," Nguyen says. He's been playing the sport since his freshman year and had previously won the NEC All-Star and NEC All-Conference for field hockey during the 2018 fall season. Souza shares that this year, with his speed and improved stick skill work and control, Nguyen became "unstoppable as [their] leading scorer." 
Zeng describes his reaction to being named an All-Star as a "rollercoaster of emotions." Zeng had also been playing field hockey since his freshman year, and this year was his first time being a full-time varsity team member.
 Souza states how one of Zeng's biggest improvements during the season was how he "became more vocal this year and turned up the aggression," adding how he "sees the field very well, commands the line and is a great motivator." His team spirit was something very important that any team player should have and it's proved to have not gone unnoticed. 
Zeng credits a big part of his improvement to his coaches for "pushing him to his limits", as well as seniors Ashley Giang and Thao-Mi Nguyen gave him support he needed, and helped him develop a positive and determined attitude as an athlete. 
When Be found out he was being named an All-Star, an award he generally knew as a "title to players who are the best" he was bewildered because he thought he did not deserve it. Unlike Nguyen and Zeng, Be has only played since his sophomore year and believed he "could've done more."
 However, Souza expresses how Be "stepped it up big this year." Taking on the position as a midfielder, Be worked hard to "never [give] up on the ball" and to "always [hustle] to support both offense and defense" in any situation. Be shares how he saw Nyguen as a support system throughout the season and someone who "[inspired] to put [his] everything" into field hockey. 
Besides being named Fall All-Stars, Zeng and Nguyen were both named senior captains for the 2020 field hockey season. They were named captains for similar reasons that they were named All-Stars, because of their "dedication, commitment, and hustle," as Souza puts it. Both varsity members have proved to be valuable team players both on and off the field and have put in the hard work to be able to receive and be proud of titles such as All-Star and captain. "I am always impressed with their consistent level of effort" Souza parises again both the captains and Be. 
"Their character shows," Souza explains, "[that] they are committed, dedicated, and are hungry to win." All three juniors were key figures in bringing the field hockey team to a successful season and will continue to push the team into the direction of improvement, come their senior season.