Nordquist in her South Bend Blue Sox uniform. Photo by Linda Glover.

Varsity Letters hung in Helen Nordquist's room. Photo submitted by Linda Glover.

Signed Helen Nordquist Card. Photo by Linda Glover.

Helen Nordquist, best known for playing for the South End Blue Sox as an outfielder and pitcher. Photo submitted by Linda Glover.

Helen Nordquist's many trophies aquired over her school years. Photo submitted by Linda Glover.

Helen Nordquist voted most athletic for the class of 1950. Photo submitted by Linda Glover.

Nordie, pictured on the left, during her time in MHS played basketball for the Golden Tornados. Photo submitted by Linda Glover.
In 1954, she played for the South End Blue Sox. Before that, she was an outfielder and pitcher for the Rockford Peaches, a team made iconic by the 1992 film A League of Their Own. She joined her first team in the All-American Girls Professional Baseball League, the Kenosha Comets, at the age of 19. But before her extensive baseball career, Helen 'Nordie' Nordquist was a Golden Tornado.
From an early age, Nordquist was a trailblazer with her distinctive athleticism. As a child, she played with the neighborhood boys; the adults who watched them noted that she was already better than her peers. For junior high, she attended the Beebe School, as it previously only had grades 7 through 9. Crafting her legacy already, she stood out in her grade almost immediately, as she impressed her gym teacher by being the only girl to climb to the top of the rope during class. From then on, she made history by being the first female to ever be recognized for her athleticism, earning two Varsity letters and various certificates for her achievements. 
Nordquist's streak of athletic excellence reigned during her years at Malden High School. She was a triple-team competitor from her first year, playing field hockey, basketball, and softball, eventually obtaining the role of co-captain for both field hockey and softball. She stunned fellow classmates and teachers with her sheer talent. Her gym teacher and coach, Virginia Gardner, called her one of the "best and finest athletes" she had encountered. For the Class of 1950 senior superlatives, she was voted as the most athletic female student. In the same year, she won the Kappa Phi award for best female athlete, taking home a gold cup. Malden High helped her earn several accolades, but it was also the place that gave her the nickname 'Nordie.' Gardner was the creator; she was known for calling her students by their last names. For Nordquist, Gardner shortened her last name down to 'Nordie,' becoming a name all of Malden knew her by.
Nordquist graduated Malden High in 1950, but her sports journey did not end there. By either fate or chance, she found an advertisement in a newspaper for tryouts hosted by the All-American Girls Professional Baseball League. She trekked all the way to Virginia with her mother on a Greyhound bus. The grueling tryouts paid off immensely as Nordquist was accepted into the league. However, her acceptance meant that at the young age of 19, she would have to move from her home of Malden to Kenosha, Wisconsin, as the AAGPL only operated in the midwestern states. 
Despite the drastic change in location, Nordquist hustled on the baseball field, establishing one of her strongest assets: her adaptability. She played for the Kenosha Comets during their 1951 season. Even though she was an outfielder, she was noted for versatility, with her baseball stats describing her as a "versatile player" who "led the league in assists" in her first-ever year in the AAGPL. The Kenosha Comets unfortunately disbanded in 1951, but Nordquist recuperated, finding a place in the Rockford Peaches.
Taking on both roles as an outfielder and pitcher, Nordquist competed with the Rockford Peaches for their 1952 and 1953 seasons. In a remarkable feat, the Peaches made the playoffs in those same two years. For the 1952 season, the team had a record of 55 wins and 54 losses; in 1953, the record was 51 wins and 55 losses.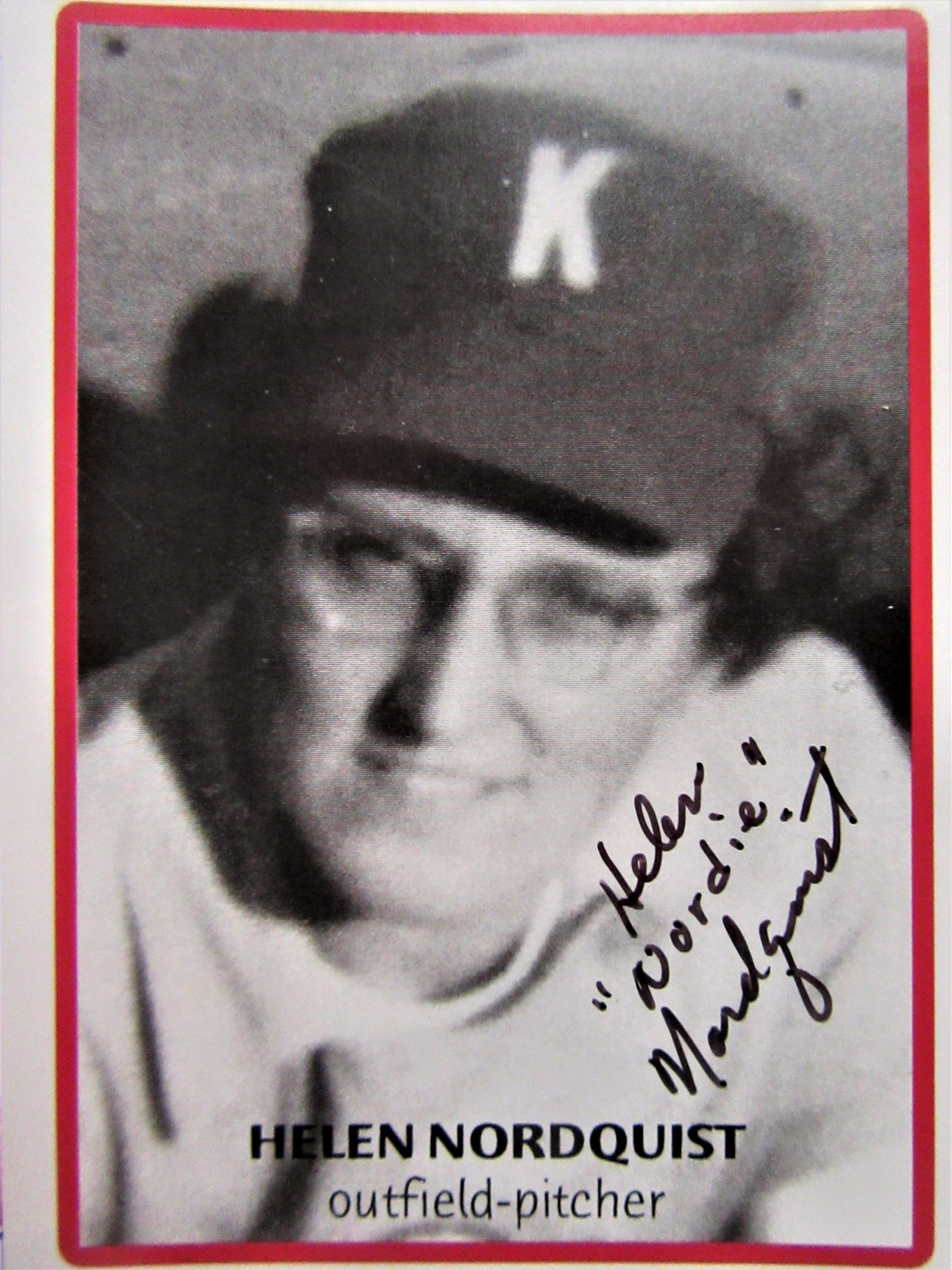 The Rockford Peaches grew to have a substantial legacy after the 1992 film A League of Their Own, starring industry icons like Tom Hanks and Madonna. While the film mainly uses fictional characters to drive the plot, it is based on the Rockford Peaches during their creation in the 1940s. The former members of the team, including Nordquist, were invited to be extras for the film. 
During this time, Nordquist joined another league, the International Girls Baseball League, playing for them simultaneously. The IGBL was created by the same founders of the AAGPBL, and focused on playing in areas such as Cuba and South America. She played for the Miami Beach Belles.
Nordquist switched to the South Bend Blue Sox in 1954, which would be her last year with the league, as the league dissipated due to the increasing popularity of television, which allowed the public to view men's baseball games, thus decreasing the need to attend the women's baseball games. The team finished their season with a record of 48 wins and 44 losses.
After her time with the AAGPL, Nordquist returned back to Malden, reuniting with her family. She worked as a switchboard operator, while also using her penchant for engineering for her personal projects, such as adding a three-way switch on her stairs and installing a rail for her mother. Another sports opportunity came to her in 1959, when Gardner informed her about a softball team in Malden, the Malden Collegiates. Nordquist joined the team, achieving great success in the process. She was even featured numerous times in the local news, such as when she attained nine hits and a walk. In the meantime, she also competed in various bowling leagues, earning several trophies for her advanced bowling skills. 
Nordquist eventually moved to New Hampshire, but recently returned to Malden on November 23rd, 2019. Nordquist was one of the Malden athletes chosen to be inducted in the Golden Tornado Hall of Fame. Currently 87 years old, she attended the ceremony to receive the honor. Prior to that, she also attended a reunion hosted by the AAGPBL, in which 22 original players were present. 
While Nordquist was rightfully given this accolade, the fact that it took this long is a surprise. The incredibly talented athlete was able to cultivate her skills and her work ethic to create a legacy for herself and for Malden. Nordquist paved the way female sports are viewed at Malden High, especially at a time when the country, the world, did not fully take women's athletics seriously. There is still a long way to go in today's world for complete equality between women's and men's sports. However, Malden provides a sliver of hope as women are encouraged to participate in athletics, from gym class to actual teams, and there is no doubt that the Golden Tornado super-star, Helen 'Nordie' Nordquist, helped shape that reality today.