The 22nd Annual Triple Threat Trivia night was hosted on January 24th at Anthony's Restaurant. The event is the largest individual fundraiser dedicated to the Malden Public Library (MPL)  in order to provide resources to maintain the library's two buildings, the historic Converse Memorial Building and the Park Street addition. 
To play Triple Threat Trivia, attendees have to pay $360 for a table of ten, it included both dinner and three rounds of trivia. Teams had the opportunity to earn additional bonus points if they prepaid before the deadline and if they came dressed in costumes. The team that is crowned as the "Best Dressed Table" will also receive another point.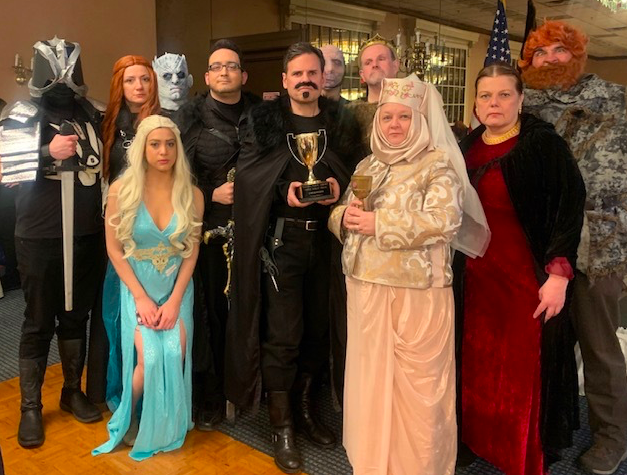 The proceeds that are earned also assist in providing all the services and programs since the MPL is a non-profit organization and it helps to host events such as book sales and Brew Fest.
Librarian and member of the Trivia Committee, Jean Slavkovsky, explained that preparations for the Triple Threat Trivia Night began in September, about four to five months prior to the event. Slavkovsky stated that when planning, "there are many aspects" as this included "publicizing the event, coming up with a theme, and contacting members to help out." 
She described that leading up to the event, staff members from the library would submit questions that the event organizers "aimed to have a large variety of questions in all subject categories" and this would range from movies, history, music, science, and more. 
Slavkovsky said that this year, there was a special round of trivia questions that focused on the achievements of women in order to celebrate the 100th anniversary of the 19th amendment. She further explained that the Trivia Committee "works to cultivate a diverse selection" of questions in hoping that the event will be enjoyable for all those who attend. 
One of the attendees, Mayor Gary Christenson, was a part of the winning team named the Mayor's MoTTTley Crew. 
Christenson expressed that the Trivia Night not only benefits the library through the funds that are raised, but it also "helps to bring the community together" as it encourages people from all around the city to enjoy the fun of trivia. 
This year, it was the third time that the Mayor's MoTTTley Crew had won. The winning team had the chance to receive their Triple Threat Trivia Night trophy and their name etched onto the winner's plaque as it lists all the teams that have won trivia for the past 20 years. 
Ultimately, Slavkovsky emphasized that the Triple Threat Trivia night is a "rare opportunity to bring together library lovers" because it draws people into a "lively, thought-provoking celebration of knowledge." Moreover, she believes that the event is a "testament to how important the MPL is to the community of Malden."