Malden High School welcomes a new staff member, Witchie Exilhomme, a social science teacher. Before working at MHS he taught at Milford Academy.
Exilhomme is a Malden High School graduate and graduated in the year of 2012. He was a student athlete during his years at MHS and he has been known for his uplifting attitude and his great athletic ability. After high school, Exilhomme went to Milford Academy and graduated in 2013. He then went on to American International College for six years and got his bachelor's degree in Business and Sports Management and also got his master's degree in Business Administrations. Outside of school, Exilhomme likes to workout and help students with athletics, whether it is football or basketball.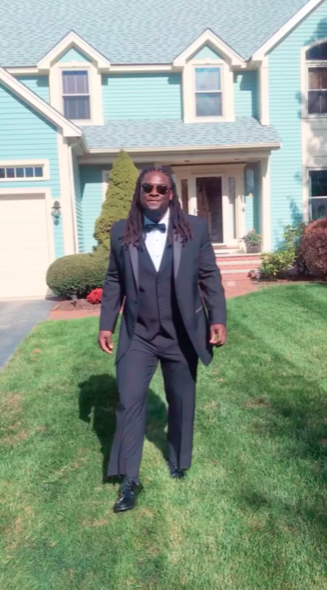 Exilhomme has lived in Malden, Massachusetts for his whole life. A past experience that motivated Exilhomme to become a teacher was his involvement in teaching students at Milford Academy. He realised that students respond well to him and his experience made him realise that he wanted to continue. When asked about Exilhomme, Social Studies teacher Richard Tivnan said "his biggest contribution is getting to know the kids and relating to them, and being a face that they can look up to." Tivnan continued to add that "he's unbelievably valuable to MHS, his knowledge of the school and the city, you couldn't get better than that." When asked about why Exilhomme wanted to teach history and social studies at MHS, he stated "history is a book about life" and continued to say "knowing about the past will help you shake the future."
Exilhomme is not shy to say he likes Malden High so much. He likes seeing a lot of students that remind him of himself and kids that come from the same background as him. During the COVID-19 pandemic, Exilhomme feels like his job as a teacher is "fun but stressful" because he is not able to see the students and "make a personal connection with them." Exilhomme likes to help his students if they have any personal issues and likes to help and guide their future.
Exilhomme explains that the diversity is what made him decide to teach at MHS. His other experiences at different schools made him realize how much they lack in diversity. He believes that MHS represents what the future of this country will be like. When asked about Exilhomme, Paul Degenkolb, a French teacher and the advisor of the Haititan club at MHS stated Exilhomme was "very outgoing" in his class, and "was never afraid to speak." History teacher Kerry Veritas also spoke very highly of Exilhomme and said he was "very energetic and brings his energy into the classroom, even first thing in the morning."