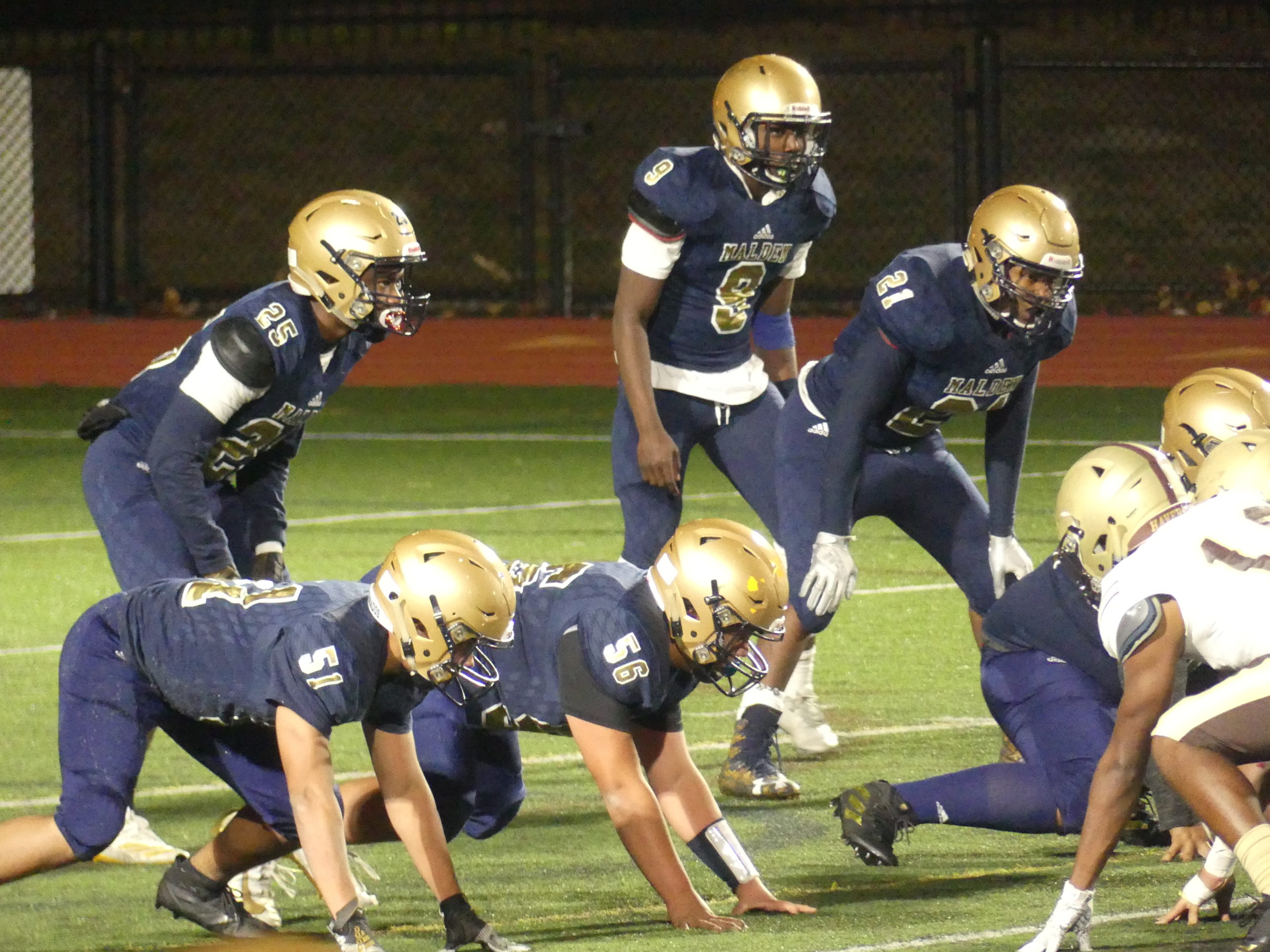 It was a cold and lonely day at Macdonald Stadium on November 26th, 2020. For the first time in over 100 years, there was no Thanksgiving football game that day. There was no celebration and no seniors playing for their school one last time. There were no cheers, only a field. 
What has happened over all these years to lead up to this? How many times has there been cheers of victory and tears of defeat? In order to answer these questions we must revisit the first documented game in 1883.
According to the Malden Advocate, during that first Thanksgiving game, Medford won 34-0. Malden, being extremely upset, protested saying that Medford used players from Tufts University and the Massachusetts Institute of Technology (MIT). A rematch game was declared where Medford won, 4-0. The following three years do not have many documented details, there was no score recorded in 1890 and Medford won in 1891 and 1892.
In 1883, Malden scored their first documented win by 18 points. Malden won again in 1884, but Medford took the game for the next 2 years. In 1887 the Malden and Medford defense held true which resulted in a scoreless tie. Malden bounced back in 1888 but failed to beat Medford in 1889. From this point on all of the games are played on Thanksgiving and the tradition cements itself in Malden-Medford history! In front of a record crowd of 2,500, Malden beats Medford and rallies to another win in 1901. In 1902, another record crowd of 5,000 watched as Medford snatches the win in a 6-5 game. In 1903 the crowd grew as it reached 6,000 and Medford won again.
The streak continued in 1904 and Medford dominated Malden. Malden responded in 1905 with new coach Matt Bullock and defeated the Mustangs 27-0. With another record breaking crowd of 8,000 in 1906 Medford won by one. But in 1907 Malden won 44-0, the highest point total at the time. Malden won again in 1909 but in 1910 they had their first and only undefeated and untied season. Medford gets a win in 1911 but Malden shuts them out in 1912 with a score of 27-0. Medford then goes on to beat us in 1913 and give us a shutout in 1914 with a score of 21-0. Medford got another shutout in 1915 but only 7-0. 
Through 1915 to 2000, Malden had won 39 times, Medford won 38 and there were 7 ties but 1 forfeit from Medford that Malden did not accept. There were times when if you went to medford high and you graduated in 1932 you would have never won a game. On the other side if you graduated from Malden in 1920 your team never won a game while you were there.  
The first 21st century win went to Medford with an explosive 34-6 score kicking Malden down for the 8th year in a row. In 2002, there was at least a foot of snow on the field but luckily it was shoveled off fast enough for Malden to shut the Mustangs out 12-0. In 2003, Malden got a second shutout in a row against Medford 7-0. In 2004, Malden got its 3rd straight win in 26 years. At the time, the total score of wins was 54-53-10 with Malden in the lead.
In 2005, Malden started off small but ended with 39-6. In 2006, what looked to be a winless season for the Mustangs turned out to be 17-14 in their favor. And on a sunny and balmy 2007 day, Malden responds with a 7-6 victory. In a high scoring game, 2008 belongs to Malden again in a 33-22 game. And in 2009 Malden kept the record going with a well fought 13-7, and gained another shutout victory in 2010 for a  29-0 score. To keep the shutout record and win streak, Malden wins 2012, 44-0 the largest shutout in the game for 100 years. And for the 6th time in a row, malden wins 32-6. With another upset in 2013, Malden achieved another shutout victory 16-0. And in a cover of snow, the 2014 game goes to Medford ending the 7 year streak for Malden. But Malden responded in 2015 with a 59-36 game. And with another gigantic lead of 44-16, Malden wins again in 2016. And after a couple of back and forth scores in 2017, Malden holds on with a 27-22. It looked like Medford would win in 2018 but Malden scored a clutch touchdown and stole the win. 2019 was a great year for Malden's defense with a 29-0 win. 
This brings us to 2020, when the game was canceled due to efforts of following the proper COVID-19 precautions.