Zachary Nedall also contributed to the article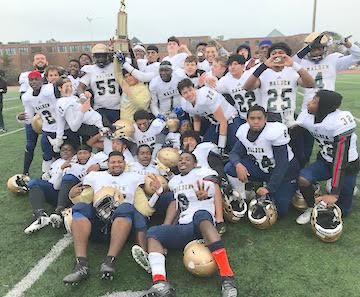 With the pandemic causing some major changes to this year's sports seasons, one of the biggest has been the cancellation of what would have been this year's 133rd Malden-Medford Thanksgiving football game. 
The Malden-Medford rivalry is the second oldest football rivalry in the nation. This being said, the traditional game played on Thanksgiving is something that both the Malden and Medford communities look forward to every year, whether they are playing on the field or cheering from the sidelines. Although cancelling this game was the safest option due to the current situation, these communities, the coaches and especially the football teams were greatly impacted. Malden High's football coach Stephen Freker said that he feels "badly for the Malden High players the most, especially the seniors, since [it] was their last chance to play in a game that has the longest tradition in school history."
Senior Captain Muneer Odally stated that he was honestly extremely disappointed with the cancellation of the Thanksgiving game because it "had always been the highlight of [his] season and of Thanksgiving, and it was such a shame [they did not] get to have it or play in it since [they] all worked really hard." This is definitely a common view amongst the team as a whole, and having the season cancelled on top of this was a frustrating experience for them. 
Freker felt the effects of the absence of this game as well. He has been on the Malden High football coaching staff for 20 of the Thanksgiving football games, "two as Head Coach and 18 as assistant coach." He has also played in three of them, so it was definitely a letdown to find out that he was not coaching the game this year. 
For Senior Captain Giovani Memeus, this game has always meant a lot to him. Before transferring to Malden High, he attended Medford High for two years, giving him experience playing with both teams. He stated that not being able to play a Thanksgiving game was difficult, especially being a senior. It also "hit [him] hard" because he was looking forward to making sure "Medford High [did not] score a single point just like last year's game." 
Last year, Malden claimed victory against Medford, 29-0, at the Thanksgiving game. Memeus described how the team "showed up and came to play against Medford to make sure that the seniors got the best final game in their high school football career." Senior Captain Matthew Bessey added that although the game was cold and wet, "it was really fun to play ball one last time with the seniors and end up winning the game." By taking the win last year, Malden was able to keep Medford's Football team on a winless season.
Malden High's football team has worked incredibly hard after their outstanding efforts at last year's game. Although the pandemic has put team practices on pause for now, the players have been putting in a lot of effort to find ways to begin practicing for next season. Most of the athletes tend to usually train year-round anyways, but this year has made individual or smaller group strengthening sessions especially common. 
Bessey stated that "some people have been practicing on their select position to try and get better for whenever they are able to play again," this usually being either in the weight room or at Macdonald Stadium. And according to Memeus, "sometimes some of the guys even attend a couple of Coach Elisee Pompilus' training sessions, which really helped [them] out a lot." 
Besides the letdown of not being able to play the Thanksgiving football game, one of the main setbacks of the season as a whole has been getting players to be noticed by college scouts. Normally, scouts would be at some of the football games, seeing which players stand out and they believe have the potential to perform well at their college. With the absence of a fall season, the window of opportunity for players to play in front of college scouts has become greatly diminished. 
The same could be said for these college's opportunities of finding fresh talent for their teams. Without high school football games being played, it is difficult for scouts to find players and draft them to their teams. The setback of all the athletic seasons has posed this challenge for sports across the board, and many colleges are already working on accommodations to be able to get these players drafted. 
When asked about playing football past the high-school level, Odally has said that "football is something [he] would really like to play in college and still plans on it, but the pandemic has kind of made [him] more flexible with whether [he plays] at the college level or not." 
Similarly, Bessey brings up that "[he hopes he gets] the opportunity to play football in college and continue playing. The pandemic has made it harder to get colleges to see you for athletics, but like a lot of other people in my position [we will] make something happen."
However, with the cancellation of the Thanksgiving football game, there may be also some good news to look forward to. 
"As it stands now, we may have the opportunity to have a shorter football season in Fall II," Freker stated. The Fall II season is currently set to happen from February 22nd through April 25th. "If [the Football team get to have their] season, [they] will play Medford for what will be the 133rd time." The game might possibly be played on Patriots Day, 2021. It will not be exactly the same, but there will be some excitement.
With the possibility of a Malden-Medford game still being played, the football team still has something to look forward to. There is a lot of hope for next season, and the team will continue training for the next time they get to play their Medford rivals. 
As Memeus brought up, "Like the Great Kobe Bryant said, 'everything negative- pressure, challenges- is all an opportunity for me to rise.'" He concluded that personally, he simply sees the "pandemic as just another opportunity for [him] to improve to be better than how [he] was last year."