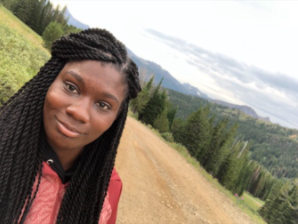 Michel-Lé Meranda knows how to play seven different instruments and is a former track athlete. She also loves to cook and considers herself a "hopeless romantic." What subject is she teaching freshmen this year? Biology, of course.
Meranda currently teaches honors Biology for freshman students at Malden High School and is enjoying it very much.
Meranda enjoys learning instruments, reading, solving puzzles and cooking (but dislikes the prep). She can currently play the guitar, piano, drums, cello, ukulele, flute and the bass guitar and hopes to add more to the list. Meranda stated that although it may seem like she has a lot of time on her hands, it is "kind of the opposite." Despite this Meranda has made it a goal to learn at least one new recipe each month, and has been able to read some of her favourite Nicholas Sparks books. 
Meranda is a former track athlete and participated in many events including sprint races, hurdles, relay races, high jump, shot put and triple jump. She went on to coach track last year before the pandemic. Meranda broke records in both high school and college, running an impressive 13.61 second 100 meter dash at the Sean Collier Invitational. She also managed a time of 16.95 in the 100 meter hurdle landing her a season record. Meranda stated that her high school Biology teacher and track coach really inspired her to become a science teacher, "she would just kind of come out of nowhere with this Biology knowledge that would help [her] with track."
Jessica Bisson, a fellow Biology teacher, said "as a new teacher this [remote learning format] can be really overwhelming." Meranda later said, "one of the things [she] really [prides herself] on is [her] ability to make connections with [her] students, but [it has] been hard this year." Despite these obstacles Meranda added that, "[she] felt like [she has] made a few solid relationships with [her] students."
The switch was in no means easy for any of us, "[it has] been a learning experience for [her]." Last year, Meranda was a student teacher at Malden High School for Biology teacher Jessica Webber. 
Meranda enjoys working at Malden High School. She recalled her first day working at Malden High, as "[she] stepped through those doors [she] was immediately welcomed not just by the science department but by other teachers and [administration]." Further stating that, "that feeling was something [she had not] had in any other district or any other job." 
While Meranda was student teaching, Webber hoped, "that she would be able to work with us one day," and so she is thrilled that everything  worked out. Webber added that "[the Science department enjoys "having her on [their] team." Additionally, Webber said that "[Meranda] was really likeable," and that "[Meranda] was [also] respected, so she had control over the classroom, but in a very likeable way."