It has been a rough year for all student athletes: seasons getting canceled, losing senior players due to graduation, and even seasons getting delayed. But finally, after being a little over one year removed from playing football due to the season being moved to Fall 2, Malden High School's Football team suited up for a scrimmage this past Saturday, May 1st, against Somerville and Chelsea at Macdonald Stadium.
Since this is a scrimmage against two other teams, the possession of the ball and who was on the field was constantly rotating. The offense would start with the ball on the 50 yard line at 1st & 10. Each team's offense would get a couple drives and then the teams would switch. A new defense would be brought out and a new offense would follow suit.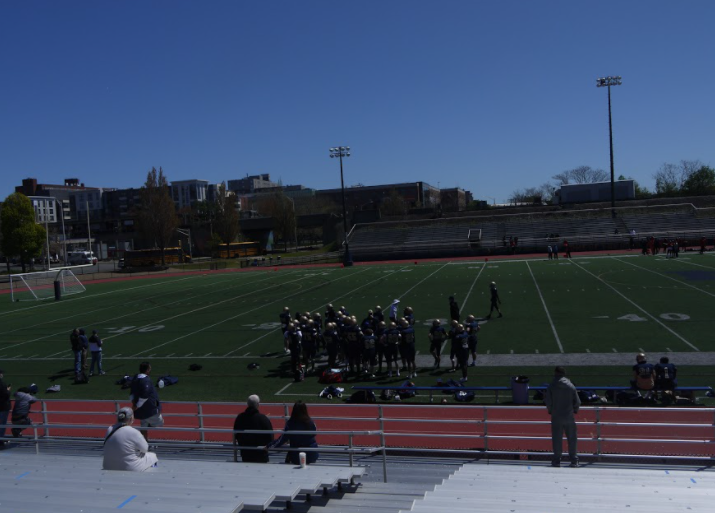 Malden's offense would take some time to warm up with their first two offensive drives, ending in an interception by the Somerville defense and later a fumble that was recovered by the Somerville defense. Somerville would then go on to have two good offensive drives with one ending in a touchdown but a failed two-point conversion. 
The start of the second quarter had Malden stalling out Chelsea's offense which would inspire Malden's offense. Malden's running back Giovani Memeus, who is one of the senior captains, would catch an explosive 49 yard screen pass and later would cap off the drive with a 1 yard punch into the endzone for a rushing touchdown. Malden's next drive looked promising getting around the 10 yard line, but a fourth down sack by Chelsea would halt a drive that was highlighted by a 15 yard rush by Malden's other running back, Mackenley Anasthal and a 20 yard catch by Malden's wide receiver Gavin West.
The third quarter brought Malden's defense against Somerville's offense. Malden's defense would start to resemble the one that harassed Kansas City Chiefs QB Patrick Mahomes in this past Super Bowl with tons of pressure that would result in a pass deflection by Malden's Nelson Monosiet and Gavin West on a deep ball and a tackle for loss (TFL) on the next drive that would end up shutting down the Somerville offense. The end of the third quarter would bring about four drives of Chelsea against Somerville. It would seem that Somerville's offensive woes would carry on to their defense with Chelsea getting a 20 yard touchdown pass on their first offensive drive and following it up with a one play 50 yard touchdown pass the very next play.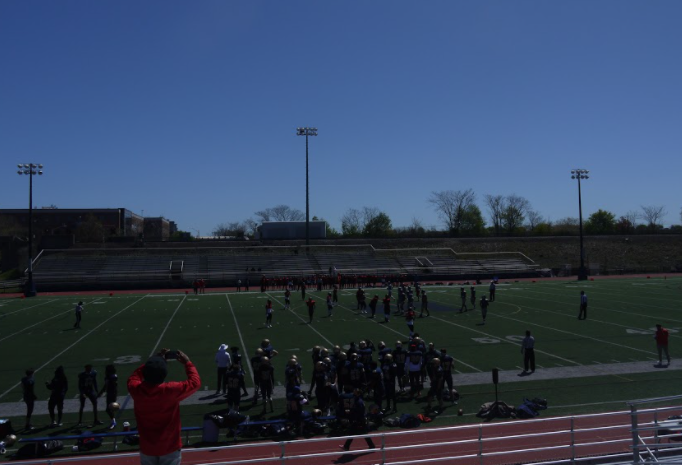 The start of the fourth quarter looked better for Somerville with them forcing a fumble by Chelsea and recovering it, but Somerville's offense would then proceed to throw an interception to the Chelsea defense. Chelsea's offense would receive the ball back against Malden's defense. The drive started with a 20 yard rush by Chelsea and would provide a little foresight on what Chelsea's plan was. Run the ball. The drive would end in a Chelsea rushing touchdown on the goal line. Malden's defense would then go on to replicate their defense pressure from the third quarter to now harass the Chelsea offense. Chelsea's drive looked promising, but with their QB barely escaping a sack he threw up a jump ball that Malden's #18 would haul in for an interception. Hoping to get one last offensive drive in, Chelsea tried going for a deep shot but it was picked off by Malden's Josue Irizarry which would end the game on a high note for Malden.
With their sights set on their next match-up this Saturday, March 8th, their rival Medford stands in the way hoping to get revenge on Malden from the last time they played which was a 29-0 Malden victory on Thanksgiving day in 2019.