After last week's scrimmage vs Somerville and Chelsea, it was time to start playing actual football. On Saturday, May 8th, the matchup that was due for Thanksgiving, but was unfortunately canceled due to COVID-19, was held at Macdonald Stadium. Malden vs Medford is an all-time classic rivalry going back to the first game being played in 1883. Only this time around, the game was not played on Thanksgiving and rather an overcast afternoon in May.
In the days leading up to the game, Malden High Football Head Coach Steve Freker stated that "[it has] been a challenging season in a lot of ways, but the players have been very diligent in following the safety and health protocols and are excited to have any type of a football season" and added that "[their] season [was] short, but it has still be been a great experience and the best way for [the] senior players to finish their careers."
Unlike the scrimmage from last week, the game was played out closer to a traditional football game: there was a kickoff, punting, penalties, kicking extra points after a touchdown, timeouts, actual tackling, cheerleaders and more aspects that would separate a regular game from a scrimmage.
Medford received the opening kick at the start of the first quarter that was sent by Malden's kicker Ronald Juarez. Both Malden and Medford had unsuccessful opening drives on offense, but at 5:29 in the first quarter, Medford would open the game, scoring with a touchdown pass followed by a failed 2 point conversion making the score 0-6. Malden's next drive would start after a good 20-yard return on the kickoff by Junior wide receiver/defensive back Gavin West. However, the start of the drive did not look so good after quarterback Shawn Bartholomew was hit with a tackle for loss (TFL), but Malden recovered with a drive filled with a nice passing game and capped it off with a rushing touchdown from Senior Captain running back Giovani Memeus. After a successful extra point, Malden led 7-6. Medford's next drive at the end of the first quarter was quickly shut down by a great tackle from Senior Captain linebacker and wide receiver Moise Fanfan.
When Medford was about to punt deep in their own territory at the start of the second quarter, a flag on Malden had their drive go on for a little bit longer until the Malden defense stopped them again and forced a punt. Unfortunately, Malden's possession of the ball would be swift after an interception thrown by quarterback Bartholomew after his pass was dropped and tipped up in the air. Medford capitalized on this opportunity by completing a 40-yard screen pass and a quick rushing touchdown followed by another failed 2 point conversion making the score 7-12.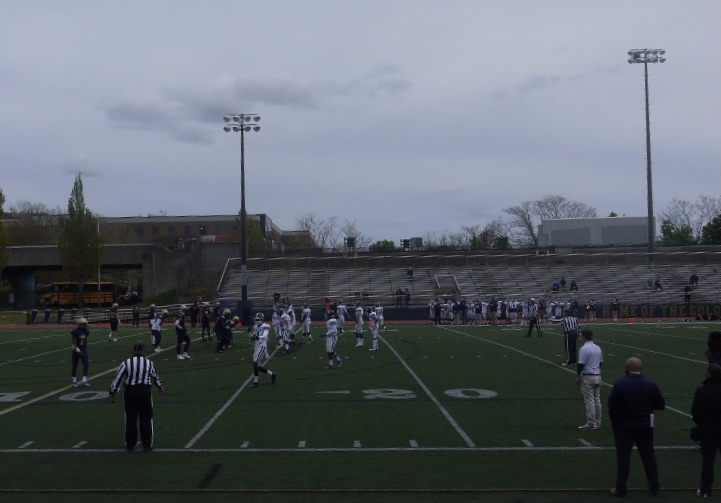 On the kickoff after the Medford touchdown, Medford's kicker had done what is called an onside kick where he would kick the ball at a weird angle and at a short distance in hopes of getting the ball back for Medford's offense quicker than normal. Even though this play is very rarely completed, Medford pulled it off leaving the Malden crowd stunned. With five minutes left until halftime, Medford quickly drove down the field by completing a 47-yard deep pass and later with 0:03 left on the clock they scored on a short touchdown pass in the back corner of the endzone. Yet again Medford opted for a 2 point conversion and it was unsuccessful making the score 7-18 going into halftime.
Down 7-18 at the start of the third quarter, Malden knew they had to score now before the game got too out of hand to make a comeback down 11 points. The plan for the next drive was simple, give the ball to Memeus. With a mix of power runs that would set up the play action pass, Memeus would run right at the defenders that were in his way including a nice truck move for 10 yards and a crucial 12 yard run on 3rd & 8 to keep the drive alive. Memeus' effort would be rewarded with another rushing touchdown, his second of the game. Malden would go with the extra point try after the touchdown which was good making the score 14-18. 
Medford took the kickoff 20 yards, setting them in a good position to start their drive. After a TFL by lineback Fanfan, Medford pulled off a play that left everybody stunned. Malden brought good pressure, but Medford's quarterback was able to escape it and started running in the open field leading to making a few defenders miss their tackles and scampering in for a 53-yard rushing touchdown. Finally trying for the extra point, Medford had missed the kick making the score 14-24.
Going into the fourth quarter, Malden knew they had to act fast in order to either win the game or send it into overtime. After a drive that was stifled by Medford's defense, Malden's defense would quickly replicate what Medford's had just done forcing a three and out after another TFL by linebacker Fanfan. Wasting no time on their next drive, quarterback Bartholomew would throw a beautiful pass that was placed right into the hands of Junior wide receiver Nelson Monosiet. Malden's extra point went straight through the uprights making the score 21-24. Medford played their next drive smart by running the ball and making sure not to go out of bounds to keep the clock running. After a 4th down pass deflection by Senior Captain wide receiver and defensive back Matthew Bessey, Malden had only 2:40 left on the clock to tie the game with a field goal and send it into overtime or score a game-winning touchdown. The drive started out good with a nice underhand flip pass by quarterback Bartholomew to running back Memeus for 20 yards. After a couple of runs and failed pass attempts, Malden had to try for a 34-yard field goal to send the game into overtime. The kick went up and unluckily sailed left, having the final score be 21-24, Medford won.
After this crushing defeat in the first game of the season, Malden hopes to rebound in their future games.