Krishany Marius also contributed to this article.
After a long year of grappling with the COVID-19 pandemic, the Class of 2021 officially graduated with smiles and caps in the air on June 6th at MacDonald Stadium. With having most of their senior year experience in a virtual format, it was thrilling for families and friends to see the Class of 2021 graduate as the students are taking the next step into their lives.
The ceremony began with the Malden High Band playing, signaling for the graduates to walk down the field as they were led by teachers and administrators including Principal Christopher Mastrangelo and teacher Rebecca Corcoran.
After filing into their seats, Principal Mastrangelo opened the ceremony by having the chorus perform the National Anthem and thanked members of the Malden community for putting in their time and effort towards organizing the event. Next, Mayor Gary Christenson gave his speech where he first began with a remark of how he always wears the colors blue and gold to the ceremony however, this time he showcased a prom outfit inspired by graduate Ronald Batista.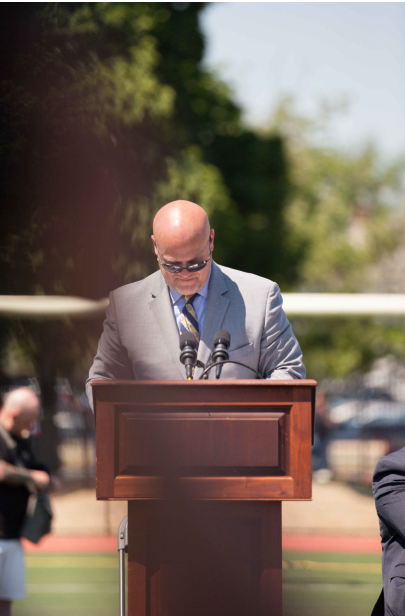 In his speech, Christenson specifically noted the class' motto which is "stand tall, fear none." He added how it was a perfect fit for the Class of 2021 as they not only went through numerous challenges and uncertainties, but continued to remain focused and stand up towards major social issues today, all the while achieving their academics. Superintendent John Oteri also gave a speech where he emphasized "never giving up" and encouraged the graduates to continue on with their lives with smiles and laughter. 
Next, graduates from the class including president Harriet Gerochi, valedictorian Zi Yi "Billy" Zeng, and class orator Jacob Pettigrew gave their speeches. Gerochi gave a sentimental speech, especially when she talked of those who supported her throughout her time at MHS. 
Class President Harriet Shane Gerochi gives a speech to her fellow graduates. Photo taken by Brandon Wong.

Valedictorian and Class Co-Art Director Ziyi "Billy" Zeng gives a speech to his fellow graduates. Photo taken by Carlos Aragon.

Orator Jacob Pettigrew gives a speech to his fellow graduates. Photo taken by Brandon Wong.
Then, Pettigrew spoke. He opened up his speech by highlighting how he will stray away from cliché however, later on noting the importance of embracing the cliché. Pettigrew mentioned how reforming these cliché including the phrase "reach for the stars," into meanings that are personal to him, have enabled him to look at them in a different light and encouraged his classmates to do the same as well. 
Zeng was the last student to give a speech. Before beginning his speech, Zeng first took a moment of silence for the lives that were lost due to COVID-19, gun violence and other unjust actions. He quoted Hamilton and spoke about how the significance in knowing that he and others can have the capacity to create change. Zeng further urged those in the Class of 2021 to take responsibility and utilize their voices to make a difference in the world. 
For parents like Judy Lombardi, seeing their child graduate high school and receive their diploma, she felt very thrilled to see the students cross the stage and "complete their journey the way it should be."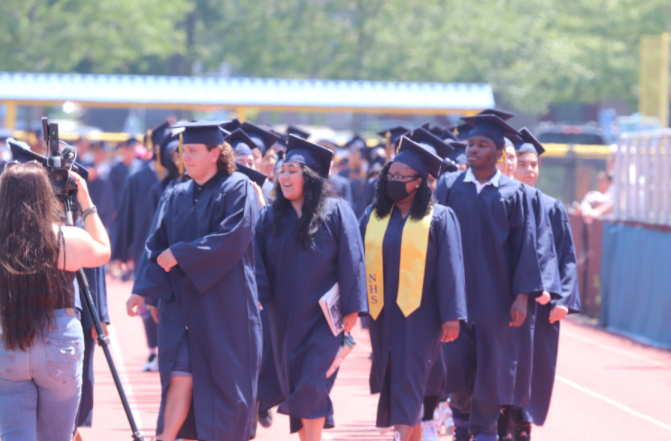 That being said, the ceremony left many of the graduates reflecting on their four years at MHS. For Zeng, he noted how in high school there is this feeling where "you feel [as if] you have to do so many other things,"  but he insists on "try[ing] to have it all and learn from the experiences." He further added that before attending the ceremony, "it [felt] really surreal" because there was this "feeling of belief [that] he could not process." But in spite of that, Zeng continues to feel "proud of [the Class of 2021] with even dealing with this year and just coming so far in life."
Adding on to that thought, salutatorian Jiaqi Ye feels that the biggest lesson she has learned is that "sometimes you can get caught up [in] the pressure to succeed," meaning that you "forget to enjoy the moment." As a result, it is important to "smell the roses" because soon "it is going to be [all] over," Ye said. 
Moreover, for graduates like Makayla Preston, she stated that leaving MHS after four years is "a bittersweet feeling," because she said that "you always want to leave and take the next steps" however, when it actually comes the time to do so, "it is like stepping off a cliff," awaiting for all the new experiences and journeys yet to come.