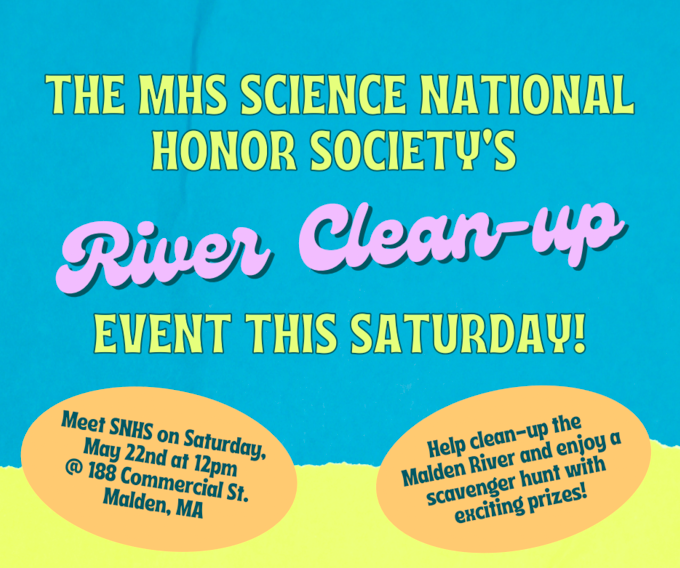 Have you ever noticed how polluted some bodies of water have become lately? If you have, then you would know how necessary river-clean ups are. The Science National Honors Society (SNHS) gathered to clean up the Malden River near Commercial Street on Saturday, May 22nd.  
SNHS requires five community service hours, however, most of the students who attended the river clean-up were already finished with their mandatory hours. Despite this, they still all wanted to show up and help. In total, there were about 20 SNHS members and an additional 15 individuals that attended to help as well. The group provided gloves and bags to the volunteers. Junior Juliana Davidson, who is now the president of SNHS, explained that they cleaned up both the brush and nature around the river, as well as some of the "murky water." 
A few important figures of Malden showed up at the event including Mayor Gary Christenson and Senator Ed Markey to help with the clean-up. Senator Markey displayed the event on his social media page and spoke with the group about many of the current political happenings in the world including the Green New Deal, as well as his personal history as a Malden resident. 
The day ended with a scavenger hunt that was organized by Davidson, and volunteers found a few "miscellaneous" items near the riverside. The first three teams were given a kit of fun items composed by Davidson which consisted of a variety of items ranging from astronaut ice cream to party glasses. Overall, Davidson described the afternoon to have been a "great outing" where the weather was cooperative for the most part. She further added that the members of the club picked up a lot of trash and had fun while doing it.
Adding on to that thought, SNHS advisor Gregory Simone agreed that the clean-up was a "successful" outing. Simone believed that they were able to make a huge difference in cleaning up the amount of trash that the wind blew up near the riverbank. He explained that it took a total of about three hours, including short breaks in between. 
The SNHS is for sophomores, juniors, and seniors. Davidson was accepted into the club her sophomore year and is now going into her senior year. She explains that her overall experience being a part of this club for the past two years has been "definitely all positive." She was fortunate enough to get to "lead, plan" and come up with plenty of ideas, including this successful cleanup of the Malden River.