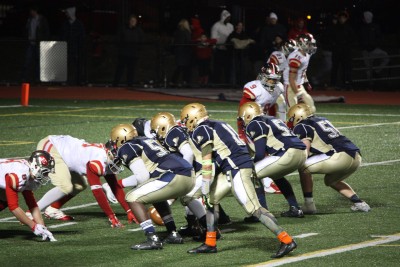 After the Malden Golden Tornadoes Varsity team took a hard loss against Everett last game, the JV team knew what they had to do during their game. The players had a lot of energy and were ready to give it their all.
The game started off in Malden's favor with Everett getting offside flags. A player is in an offside position if any part of the head, body or feet is in the opponents' half (excluding the halfway line) end. The first point was then awarded to Malden when sophomore Alexander Avalos made the first touchdown flawlessly avoiding the defence, running 60 yards to the end zone. Malden also made the 1-point conversion which brought the score to 7-0. When the touchdown was scored, Head Coach Witche Exilhomme was extremely happy with the play and proud of the team.
Everett managed to score a touchdown on Malden, but wide receiver Gabriel Cardoso made the second touchdown for Malden. Cardoso fumbled the ball for five yards but managed to catch the ball running to the endzone. The corner covering Cardoso could not keep up with him, causing him to trip over his own feet and fall to the ground. During the game, Everett players were knocking each other over and the team appeared to be disorganized on the field.
After this touchdown, Avalos came on the field with a purpose to win and made the third touchdown of the game bringing the score up 20-6. In the end, Everett managed to score two touchdowns on Malden, but Malden made two field goals bringing the final score to 22-14.
Malden had an overall successful game defeating the previously undefeated Crimson Tide. "The future is bright, and if fans want to see Malden win, come to the JV games," stated Coach Exilhomme.