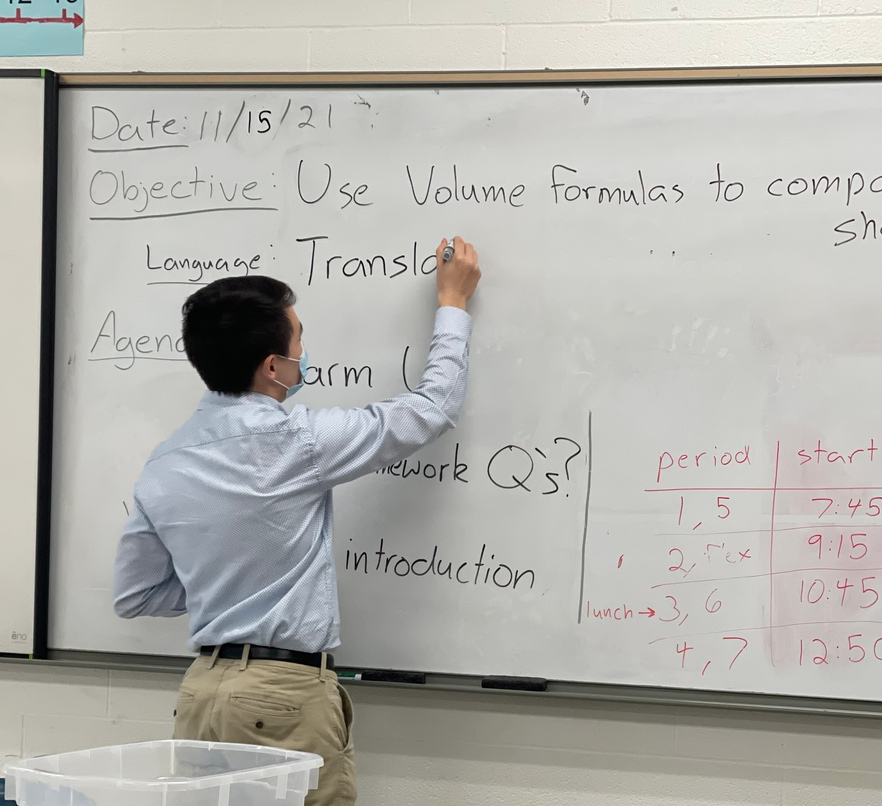 Joshua Sellers, a recent graduate from Northeastern University's class of 2020, now makes part of Malden High School's math department. Sellers originally grew up in the Northwest suburbs of Chicago. He explained that during his senior year of high school, his AP Psychology teacher inspired him to become a teacher himself. "One day she was talking about why she became a teacher and how important she thinks that education is," adding that "A lot of what she was saying just really resonated with me." 
He also mentioned that he "wanted a career that had some very obvious societal purpose," and he thinks that teaching "is one of those careers that it is really easy to see the impact of your work." Teaching also seemed to suit Sellers' overall personality, and he felt that this would be a really fitting career for him altogether. 
Sellers moved to the Greater Boston area five years ago to attend Northeastern University. He greatly enjoyed his time in college, mentioning that he is "nostalgic already." While there, something that Sellers took advantage of was Northeastern University's famously known co-op program. Co-op programs allow students in college to alternate their studies with being a full-time employee which allows them to gain "real-world" experience, especially in their field of study. In his sophomore year of college, Sellers took part in a co-op working in the Boston Public Schools district office, being an intern for their math department team. Although it was "a small team" with only three other coworkers, he explained that "all three of them were really, really experienced former math teachers." They did things like "plan the teacher trainings for all of Boston Public Schools and help to make the curriculum and lessons." 
Sellers is grateful for his experience working there because it was at a time he "was coming right out of high school", and he "had no idea what happened at the district office of a public school district." It was just this "mysterious place," and being only 19 at the time, seeing what happened at the district level was "really interesting, especially since teachers normally don't get to do that unless they have something like 10 years of experience." 
When teaching students, Sellers has always taught math. He previously taught in an eighth grade classroom in Chelsea, and this past summer worked in Somerville Public Schools. He was a part of Somerville's summer enrichment program called "The Calculus Project," which aims to "prepare middle school students to eventually take calculus their senior year of high school." 
Sellers decided to come to Malden High School because since moving to Boston, he knew that he definitely wanted to stay somewhere in the Greater Boston area. "When I was applying for teaching jobs in the area, I specifically remember lots of my professors in college...specifically three of them all used to work in Malden Public Schools somewhere," he explained. "They all said amazing things about the school district...So when I saw [a job posting] from Malden High School, I was like oh, apply there for sure."
During the interview process with principal Chris Mastrangelo and the math department for the teaching position, Sellers especially liked how collaborative everybody seemed and how much they emphasized teamwork. Even after getting the job, he saw that they all followed through with this collaborative mindset, and he enjoys being in this type of environment. 
Head of the math department as well as fellow math teacher Kayla Scheitlin was on the hiring committee for Seller's position. When considering him for this position, she said that "Sellers was really passionate about working at our school, and had very thoughtful answers to our interview questions that placed student learning and wellbeing at the center of his practice." Being a "highly qualified applicant, his passion for teaching and learning was clear in his interview," Scheitlin explained. "We thought he would make a great addition to our department and help a lot of students learn math."
This year, Sellers is teaching Math 2 CP and Math 2 Honors. He enjoys teaching at Malden High School because he likes it being "fast-paced—the days really go by fast and the kids are great." Additionally, his favorite part of the day is when they're "doing math together" during class, such as "when we're doing a problem together...figuring stuff out. That is definitely my favorite part."
Freshman Preston Shearer describes that Sellers is "super chill and does a good job teaching new lessons," and sophomore Zeke Noelsaint similarly expresses that "He is a great teacher and teaches math thoroughly." Additionally, Scheitlin adds how he has "a good sense of humor and good attitude."
Outside of school, Sellers enjoys playing video games and watching Netflix, and is a big Chicago sports fan. Recently, he joined an adult volleyball league, and describes it as being "a learning experience for sure." Despite never having played before, he has really enjoyed being a part of this team since he grew up playing all types of sports, specifically tennis and soccer.
Overall, compared to his two internships at Northeastern University and various other summer jobs, Sellers said that teaching is "definitely the most fun job I've ever had."