The familiar melody of "The Star Spangled Banner" echoed throughout Levi's stadium in San Diego. Mechanically, the football players stood with a hand to their chest, the rising movement of black lines smudged on their cheeks and numeric labels emboldened on their uniforms as they felt their hearts pump with energy and American respect.
But #7 knelt.
And above the number on this jersey was a name—Colin Kaepernick, the former NFL 49ers quarterback turned high-profile activist against racism and police brutality.
Kaepernick's name was repetitive in news headlines and conversations about racial inequality whether it was followed by praise for his motives or odium for disregarding bloodshed on the American flag. Mostly, it was odium. People called it "an attack on the country." "A lack of respect." "Unpatriotic" and "Un-American."
Kaepernick, noticing the falsely distorted interpretations America had concocted in his eyes, turned to fellow NFL player and army veteran, Nate Boyer.
You would expect an army veteran's perspective to clash with Kaepernick's, and so it did. Boyer shared in his interview with the National Public Radio (NPR), "[The controversy] struck a chord with me, of course...a lot of people in the veteran community as well—because obviously, the flag and the anthem and what that stuff stands for means something very different to us."
Understandably, the veteran was upset. However, "instead of letting [his] anger overwhelm [him], [he] decided to relax a little bit" and "wrote this open letter that was just explaining [his] experiences, [his] relationship to the flag." Kaepernick's response requested a personal meet up with Boyer, to which they compromised: alter the move, not the motive.
Thus, the kneel was born. To Boyer and patriotic Americans' approval, the gesture restored the football player's outward respect to the military, and for pivotal voices of the civil rights movement, a tribute to the fallen from racism and a dispute to hatred that triggered guns and tightened the grip of an officer's chiseled hands on a neck.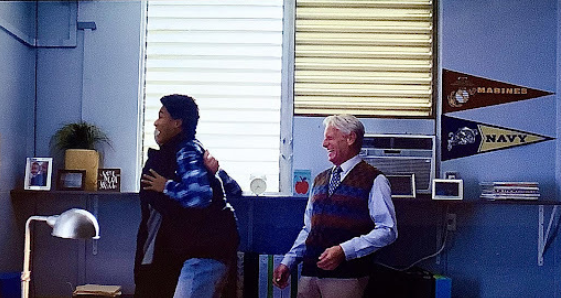 The action raged momentum within the sports realm and then the globe, which put Kaepernick's NFL career on the line. But what was more important, was how he remeshed the mold of what made an American. Kaepernick used his eminent platform to make a change and stared at critics with poise. Silence speaking louder than words as they berated him on national television.he football player turned pioneer for civil rights and did it again with a new, striking series streaming on Netflix.
Colin in Black and White premiered on the Netflix platform on October 29th, with acclaimed filmmaker Ava DuVernay alongside Kaepernick directing the docudrama. The six installments dramatically enact his youth as a biracial child adopted by a white family in the 2000s, coupled with narrative interludes where he intertwines past experiences with his role as a pioneering activist today.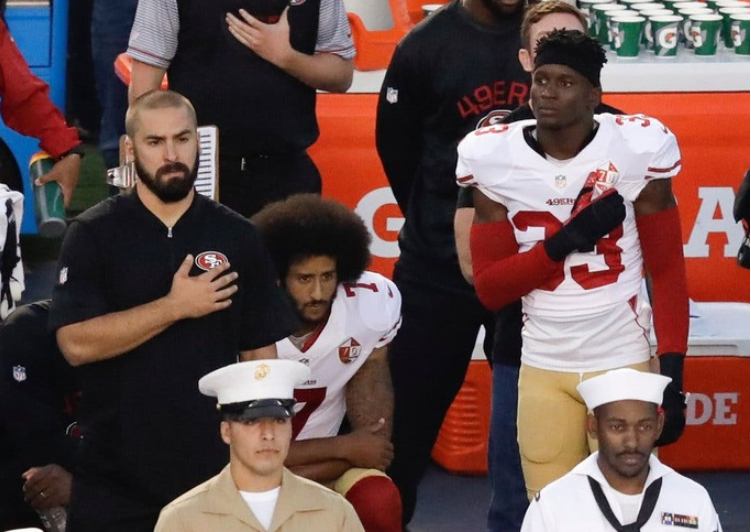 Detailed in his new series, Kaepernick had grappled with the reverberations of racial discrimination throughout his years that shaped an extensive advocacy portfolio. Unfortunately, the first page dated back to his infancy. "Since the day I was born, I was never anybody's first choice," he said as he addressed viewers of Colin in Black & White.
The first timelined interpretation of his life depicted a Wisconsin couple, Teresa and Rick Kaepernick, at the adoption center, searching for a child who would fulfill their joy after suffering health defects from previous births. They would adopt a baby boy, one who would "fit right in with their son Kyle and their daughter Devon." But when the couple faced complications and could no longer adopt him, the nurse there presented another child, the second choice.
The couple looked hesitant at first, but then welcomed the baby into their arms. At that moment, baby Colin became a Kaepernick.

Raid in Turlock, California, "a place known for dairy farming and a scarcity of black people," young Kaepernick grew up in a quaint suburban setting with his mother, a nurse, and father working at a cheese factory. Yes, that means lots of glorious, cheesy dad jokes—my favorite being…I forgot, I camembert.
Kaepernick's passions for football, baseball and hooping on the side quickly budded in his youth. He was especially ambitious of becoming a football quarterback, which developed into "[his] love" amid his high school career. For his outwardly lean physique, Kaepernick was sprinting across the turf like a meteor, and footballs traveling aggressive distances from his arms. For the excelling sports prodigy, a future in the major leagues was accessible.
Approaching high school, Kaepernick inevitably tolerated the complexities of balancing academia and being a good ol' teenager; keeping those grades up persisting with grueling sport practices, and eyeing cute girls in class to finding a date for homecoming.
Reiterating the "scarcity of black people" in Turlock, Kaepernick grew up with little exposure to black culture. Curious to fill that void of his identity, he looked up to his idol, National Basketball Association (NBA) basketball star, Allen Iverson, notably titled "The Answer" when someone asked of the early 2000s MVP on the court. The cornrows that graced Iverson's head, "uncanny combination of grace and grit" and notoriously rebellious stature on and off the court catalysed Kaepernick's dedication to the gridiron and a pursuit of embracing his black roots.
With that pang of inspiration, young Kaepernick met up with a hairstylist named Erica whose dexterous fingers braided the best cornrows in all of town. The fun and easygoing vibe of her barber shop hip hop booming on the speakers, and vibrant posters coloring the walls—"It felt like me," he gushed. With her wizardry, young Kaepernick's afro transformed into a fresh set of braids.
Upon gazing at his new hairstyle, young Kaepernick was over the moon. Soon, he was sporting his fresh cornrows to school, catching competitive looks from other students and scoring a homecoming date, too--a million times more euphoric than a touchdown. "Cornrows made me feel like I was faster on the football field; jumping higher on the basketball court...doing the most."
But his baseball coach was not pleased with the "thing climbing out the back of his hat." Alleging the cornrows as a distraction during play, he asserted to Kaepernick to cut his hair--or else he would be cut off the team. Their excuse? Some "team rule."
Even after the freshman obeyed, implicit bias spread like an outbreak among his sport mentors, making Kaepernick's epitomic gifts on the field inferior to his white peers. He played well in football tryouts, yet such an athlete as him was apparently not the "prototype" but another among the tryout line with protruding biceps, an etched frown of competition on his face and—need I say it—fair skin. That player was deemed by the (white) football coach as "the prototype he was looking for" and passed tryouts as junior-varsity quarterback.
Physically fitting to the coach's criteria, most, if not all of Kaepernick's peers held a stark advantage. Talents, but not "the looks," a censure unheard of by his white teammates. As he had avowed to the audience of Colin in Black & White, "America has always taught us. . .playing the ball the right way meant playing the ball the white way."
But it turned out Kaepernick's competition "[was not] only on the field."
Growing up with white parents, "[he] assumed their privilege was [his]." But the little pieces came together, and soon he was in for a "rude awakening." Before then, Kaepernick wondered why he never received an equal degree of acceptance growing up. Why could his friend get seconds for ice cream samples while he was spontaneously denied? Why would a stranger say good morning to Rick and Teresa but not him in the elevator? Why had the police officer more forcefully urged to keep Kaepernick's hands up as he reached for his license?
At home, Kaepernick witnessed a slash between him and his parents driven by the monochrome scenery of Turlock. In the scenes of Colin in Black & White, his mother told him that he looked like a "thug" with his cornrows and misreckoned his social discomfort as some phase, not racism permeating themselves and the epitome of American oppression.
But I admire to this day how Kaepernick never let go of the edge. He continued to prove himself an engine to his teams, heart adrenalized with confidence as he looked at the poster of Allen Iverson. In the eye of a hurricane, the teenager would persevere as The Answer had and bring vibrancy into the monochrome sports industry.
Soon, Kaepernick's baseball talents outshone among his peers. Finally knocking the bat on their heads, he scored a no-hitter, a rare baseball accomplishment to forging a path to the Area Code Baseball games for his team in his high school career that gained National merit. Although his heart was set on the gridiron, the multiple athletic accolades he received were on the pitcher's mound. Soon recognizing Kaepernick's lethality not only with his legs sprinting to the end zone but arms shooting 94 mile fastballs, his coaches forcefully seized an opportunity for success in the dominating baseball leagues.
By forcefully, they demanded that Kaepernick give up his quarterback pursuits. "All I could think of was that baseball was starting to feel more and more like a backup plan," he monologued in the series. Still, his coaches—rippling with greed—refused, tactically using him as a lucrative opportunity for self-profit.
But Kaepernick "had his heart set on being a quarterback." He attended football combines, camps, and bounced at any offer where he could prove himself fierce in motion, aim and competition in front of the major team scouts. Key was never stalling his ambition of playing football, and that was his strongest weapon to a future in the leagues. No doubt, he was a sports prodigy—"one of the best athletes Turlock had ever produced," one of his coaches said.
Finally, there was upliftment. Confident in his abilities, Kaepernick applied for football scholarships in the best institutions, from University of Wisconsin near his birth town to the prestigious Stanford. Further inclined from his mentors, he applied for baseball scholarships as well, though that was not what he cared about. Rather, there would be piles of acceptances that will make his quarterback dreams a reality, right?
But the odds were stacked against the teenager once he received his inbox. A scene of Colin in Black & White commences with letters upon letters: prestigious schools swarming in leaving an overwhelming pile of acceptance--scholarships, free rides, guaranteed drafting to the Major League Baseball (MLB), so they put it--for baseball if Kaepernick chose them.
As for football, not one. Colleges were reluctant to let him pursue a quarterback role on their teams when baseball was planted in the forefront of his high school career. "Everybody wanted me to play baseball," Kaepernick detailed in Colin in Black & White. "All the schools wanted me. The offers were all there, but my heart was not. . .it was with football, a place where no one wanted me."
Nearing the final days of high school, Kaepernick was over six feet tall and with a thin, externally unfit frame. This also played a factor in admissionary's decisions, with observers on the field commenting how colleges with the best sports leagues—in the Big Ten—would "break him in half."
Again—talents, but not the looks; not the "professional" semblance on the field with his cornrows or a daunting muscular build on the field. "At some point," the real activist while observing younger Kaepernick's anguish in the enactment, "you get so used to rejection, you can see it coming a mile away." Everyone in the world envisioned him a baseball superstar, an MLB pitcher, the next Jackie Robinson or Dontrelle Willis—and he felt like he failed them.
But remember how I admired him for never letting go of the edge? He never did. That perseverance, that stride, that "uncanny combination of grace and grit", that was not only Allen Iverson. That was Colin Kaepernick. "A shot was all he ever needed," and finally something came to hoist him upward, coming in a phone call with an offer for a university's team quarterback.
Kaepernick then hung up the phone. "I'm playing football for Nevada."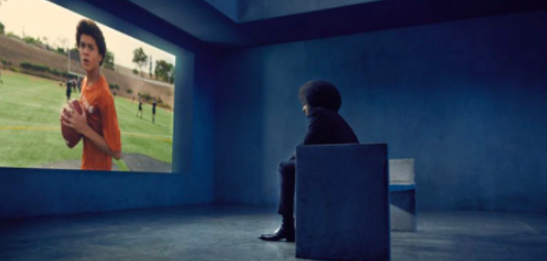 In the final installment of Colin in Black & White, a graduated Kaepernick hugs his foster parents goodbye and is en route to the University of Nevada. With heaping luggage, a determined expression, and gratitude for the two individuals who've nurtured him into the toughest, best-est man he could be, everything on the packing list was checked off.
The real advocate watches the enactment of his younger self as he departs from the family's driveway, off to become a quarterback and "much, much more."
With the Netflix series depicting his coming of age story, Kaepernick shares "to the underestimated, the overlooked and outcast. . .learn to love who [you] are, and not give a d*** that who you are makes some people uncomfortable." Through his experiences, the path to becoming a quarterback was rough; a rollercoaster even, with moments "sometimes fun, sometimes scary. But he wouldn't trade it for anything."
Sacrificing his dream career of being an NFL quarterback was no easy feat for Kaepernick. But directing his stride towards the racial injustice that plagued his childhood to movement on the field proved a rewarding experience. In the words of Frederick Douglass the football player turned activist referenced, "If there is no struggle, there is no progress."
Colin Kaepernick is revered today as a pioneer of wordless civil disobedience and a driving force behind the modern civil rights era. Through his actions and myriad other pivotal voices in the movement, there came movement. Like his idol, Kaepernick too became "The Answer" to pressing attention in combating police brutality and racial injustice in the stadium and demonstrating that the world is not to only be seen in black and white.
#7, football in hand, is sprinting closer and closer to the end zone.

"Trust your power. You will learn to find beauty in places where the world tells you there is none. . .Sincerely, Colin."