Ashton Calixte also contributed to this article. Format best viewed on Desktop. 
After lots of hard work and preparation, Malden High School hosted the much anticipated Instrumental Winter Band Concert on December 15th. It was directed by Erin O'Brien Mazza, Band Director at the school. 
Excitement was bubbling in the air that night. Seats were filled with the families and friends of the performers.
Dressed in their best outfits, the performers headed onto the stage, introduced by Erin O'Brien Mazza.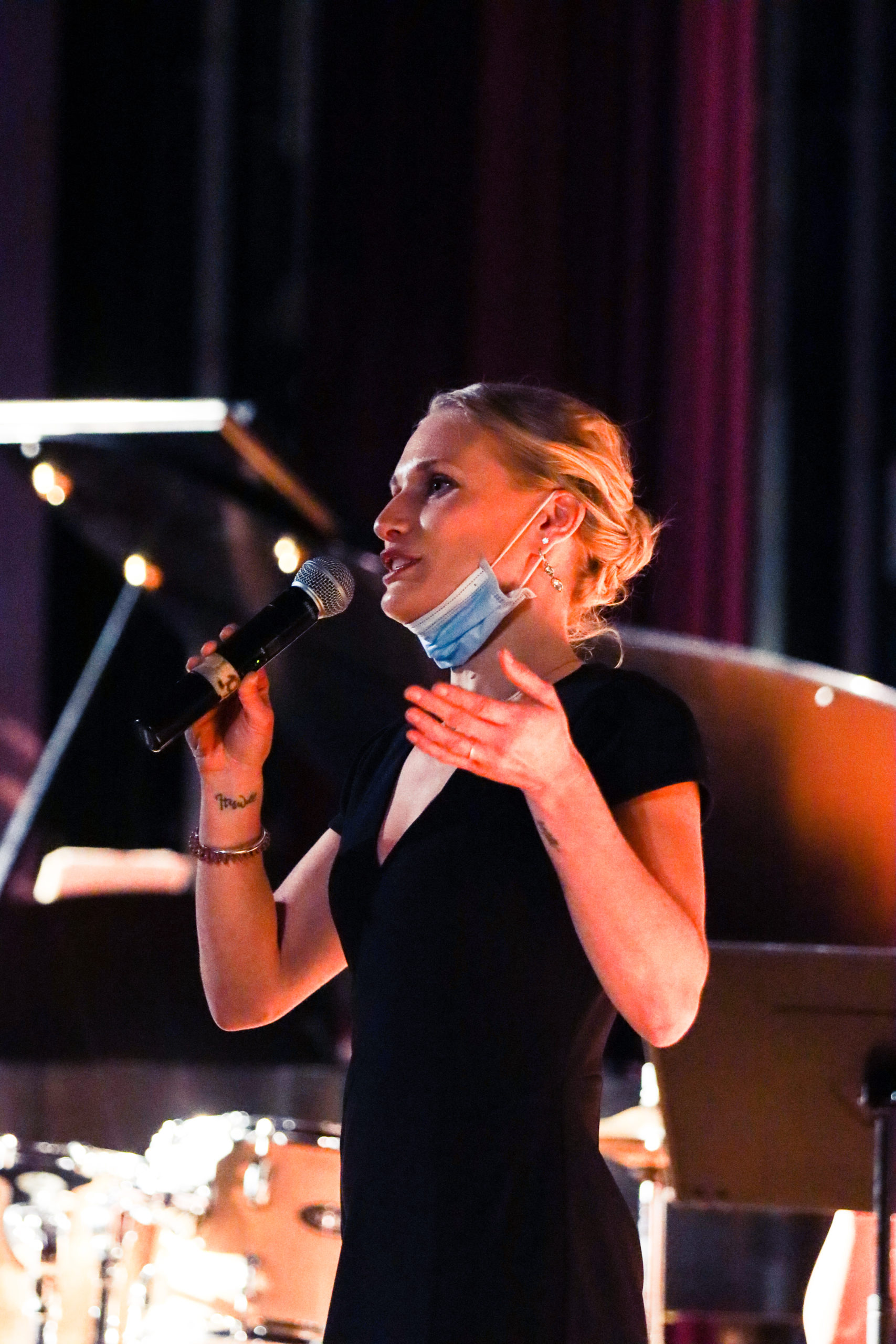 The show itself was broken into multiple parts, the Small Ensemble performed first, followed by Concert Band, Jazz Band, and the Wind Ensemble.
Senior Kayleen Denis, a member of the Wind Ensemble, had mixed feelings before she stepped on stage. "Like any performance, I felt anxious going into it, but because I've been performing for so long, it's like second nature to me," Denis said.
Senior Donald Ford, Vice-President of the Band, also felt worried about going on stage at first. However, he knew that he would always be nervous getting onto the stage, but once on stage, he stopped "caring about what other people [thought] and just [went] with the flow."
Once on stage, everyone seemed to ease into place, and felt more comfortable as they performed their music. Since the band also performs at pep rally, parades and football games, "the real concert prep happens once we get back from Thanksgiving break, so we have to work fast and hard," Mazza explained.
Obviously with limited time, it proved difficult, with other things such as academics, work and family-related things everyone had to keep up with.
Denis explained that it definitely took some adjusting to get back into the swing of things. There is a difference between being a part of an in-person band as opposed to practicing at home during the height of the pandemic. Thankfully, they were able to polish up their act as the concert approached.
Mazza worked incredibly hard with the students to ensure they did well during the concert. "It is super rewarding to see all of our hard work over the last few months come together in such an exciting way," she stated.
Towards the beginning of the year, the idea of having the concert was difficult. Due to COVID, many students had not played in a while and were far behind in terms of their skills. "All of my freshmen and sophomore students came in this year with the playing ability of a 6th and 7th graders," Mazza explained.
From left to right, top to bottom: Erin Mazza leading the Wind Ensemble, Seniors Damien Cuevas and Malachi Farmer conversing before the next performance, Senior Lovenskee Dorismond plays the drums, and Junior Lyra Gold performs with the Wind Ensemble.
She then had to make the decision whether to play simpler music, or to really push everyone. Mazza decided to push the students to work harder, which proved to give great results. Senior and Band President Mica Avellan felt that they "rehearsed like crazy, [... going] down into the depths of the music."
Senior Melissa Calixte, another performer, expressed that the process of preparation was difficult with the "constant practice time both individually and with the group. Learning the rhythms and working on intonation with other instruments." Though the hardest part for her was being able to synchronize with everyone else performing.
Many people came to support their loved ones, like senior Mackenzie Smith, who came to support her boyfriend Shai Cohen. Her favorite part was the sing-along where she sang loud and proud.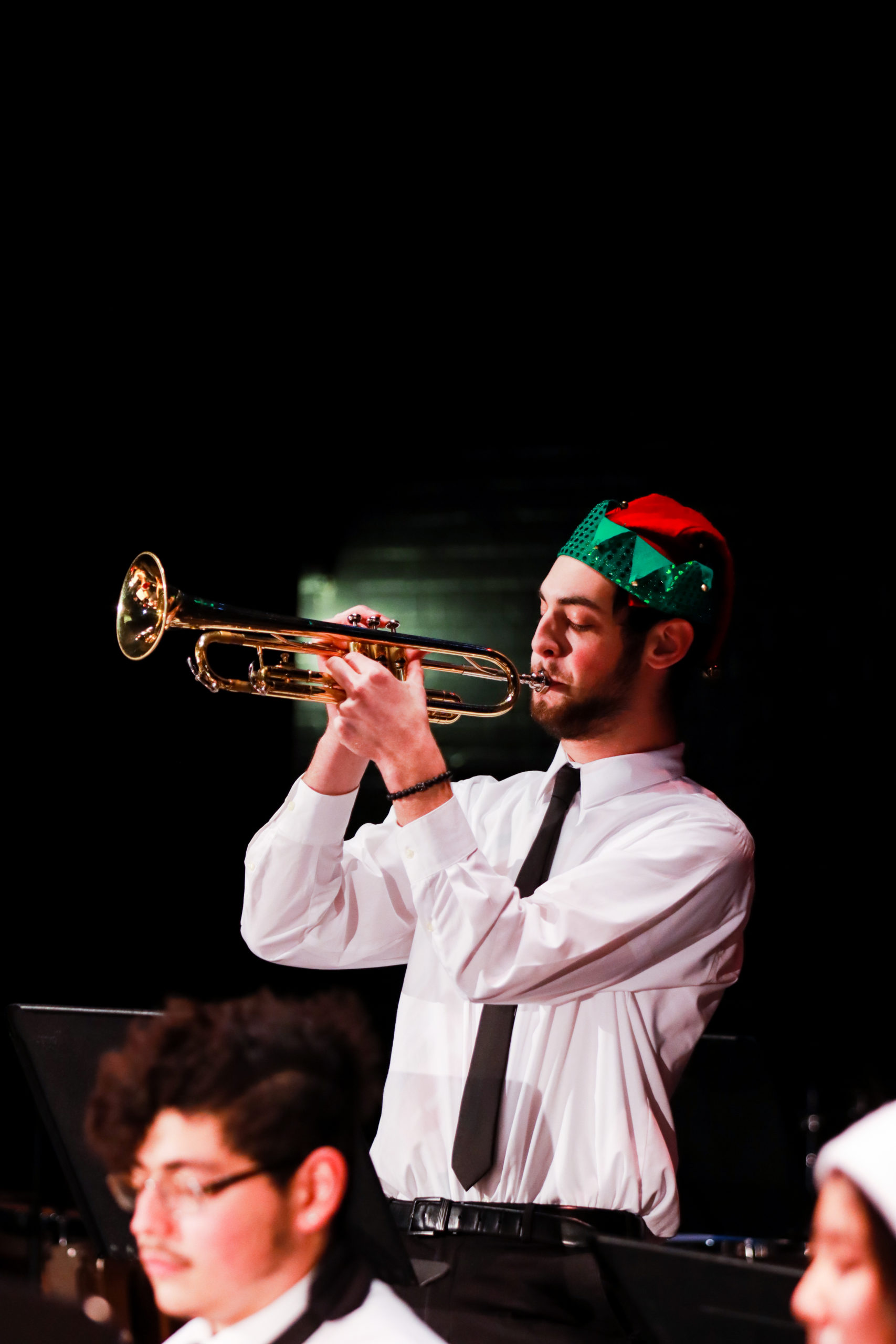 Zaryah Golini, another person who came to watch the show, "loved watching the Grinch, when he stole the star from the tree." The Grinch, also known as Junior Catherine Santos, ran around the auditorium and stole the star from atop the tree, then hugged Mazza during the performance of How the Grinch Stole Christmas.
After this long awaited concert, it is safe to say that the hard work of the students paid off. Mazza and her students have all worked hard to put on this show and were excited to finally see it all together. "Thank you everyone for supporting the band, we've never had that large of a turn out for a concert," Avellan expressed her gratitude to all those who came out to show their love to them.
All photos used in this article were taken and edited by Brandon Wong. For more photos, check out our Instagram @theblueandgold.