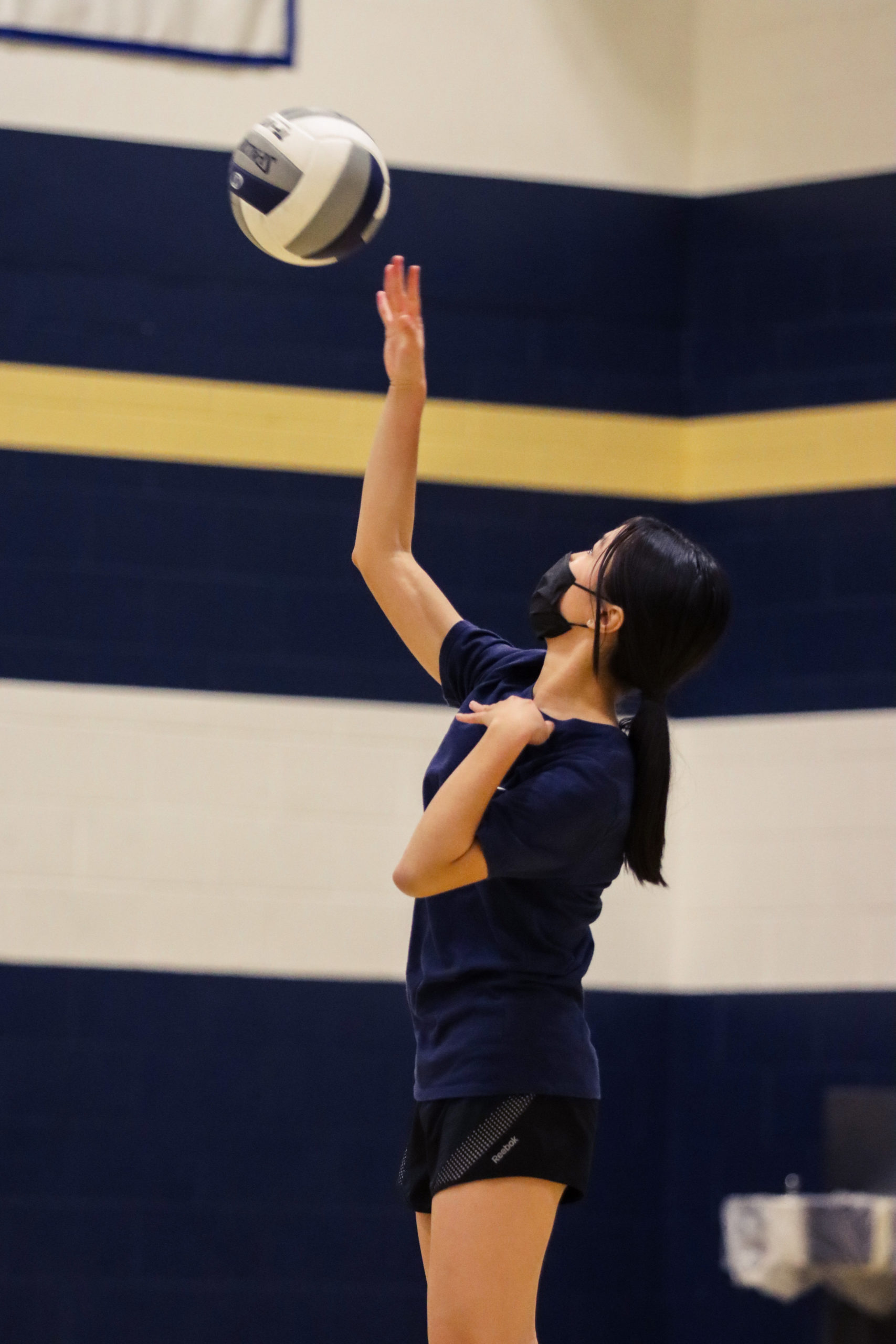 Malden High School's Class of 2022 student council has been hosting numerous fundraisers for their senior year. From Krispy Kreme sales to car washes, they have done it all, but their most recent fundraiser was one like no other. 
The Class of 2022 placed sign-up sheets all over the school, advertising their upcoming 2021 6v6 volleyball tournament. 
The tournament was open to students of all playing levels, and no knowledge of volleyball was needed. All they needed was a team and the determination to compete in various rounds of mini volleyball games in hopes of taking home a win.                                                       
Class of 2022 activities coordinator, Tivian Nguyen, said that the idea came to mind because the rest of the student council thought it would be "fun" and it would be an event that "everyone could enjoy both participating in and watching." 
If you missed the volleyball season, the tournament was the place to be on November 17th to catch a glimpse of  familiar faces of Malden High School's girls volleyball team playing amongst the eight teams competing in the event. 
The teams were mixed with players of various skill levels, and athletes from every sport coming together to "have some fun" and "win it all." 
Students were allowed to come up with the names of their team, and got really creative with them. The teams participating in the tournament were Milk Men, Goombas, Greyhounds, Sausage Party, Keira & Friends, Zone 6, Bongo Cult and Team Zoe. 
The gym had two games of volleyball going on at the same time, where each team tried to be the first to score 25 points. The winning team of that set then progressed to the next round and cycled through every team up, until only two remained where they battled it out for the win in the finale. 
Senior Kingson Chen expressed that his team Kiera and Friends were "feeling good." Chen further stated that they were "playing against people that are new to the game, but it's fun!"
Kiera and Friends' hopes were high as they stated that "of course we [thought] we [could] win," and went on to win their first set against Team Zoe.
There was some healthy competition on the court, encouraging the participants to fight harder to make it to the finals. A common name brought up amongst the teams was Kingson Chen and his team. 
Senior Ivan Tao stated that their "biggest rival is Kingson Chen," but appeared to be confident in his team making it to the finals. 
Tao was on team Greyhounds along with Girls varsity volleyball senior captain Riley Strano, Sophomore James Jose, and Juniors Yuki Yang, Darryn Ho and Meryem Hakkaoui. 
Hakkaoui also expressed that Chen was their biggest competition on the court since he was "hitting pretty hard," but this did not stop the Greyhounds from trying their best. 
Hakkaoui shared that her team was "doing great" as they were continuing to "talk to one another, continuing to support one another, and helping each other." She added that "if one of us makes a mistake we don't beat each other down, we help each other and we give each other positive feedback." 
The Greyhounds determination carried them through seven rounds taking them to the semi-finals, all while becoming a threat for other teams in the tournament. 
Senior Jason Ong stated that Goomba's biggest rivals were "the Greyhounds" after taking "an awkward loss."
The student section also seemed to be having a good time, bouncing back from watching each game going on in the court. Senior Julia Nguyen expressed that watching the tournament was "really fun" but "it's really difficult trying to switch from one side of the court to the other, but it keeps it very active and I think it's just really cool seeing everyone, especially people who don't get to play a lot or kids from basketball get to play volleyball." 
Nguyen also stated that she thought it was a "really good idea, especially because volleyball is not a big sport in a lot of schools, but at Malden High it's maybe the biggest sport here and it's really great to see."
Senior Nam Doan who was volunteering at the event shared the same sentiment stating that the tournament was "going well, I'm seeing a lot of faces…I think it's a really good idea." 
It was a great turnout for the Class of 2022, and the teams received a lot of support from the student section as they watched all of the athletes having some fun, and getting competitive. 
Senior Marla Candido, who is on the girls varsity volleyball team, expressed how ecstatic she was because "a lot of people came and I didnt expect that many people to come so I'm excited." 
After various rounds of the tournament, an unexpected threat came for the rest of the teams on the court. Sophomore Victor Desouza stated that their "biggest rival right now is team Milk Men for sure." 
After seven rounds it came down to team Milk Men, and team Goomba, but only one team would leave the gym as winners. 
Very early on in the tournament, Senior Cyril Jeramie, a member of the Milk Men team stated that their "goal is to win," and sure enough their team made it to the top and won it all.