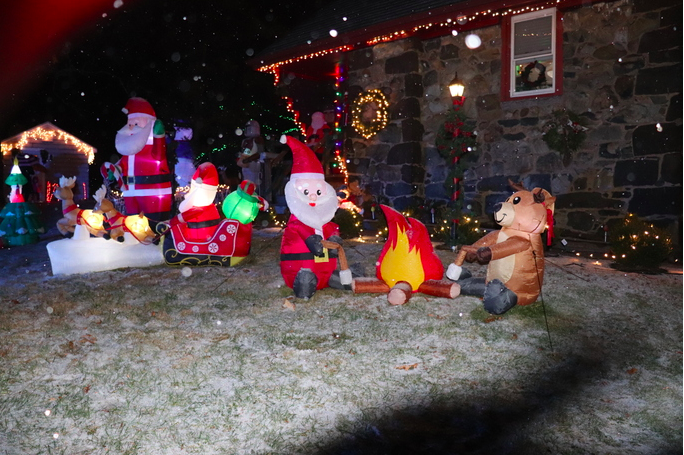 Carlos Aragon contributed to this article. 
If you have been living in Malden for years now, you have most likely heard Santa shouting ho-ho-ho and the jolly Christmas music playing while kids run to get their picture taken and get candy from one of Santa's helpers. 
This year Santa Claus took time out of his busy schedule at the North Pole to visit one of his headquarters at Pine Banks Park on Saturday, December 18th from 2-6 PM. This was Santa's 72nd annual trip to see the children of Malden and Melrose. 
Santa waited for the children at Pine Banks. Malden Councillor-At-Large Debbie Damaria stated, "As you drive or walk into the park, there is an adorable 'hut' which is where Santa sits as he greets his visitors."
 Park Superintendent Kevin Benner along with the Pine Bank's elves prepared Santa's office and decorated the park with magnificent and beautiful lights. Ward 4 Councillor Ryan O'Malley stated that he was "excited to see Santa again this year, and looking forward to a productive 2022 here in Malden. I am most excited about increasing open space along the Malden River and Spot Pond Brook." Malden Councillor Barbara Murphy and Santa's helpers from Ward 5 served hot chocolate and cookies to the kids and parents.
Murphy stated that the event was started many years ago by one of the original Superintendents of Pine Banks Park, Mr. Burgess. "On Christmas, he would open up the house and have people in, and have food, and have children come and see Santa." 
Unfortunately, the event started to die off over the years, so Pine Banks called Murphy to help them. For the past 11 years, Ward 5 has been helping Pine Banks to promote the event.
Volunteer and School Council Member Adam Weldai stated that the people at Pine Banks plan the event and coordinate with Murphy in order to bring food and drinks. "Santa happens no matter what, but we want to at least bring food and drinks and some community down to celebrate together." 
While Murphy stated that the rain did impact the turnout, the event was still quite lively. "From 20 [minutes before] 2:00pm, people were in line, it wasn't raining then and people were waiting in line to show up."
Santa himself had a few words to say about the event. "It's always good to come to Malden, it is one of my favorite cities, this is a great tradition coming to Pine Banks. We just want health and happiness for all our residents of Malden and for them to be safe against the pandemic, and we will all enjoy the holiday season."
The Christmas decorations in front of Santa's house. Photo by Carlos Aragon

Santa's House. Photo by Carlos Aragon

The Christmas decorations in front of Santa's house. Photo by Carlos Aragon

Santa Claus inflatables in front of Santa's house. Photo by Carlos Aragon

A teddy bear sitting near Santa at the campfire. Photo by Carlos Aragon

One of the Santa inflatables, riding on the sleigh. Photo by Carlos Aragon