18-year-old Boston Latin student William Hu is captain of the school's crew team and an active member of the community. Within the past couple of weeks, he has had phone calls with the Boston Teachers Union (BTU), interviews with local news channels (namely Fox, Channel 7, and NBC), and made plans to organize a press conference with Boston Mayor Michelle Wu.
All this attention has stemmed from a change.org petition he created with the headline, "Allow Massachusetts Schools the Option to Go Remote!"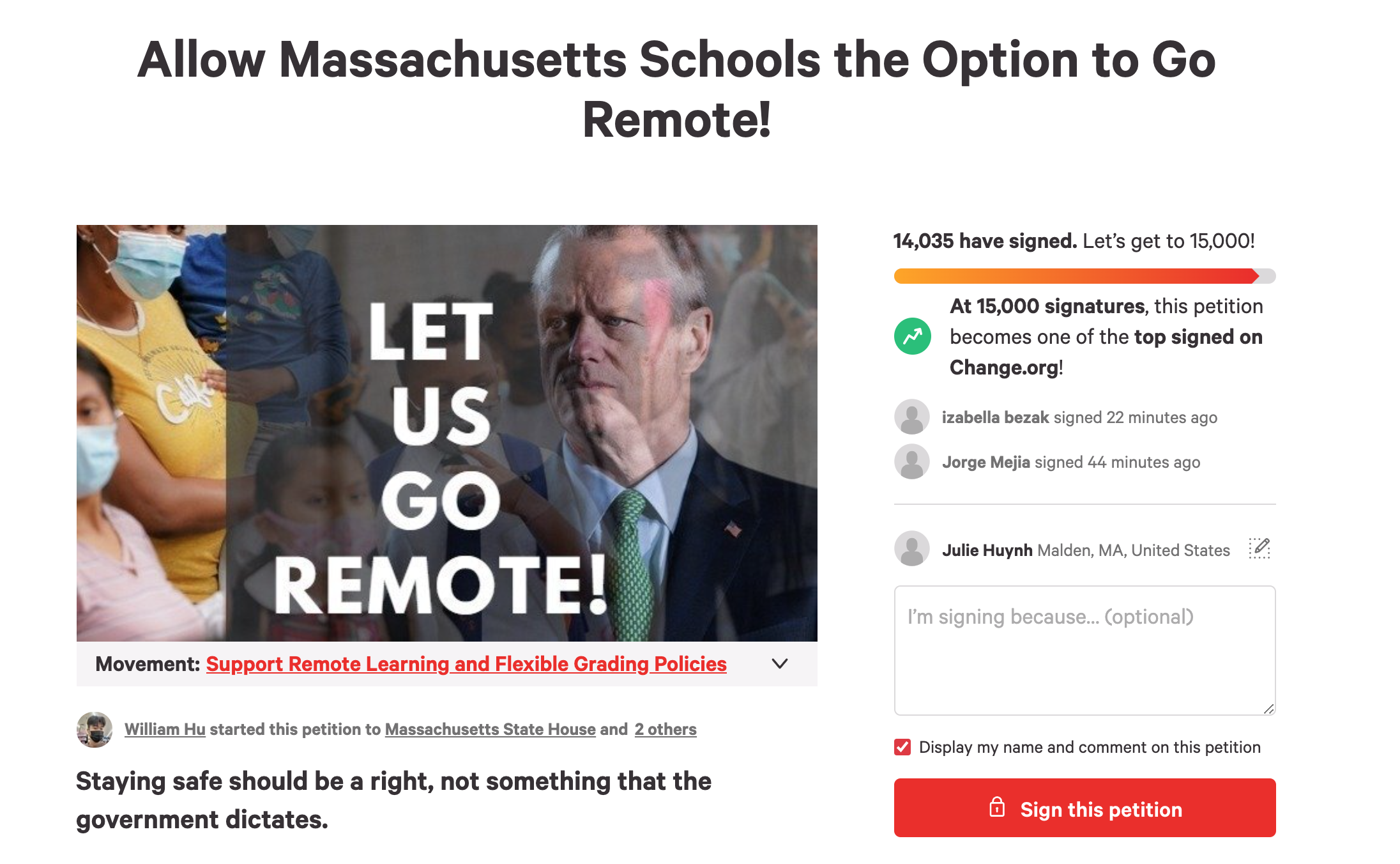 The last time Hu attended school in person was on January 4th, just after winter break. Since then, he has been participating in school remotely. According to Hu, Boston Latin has what is called a "Covid precaution" in place, where assignments are made remote so students do not have to worry about attending school if they do not feel safe. He pointed out that he is aware this policy is not readily available in all Massachusetts schools, which is part of why he created the petition in the first place.
Hu described his experience, how there must have been 30-40 positive cases the week leading up to winter break, and how over the course of the week, that number would just get higher and higher.
All over Snapchat and Instagram, he would see some variation of "Hey guys, I got Covid, get yourself tested," over and over again, until he realized that what was happening was not actually safe.
When Hu finally created the petition, he hoped that it would receive the attention it needed in order to create change. With the petition nearing 10,000 signatures as of January 25th, he is "very much grateful for what has been happening."
Since reposting the petition to his personal Instagram account, he has received over 100 comments, mostly supporters and people sharing their stories.
"I am in no way, shape, or form a representative of what people feel. I am just the platform. That night, I am sure so many other students had the same idea, but I just took the action… and wrote [the petition] out.
"I don't want to be seen as some person who represents all the students… I am nowhere near that. I am just here to allow people to express what they feel in the comments, whether it's tagging the governor's administration or sharing their own feelings," Hu said.
However, the Boston Latin student has also received some pushback in his comments, users who said "absolutely not" and "I'm just [trying to] have a normal school year."
In response, he said "I am a senior, I am [the] captain of my crew team. I don't want to miss sports, I don't want to miss prom. Last year we already missed prom, that was horrible, but that is why I chose the word option."
When creating the petition, Hu explained that he was very careful in his wording since it is a controversial subject and he wanted to have a petition that as many people could back as possible.
Hu emphasized in the petition, "No one is requesting a complete turn to remote learning, just an option so that kids can stay safe and still maintain their education. 'In-person school' should not be the only way to learn, we figured that out last year. We are not starting at square one."
Over this past weekend (Friday-Sunday), there were 27,033 new confirmed cases and 2,984 patients hospitalized for Covid-19. Predictions made earlier this month estimated the Omicron surge to peak by mid-January, but it is hard to tell if the state has experienced the worst of it yet.
One thing remains up for debate, would there have been a significant difference in numbers if schools had made the decision to go remote at the beginning of January?