Gianna Lally and Joy Lugo Morales also contributed to this article.
Wands for Wildlife is a nonprofit organization that encourages people to help the environment and wildlife by donating their old mascara wands. The wands that are donated can then be repurposed for many things including grooming, cleaning and treating wild animals. They can clean the animals from debris, small bugs and oil spills by brushing the comb through their fur and feathers. The wands can also be used to make sculptures and paintings by local artists. 
Shauna Campbell was the main organizer for the program in Malden High School. Some of the teachers that assisted by putting the boxes in their classrooms were Brain Wong, Elizabeth Tirrell and Kurtis Scheer.
Campbell joined the organization in 2019 as a part of her environmental science class. They were trying to find new ways they could reduce, reuse, and recycle for the greater good. The class wanted to show the bigger picture of pollution and how animals or habitats are being destroyed, and how they are being influenced through this. They were trying to find something that is not obviously recyclable and used in a different way. This program became a competition between the environmental classes to see who could collect more. Unfortunately, due to Covid, the program was put on hold last year in MHS. This year it was organized differently. Instead of a competition, the wands were collected across the whole school.
Campbell worked with students from her period six class to make flyers and boxes to collect the mascara wands before Thanksgiving break and began collecting wands when everyone came back after break. Campbell plans to continue this program within the school with students
Among the teachers that helped with collecting the wands was Brian Wong. Although he wasn't a part of the planning process, he encouraged students to participate and donate. Wong believes that they got more than they expected. "I even had some former students who had heard about it who came by and dropped them off to which was nice," stated Wong.
This was the first time Wong had heard about this organization. "It's actually really nice that people can repurpose things like unused or used mascara wands to help clean up wildlife because I didn't know that was a thing," he said. This was educational for Wong because to him it was interesting to find out that something that is considered to be trash or something that would not be typically used would become something that is very beneficial.
Freshman Alleela Perryman thinks that this organization is very important but does not think many students care enough which to her is upsetting. Perryman added, "Students do not focus on things like this, I only found out about this charity because I'm in Mrs. Campbell's Science class. But I do believe people should donate."
Freshman Sean Antin and freshman Bradley Louigene both agree that this is an important issue since it promotes helping wildlife. They believe that charities like these should be talked about more.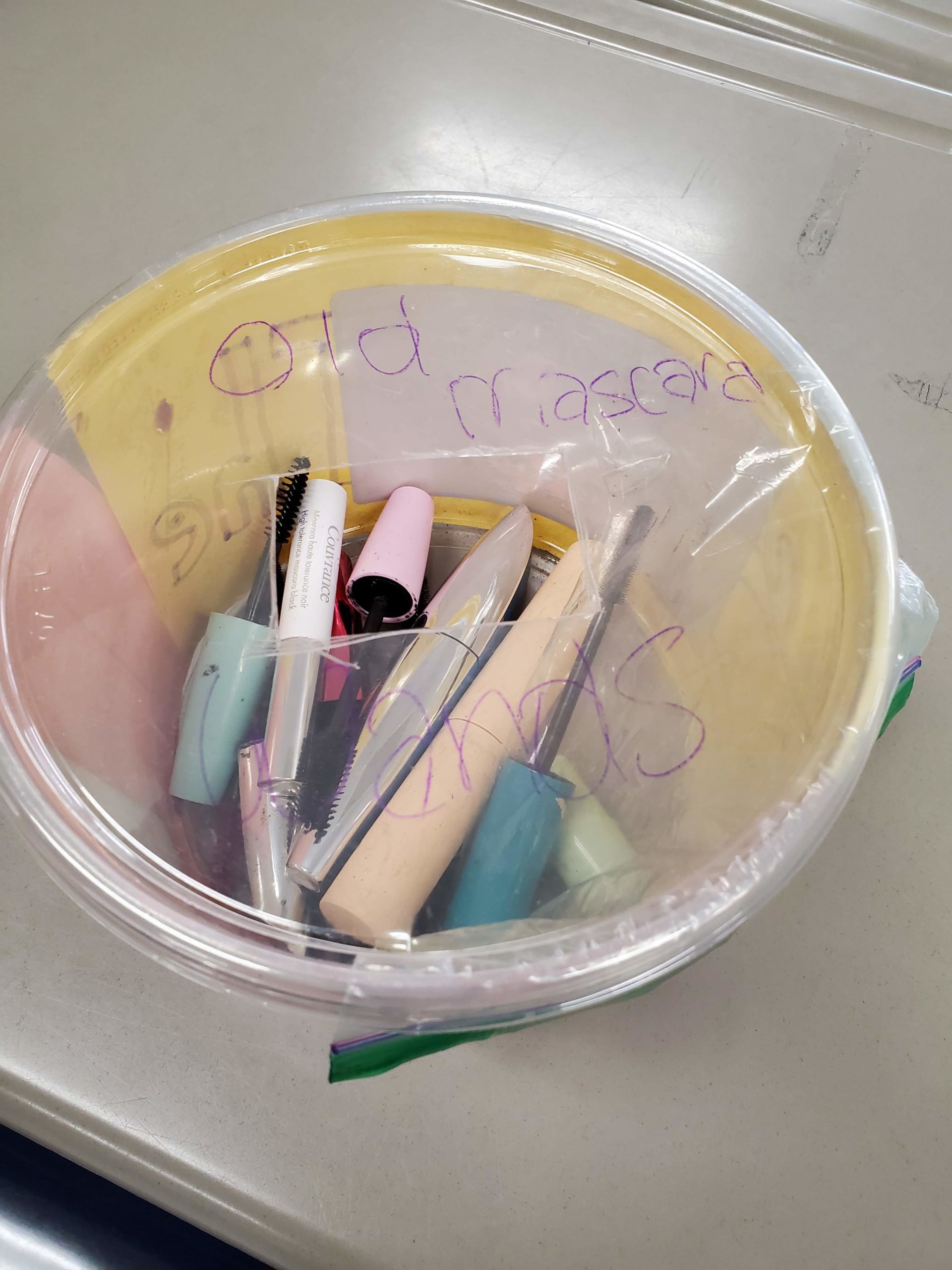 Some of the mascara wands that were collected. Photo by Chaimaa Assli.