Zachary Nedell also contributed to this article.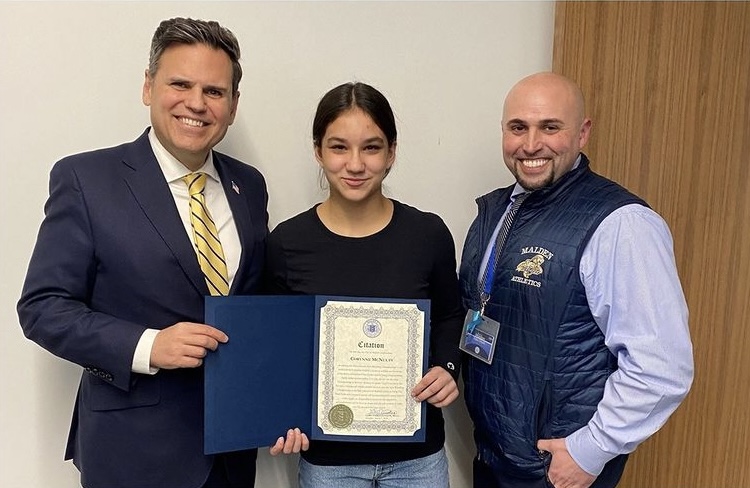 The state wrestling championship this year is none other than Malden's Corynne McNulty. In only seventh grade and weighing in at 127lb, she continued climbing the tournament ladder until she eventually won the Massachusetts State Tournament. 
Although she is only a seventh grade student, she competed in the girls' high school tournament this year and won first place, as well as the co-ed 7th and 8th grade competition and placed third for her brackets. Her hard work has earned her an official city citation, awarded by Mayor Gary Christenson. 
Director of Athletics Charlie Conefrey was especially proud of her "hard work and dedication," but "even more exciting is her accomplishment at the age of 13." He went on to say "the future is surely bright for McNulty as she is helping pave the way to encouraging young female athletes to take part in the sport of wrestling." 
As a "top student at Forestdale school, Corynne is well-known for always going above and beyond in her studies and for being a hard-working, highly skilled student athlete," Christenson expressed on the official City of Malden Instagram. 
McNulty told Christenson that she "trains daily, stays focused and hopes one day to make it to the Olympics." 
McNulty competes through Doughboy Wrestling Club in Lowell, Massachusetts, that trained many other athletes into their victory at this tournament. From all around Massachusetts, students such as sophomore Ashley Dehney, who won her own competition with a weight at 136; Tori Orender who won the 111lb bracket and Shelby Galex close behind in third; Victoria Fogg who won at 215lb; and Tayla Tildsley who won the 147lb bracket, and even won OW. OW is a wrestling term for Outstanding Wrestler, which is awarded to someone who performed above expectations and did something to catch the judges' attention. 
McNulty will continue to train in the off-season to prepare for her next year in girls' wrestling.