Sophie LeBlanc also contributed to this article
With the school year coming to an end, the National Honor Society's (NHS) projects are wrapping up. Students are working diligently to meet their deadlines, and their works are coming to life. 
Jason Ong, NHS senior president, had nothing but positive words to say about his peers: "Everyone in the club are great students—great people. That's why they've chosen to be in the NHS." Although the NHS is open to sophomores, juniors, and seniors, "a lot of the members, right now, are seniors," Ong explained. " So, my hope is that they continue to keep doing this work after high school… I hope they continue helping the community and being great people overall."
Paul Marques, who has been the NHS's advisor for 15 years, is excited to return to the program this year. Due to the pandemic, students are only now getting more creative with their projects. "Last year… it was on Google Meet. It was pretty good, it depended on technology and people's specific schedules. So, that was tough. It was really hard for them to do any type of project since everything had to be online. So, fundraisers—everyone was doing fundraisers. Whatever we're trying to do, everyone's trying to do. There was a lack of creativity since there's only so much you can do." 
Despite those bumps, Marques believes the club is getting back on track.
"They're doing their individual projects that can either be here in the high school, somewhere in Malden or really anywhere in the world," Marques said. "You can do whatever, sending letters to soldiers overseas or sending Mother's Day cards to the nursing home women."
With a dozen projects open right now, students are at long last reaching their deadlines. Marques explained that on May 20th, the NHS plans to help the multicultural club. "I think all clubs have also been hit somewhat by the membership; people are trying to get back into the swing of things," he noted. "We're going to help the multicultural club since we have so many [people] and they don't have as many [people]."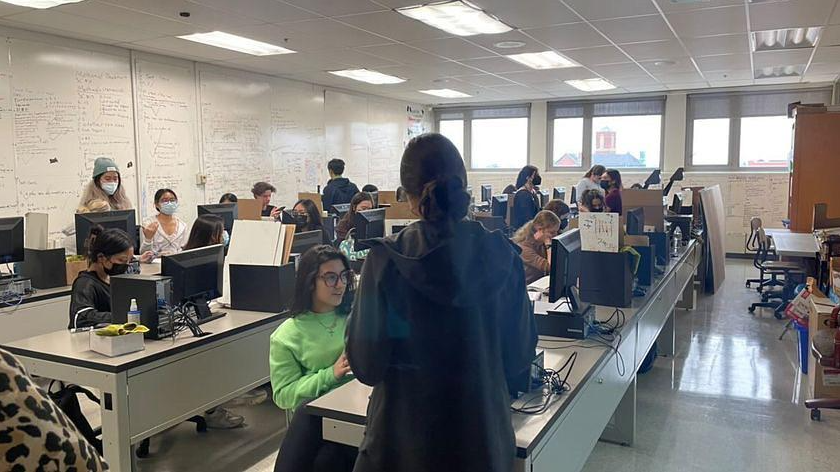 One project, Ong pointed out, is the Play Like a Girl program, run by Junior Peyton Lightbody, Senior Lissette Curran and Senior Sara Dzaferagic. This project is a returning project from a few years prior but is being brought back from hiatus this year. "For a whole week over April vacation, we're gonna teach [third to sixth graders] a new sport every day in hopes that we can get more girls interested in sports at a younger age," according to Lightbody. "I hope that it gives the younger girls an idea of what they want to do when they go to high school or to just learn new things that they can use for the rest of their life." 
Lightbody also gave another perspective on the program: "When we were younger, we didn't have the opportunity to see all of those sports, so now we're trying to give the younger girls that opportunity that we didn't really have."
Seniors Sharon Pan, Maggie Yick and Jing Ren have their own project: Positivity for Children. "Positivity for Children is a service project where my group is making friendship bracelets to donate to children at Tufts Medical Center," Pan explained. She got inspiration from the thank you notes students had sent to Malden High's faculty. "We believe that children at the hospital should feel loved and reassured as they are battling some health issues."
One issue brought up, though, was numbers: "The most challenging aspect is trying to make enough bracelets for all the children so no one is left out." Pan believes this is not as much of an issue as previously thought, as over 600 bracelets have been made, but they still have more to make.
Although there are a lot of bracelets to be made, Pan believes it is more than worth it. "The most rewarding aspect of this project is the sense of accomplishment that we get from making these bracelets. One may think that it is simply a bracelet, but in my eyes, it is more than that. It is a simple little thing that one can wear but holds the power of love and positivity as it can put a smile on children's faces." 
With over a dozen projects, the NHS has its plate full but is ready to finish the year on a high note.