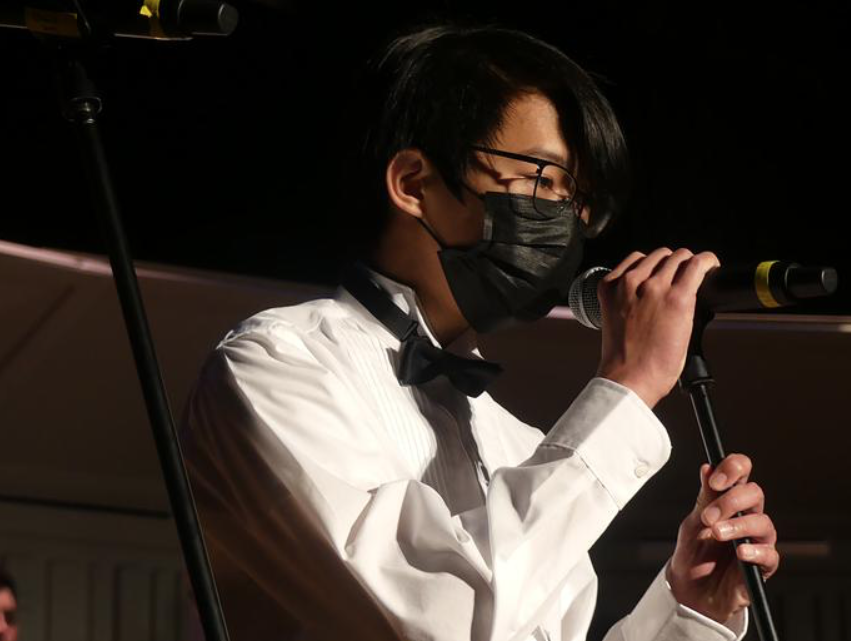 Malden High School Choral Arts Society held their annual Spring Choral Concert on May 4th in the Jenkins Auditorium. The show ran under the direction of Todd Cole and Cindy Horsman Mckeen, who played the piano throughout the program. The show consisted of performances by the Mixed Chorus, Concert Choir and the Madrigal Singers.
The show began with Cole introducing the audience to the mixed chorus and Mckeen. A mixed chorus opened with numbers such as "Hashivenu" by Michael Ryan, "J'entends Le Moulin" by Emily Crocker and "Bist Du Bei Mir" by Robinson, ending their segment of the show with "Yo Le Canto Todo El Dia" by David L. Brunner and "Didn't My Lord Deliver Daniel?" by Greg Gilpin. Cole mentioned that he was extremely impressed with the mixed chorus, as they had to learn how to sing in five different languages for the spring concert. 
Afterward were the Madrigals who began by singing "O What Shall I Do?" by John Wilbye, "Come, Sirrah Jack, Ho!" by Thomas Weelkes, "Mignonne, Allons Voir Si La Rose" by Guillaume Costley and a touching, heartwarming piece called "He Ain't Heavy, He's My Brother" by Jay Althouse which was supposed to be the last song in the Madrigals section. Instead, the members went "off-script" and decided to perform Queen's "Bohemian Rhapsody," a song that they had been practicing for the majority of the school year and even had help from band students to perform a song for the ages. 
After the Madrigals finished their piece, it was time for Concert Choir's Tenors and Basses to perform "Gee, Officer Krupke" from Westside Story. Senior Lucas Williams played Officer Krupke, James Song played a Judge, Jose Mejia played a social worker, James Holland played a psychologist, while Sophomore Brian Vences played Anton "Tony" Wyzek, the main character from Westside Story with the rest of the Tenors and Basses singing in the company. The entire song was a hilarious act that combined physical humor with song and dance.
The number began as Officer Krupke caught Tony and then hit him over the head with a newspaper. Vences specifically asked to not be hit lightly so that way the comedy of the situation would not be compromised. He described his head after all the performances as "slightly dented." The performance consisted of Tony going to several different places and being told why he is the way he is, from diagnosing him with a "social disease" to saying "he needs a year in the pen." After going all throughout town, Tony sends off Krupke with a smack on the head and a good old "Krup you!"
As the rest of the concert choir filed in, Cole prepared for the students to sing songs like "Sing My Child" by Sarah Quartel, "Domine Fili Unigenite" by Antonio Vivaldi, "Eleanor Rigby" by Arnold Freed, "Hamilton Highlights" by Lisa DeSpain and finally, "Rise Up" by Mac Huff. Before "Rise Up" was performed, the seniors all came down from the bleachers and were presented with a rose and congratulations from Cole. 
About 30 seniors were in the Concert Chorus, leaving 19 students to continue next year. As a going-away present, they gave Cole a poster of his favorite quote by Robert Shaw: "In these days of political, personal and economic disintegration, music is not luxury, it's a necessity; not simply because it is therapeutic, nor because it is the universal language, but because it is the persistent focus of our intelligence, aspiration, and goodwill." After an emotional speech from Cole, the concert chorus began their final song: "Rise Up".
After the concert was over Cole reflected that he felt "a sense of relief." He felt like the students "had an opportunity to really perform at the level that they were truly capable of." He expressed gratitude to everyone who was in the concert but wanted to stress that "there must be a level of talent that [the students] come in with, a sense of musicality, so it's just my job of pulling it out and finding it. You know, I don't think I work miracles here."
With the concert behind them and the future to look forward to, the seniors prepare to leave Malden High, but Vences wanted to say, "if you are thinking about doing choir or mixed chorus or something like that, or even just voice classes or anything related to that, but you're like I don't know how to sing. I don't know how to read music or anything like that. We literally teach you how to do that. So, like, if you think you're out here tone-deaf, Mr. Cole literally teaches you how to pick it out." Check out the chorus if you are interested.