Lily Nguyen and Ashton Calixte also contributed to this article.
Prom is approaching for the Class of '22--one of the most notable events in one's senior year of high school. So, what distinguishes Malden High from other schools?
The answer: the implementation of a boot camp for students to better prepare themselves both physically, in terms of makeup, and mentally, with regard to feeling confident and like their best selves.
Each flex cycle facilitating the Prom Makeup Bootcamp is held for two weeks, offering plentiful time for seniors to prepare for their upcoming prom.
Bootcamp host Kayla Morello explained that the first cycle, which commenced on March 29th, is centered on "the basics of makeup application. Through demonstrations, we will go over everything from picking a base to contouring to eye makeup design." The second block has a greater focus on eye makeup techniques.
Morello's idea for creating this flex sprung from "thinking about how it's so expensive to hire somebody to do your makeup." As they enjoy teaching, creating a makeup boot camp proved the best solution to saving students the cost of hiring a makeup artist and combining two of their passions.
They also mentioned their background in makeup: "I kind of just started learning how to do it by myself when I was in college." It was after graduation that they realized their enjoyment of hands-on activities. "I love seeing what I can make; I'm definitely super creative. So, I kind of just kept practicing and doing it."
They continued, "I watched a million YouTubers, watched a bunch of TikToks once TikTok came out, but I've been getting paid to do other people's makeup since 2017. And before that, it was still people being like, 'Would you do my makeup for my wedding? You don't really do that stuff, but would you do it for me?' And I was like, 'Sure, why not!' So I just read everything and watched all the videos I tried and just practiced by myself."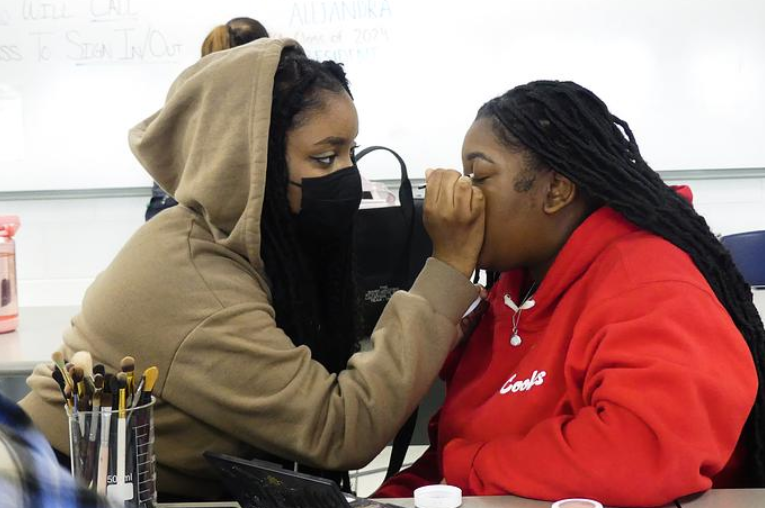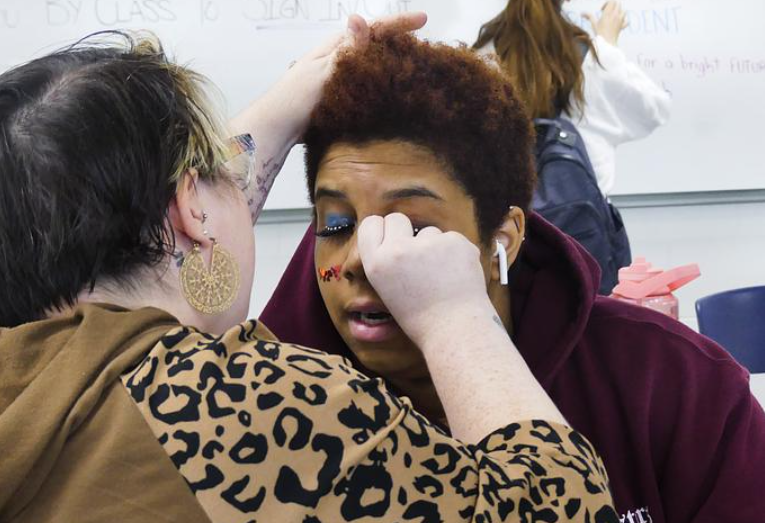 Among their 40-minute lessons in which they impart their knowledge, Morello taught students how to apply a basic winged eyeliner and false lashes. They shared tips on fixing and defining the eyeliner wing using setting powder and a q-tip and displayed their favorite eye products for sensitive skin.
In another, Morello encouraged students to color their makeup looks with cosmetic-grade glitter. Equipped with knowledge from previous Joy sessions, the students practiced applying false lashes. They had much fun practicing makeup on each other's faces, playing with vibrant pigments, and adorning their cheekbones with gems and glitter. Morello shared additional beauty tips for longer-lasting wear while students finished up their looks.
Ultimately, Morello emphasized that mastering the art of makeup is achieved through practice, "It's not like inherently, some people are really good at it, some people are not. Just like any sort of discipline, the more you do it, the better you get at it."
Prom may not be the only reason people signed up for the makeup boot camp. The class constitutes students ranging from freshmen to seniors all attending for their own different reasons. Regardless, all wish to learn more about the concepts and different ways of makeup. One of them, sophomore Alejandra Fernandez, shared, "I personally love to learn more about makeup because there are always new trends and tips that make makeup easier to do." She followed, "Through attending the makeup boot camp, I hope to improve my eyeliner and contour skills."
"There's something about doing a real quick wing or a smokey eye or something like that and walking around and being like, 'I am the baddest one here!' It's so cool, and I love teaching people that." - Kayla Morello
As May 27th nears, Morello hopes that through hosting the Prom Makeup Bootcamp, they help students embrace their beauty and find their confidence. "I just love people knowing that they're beautiful. They're beautiful with or without makeup, but makeup enhances how beautiful you actually are. You should feel that."
In a final message to students needing guidance: "I'm really open to if anybody was like, 'Mx, could you tell me how to do this?' I would 100% do that: 'Come down during lunch, I'm down during a study, and I'll totally help you do that,'" Morello concluded.