After a long season, the Malden High School varsity football team took on the Revere Patriots for Senior Night. The Golden Tornado's season was off to a great 3-1 start before a few injuries to some of their key players which caused them to drop the last three games. Nonetheless, there was great excitement heading into this matchup.
Before the game, the seniors on the team were celebrated as they walked out of the locker room and onto the field with their families. Other players and spectators cheered them on and applauded their service to the Malden program.
This year's football seniors were Makhial "Mak" Coulanges-Blaise, Andrew Louis, Zacharia Pan, John Lloyd, Darius Blaise, Samuel Antoine, Kyle Paulding, Clifford Raphael, and Vidal Garner.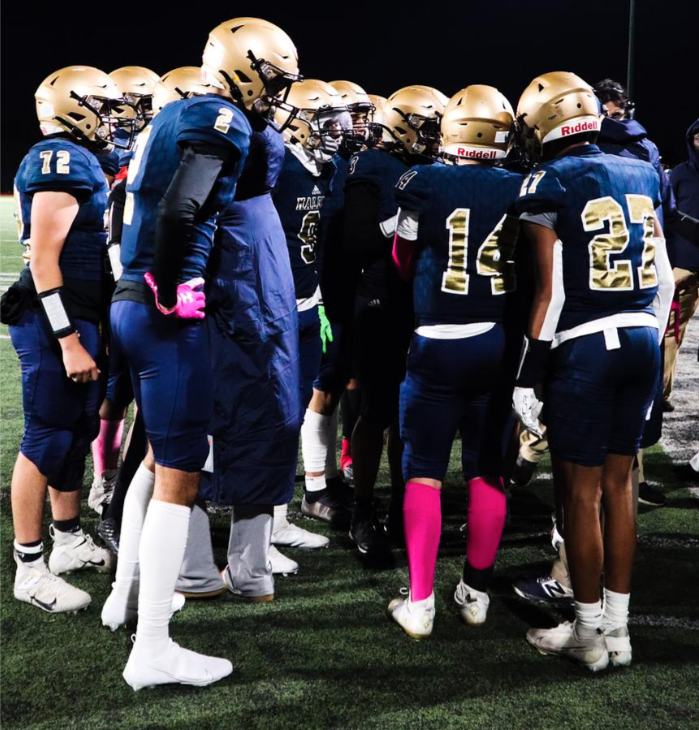 Revere kicker Felipe Maia opened the game with a kickoff to Junior Davien McGuffie. McGuffie caught the kick at his own 14 yard line and bolted down the sideline for a 45 yard return into Revere territory.
Lloyd then took two handoffs for a first down at Revere's 30 yard line. But, just as things were looking up, a holding penalty brought Malden back ten yards which resulted in a first and 20. After a two yard rush from Lloyd, a false start penalty created a 2nd and 23 situation. The next snap would sail over sophomore quarterback Aidan Brett and the Patriots would recover at Malden's 43 yard line.
Revere rattled off a series of run plays. Running backs Davi Barretto and Giovanni Woodard each took a few carries for four and five yards respectively. Malden took a big loss on one of those plays when Lloyd went down with a knee injury and did not return.
The Golden Tornados finally forced fourth down and goal from six yards away after they caught up with Revere's running scheme. However, the Patriots switched up the playbook on that play when quarterback Carlos Rizo delivered a touchdown pass to Sami Elasri. Maia's extra point attempt sailed through the uprights to give Revere a 7-0 lead with three minutes remaining in the first quarter.
Malden would only return the next kickoff to their own 15 yard line. After a rush for no gain, running back Kevin Exilhomme fumbled in the backfield allowing Revere to once again recover inside the ten. The Golden Tornados came up with a big stop and forced Revere to take a 25 yard field goal which gave the Patriots a 10 point lead at the end of the first quarter.
The Golden Tornados didn't improve much to start the second quarter. An illegal blocking play on a third and four play pushed Malden to the brink of their own goal line and an incredibly challenging 3rd and 19, in which Brett's pass would fall incomplete. Brett, who also serves as the punter, could only manage to kick it to the 22 yard line and Revere was once again set up with great field position.
Luckily for Malden, the defense stepped up again. A tackle in the backfield on first down and an incomplete pass on second down set up a 3rd and 17 from the 29 yard line. Malden linebacker Matt Brito flew into the backfield to sack Rizo at the 36 which put the Patriots out of field goal range. Maia was forced to punt and Malden would start another drive inside their own 20.
After Brett was shaken up on the previous drive, freshman backup Matthew Stelmach would enter the game to relieve him. He immediately fumbled the first snap but fell on top of it to retain possession. Coach Witche Exilhomme had seen enough and Brett reentered the game. On third and 14, Brett completed a pass to Exilhomme for 11 yards to set up a 4th and 3.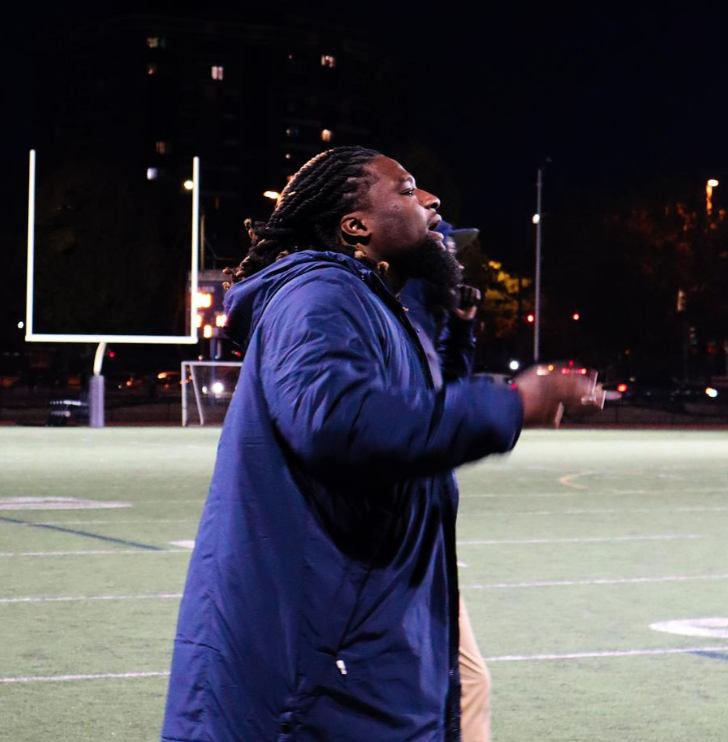 Malden decided to keep the offense on the field but an incomplete pass fell to the ground and Revere took over at Malden's 23 yard line.
Somehow, Revere fumbled their opportunity away. They lost a ton of yards when the ball slipped away and had a fourth down at the 30 yard line. They decided that it was too far to attempt a field goal and a deep pass to receiver Danny Hou was knocked down by Exilhomme which allowed Malden to take the ball back.

Things were not going anywhere for the Golden Tornados. On the first play of the drive, Brett rolled out to his right and threw back across his body into the middle of the field, the cardinal sin of quarterback play. The pass was intercepted by Hou at midfield and Revere took the ball back once again.
With just a few minutes remaining in the half, Revere tried to run the ball down the field and get a few points. It all started well, but they stalled out at the Malden 20. A fourth down play with four seconds to go only resulted in a nine yard gain and the game went into halftime with the Patriots holding a 10-0 lead.
Malden decided to keep the ball on the ground for the second half's opening kickoff to prevent a return. Revere would start the drive at their own 40 yard line. A false start penalty on the first play of the drive resulted in a first and 15. Revere would run the ball three times until they punted on fourth and eight. Once again, Malden's defense stopped Revere on a drive started with good field position.
Stelmach would take over as quarterback in the second half with Brett nursing a minor injury on the sidelines. A small rush and incomplete pass on the first two downs led to a 15 yard rush by McGuffie for a first down. Exilhomme took the next two carries for a net total of one yard and Malden faced third down once again. This time, Stelmach passed to Exilhomme but he came up four yards short of the first. On fourth down, Revere got right through the offensive line and Stelmach had no chance but to take the sack and turn the ball over.
(Both photos above): Stelmach attempting plays across the field. NATHAN DEAN
Revere couldn't capitalize on the turnover once again and was forced to punt after three run plays. Malden received the ball at their own 20. After a false start and a rush for no gain, Stelmach would fumble once again and the Patriots recovered at the Malden 15.
This time, the Malden defense finally broke. During the last play of the third quarter, Woodard took a 14 yard run into the end zone for a touchdown and Maia's extra point gave the Patriots a 17-0 lead with just 12 minutes left to play.
Malden's next drive ended quickly after three plays that went backwards. A tipped punt gave Revere possession only 14 yards from another score. Revere rattled off three rushes for solid gains before Woodard took a two yard carry into the endzone for his second rushing touchdown of the game. After four consecutive conversion attempts were played due to penalty, Malden tackled Rizo in the backfield to hold the score at 23-0 with seven minutes left.
Unfortunately for the Golden Tornados, that was how it would stay. Their next two drives ended with a punt and an interception allowing Revere to run the clock out, holding Malden scoreless for the first time this season.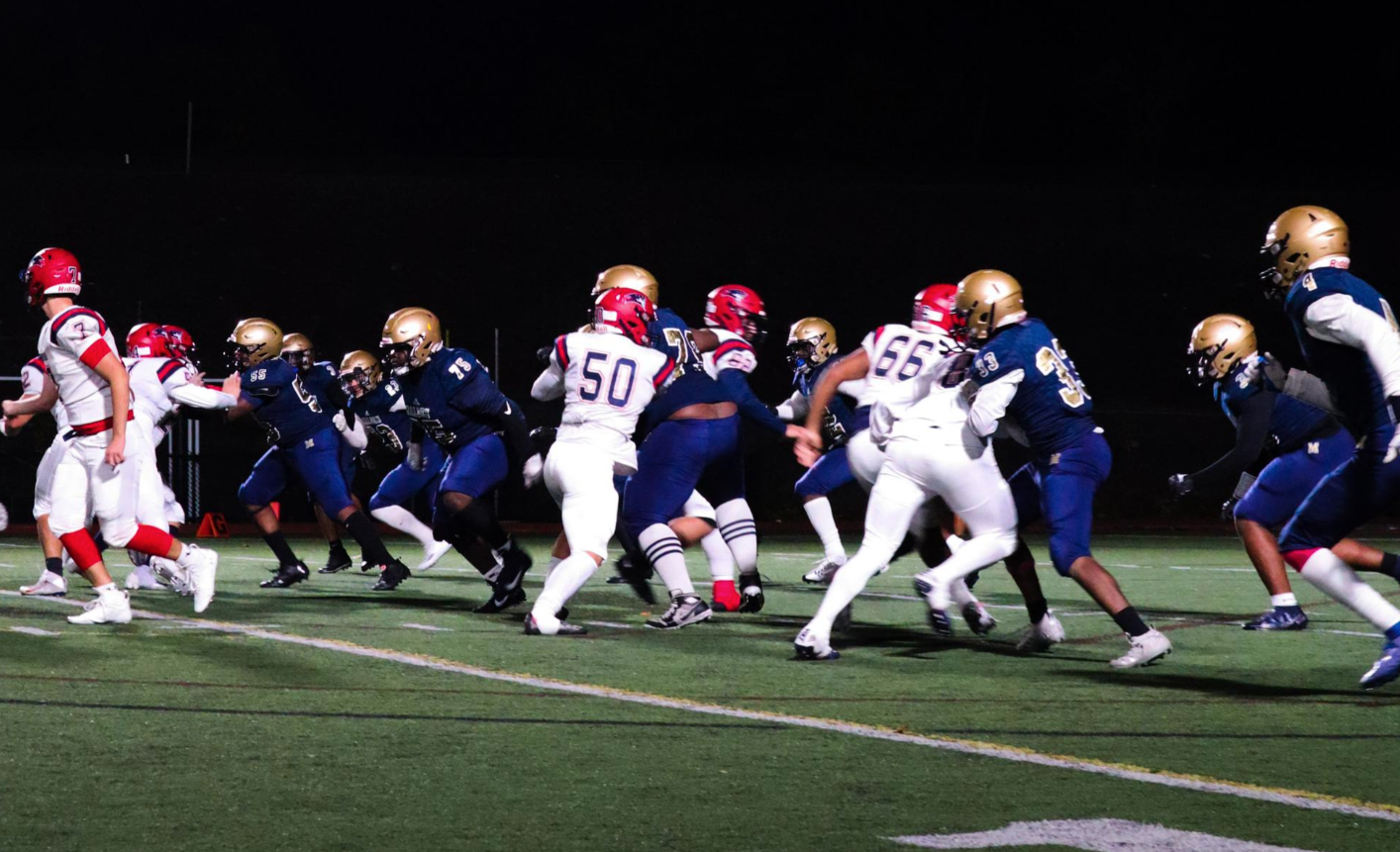 While it was a disappointing game on the field, Malden's season has great reason to be celebrated. Their seniors have brought a lot to this program this year and have improved it drastically from last season. One of them, Coulanges-Blaise, has had huge impacts for this team.
"We've had a solid season. It could be a little bit better, but we're doing alright," said Coulanges-Blaise. He also mentioned that the seniors have "been putting in the work" and "doing their jobs as leaders" this year. "I feel like we have good energy most of the time. But once we lose it, we never really get it back."
Coulanges-Blaise had an incredible start to the season but hasn't played since late September against Somerville due to a season-ending knee injury. The team went 3-1 and scored 156 points in their first four games with Coulanges-Blaise on the field. In the four games since, they have gone winless and only mustered 18 points.
Junior lineman Joey Fils can see the effect injuries have had this season. "We've had a ton of injuries this year. But things happen in life, we just have to move faster." He did say that the losses have hurt the team's energy. "Our spirit hasn't been bad. It's not too good right now, but we have to keep our heads up for next year."
Defensive coordinator Wiston Jeune thinks that these injuries have had a major impact on the team. "Our energy was up, but then we had a couple of injuries. Guys like Coulanges-Blaise and McGuffie were out for a little bit and our great blocking tight end Pan has been out for a while now." He still thinks they have been great for the team. "They give us their best game and are good leaders on and off the field."
Coach Jeune hopes to have a great offseason. "The more kids we have, the better we are." The team plans on replicating their workouts from last year which started in late November right after the prior season ended. "The offseason is going to be really big for us. That's why we win. That's what we are going to focus on."
While the game on Senior Night was not Malden's best, their program has much to be excited about. The team is set up to perform very well in the coming years. But still, their season is not over yet. Their last game will come at the legendary Fenway Park in their yearly Thanksgiving game against the Medford Mustangs. The Golden Tornados are looking to end the season on a high note.