For the 20th consecutive year, Malden's choir has successfully put on their Winter Concert under the direction of Todd Cole. With accompanying piano arrangements by Cindy Horsman Mckeen, the show consisted of performances by the Mixed Chorus, Concert Choir, and Madrigal Singers.
Preparing throughout the year, memorizing songs, and growing their voices, the choral arts society worked hard to get ready for the big night.
Brian Vences recalled the day before, mentioning "it's like no-nonsense. On regular days we get a little time to settle in… when we're going to class the day of a concert it's immediately 'alright, throw your stuff on the floor and get on the risers. We're going right now.' So no time is wasted at all. That gets us to the point where we're micromanaging time to make sure we can do every single piece we need to do and work on every single part."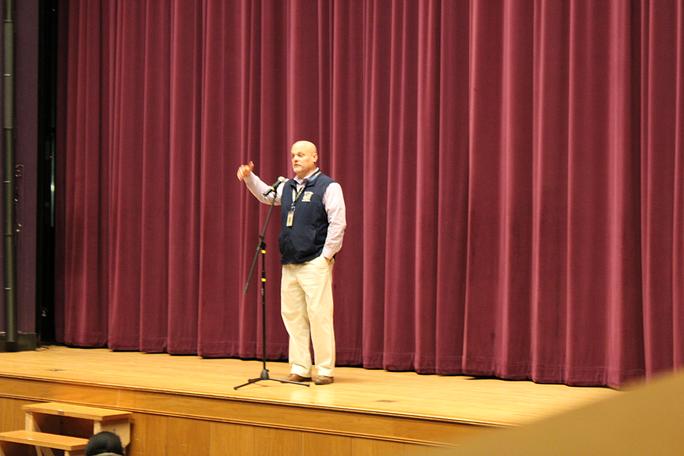 After a curtain speech by Principal Mastrangelo, the Concert chorus began like always with a haunting rendition of "Silent Night," performed in darkness with only candles to illuminate the cloaked singers.
Mixed Chorus took the stage afterward and performed the pieces "A Christmas Greeting", "Miracle of Lights," "A Festive Fa La La," "Imagine," and "Our Winter Wonderland," with soloists Sarah Fontaim performing in "Imagine" and Olivia Descilien and Matt Chan singing in "Our Winter Wonderland." 
Cole's motto for solo auditions is to make sure that you're interested in it," referring to their song choice. This is important for students to do as Cole does not usually teach the solos. "I maybe sing it through with everyone, once or twice, and then they're on their own."  He then gives students the option to practice in class before the audition.
Next, Madrigals went on to perform "Lullay My Liking," "Hanerot Halalu," "Fum, Fum, Fum," and "Carol of the Bells," with soloists Natasha Senecharles, Johnny Reyes, Michelle Dang, and Felynn Rincon performing in "Lullay My Liking" and Meryem Hakkaoui adding their clarinet to "Hanerot Halalu". 
Michelle Dang commented, "The most challenging part for me was singing in mixed formation with madrigals just because there are so many different parts surrounding so it was definitely challenging to try to project my voice through the sea of tenors."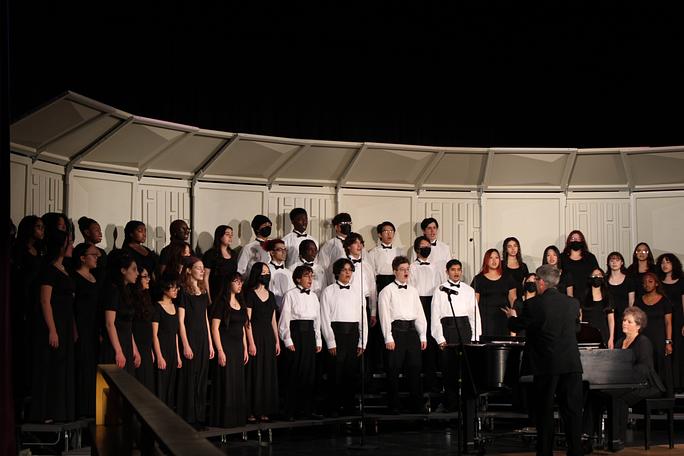 Then, Concert choir took to the stage performing "Dai Diddle Dai," "I Wonder as I Wander," "Ding a Ding a Ding," "El Desembre Congelat," "How Can I Stop Singing My Song" and "Do You Hear What I Hear" with soloists Brian Vences and Jose Mejia taking part in "I Wonder as I Wander"
After the concert choir finished their last song, Cole was not done yet as he called on all choir alumni to join them on stage for the choir's final song "O, Holy Night." Vences commented on the moment detailing how "suddenly we go from like 40 people to like, sometimes 60 or 80 people. It's just incredible." Alyssa Littlejohn added, "It was also really special for me this year because I actually got one of the solos, and it's something I had been waiting for for years. It's just amazing to have it. It's really special for my family and it means a lot that I had one of them and it is really special."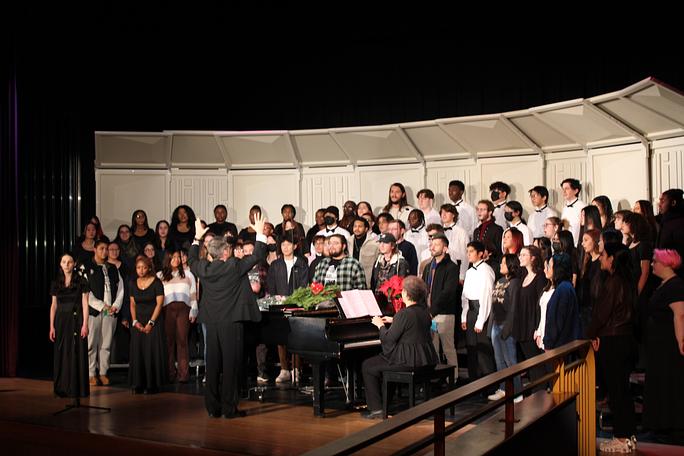 When asked about who they thought did well, Dang said "I want to give props to all the Mixed Chorus soloists because I know in my freshman year, our Mixed Chorus did not have any solos, and it's always frightening to just put yourself out there and sing into the microphone, Vences said "Olivia absolutely killed her solo. When she came up, I was like, oh, Olivia has a solo and I thought it was cool. And then she started singing and I was like, Oh my God. That's incredible. She did really good!"
Vences closed by saying how "all of our concerts are always free. We do not charge you at all. We take donations if you want to donate, but it is not required. We want everyone to be able to experience the choral music that we put out and that we spend our time on."