$146,200. That is the gap in median household income between Cordaville, the wealthiest town in Massachusetts, and Barre, the poorest town in Massachusetts. Socioeconomic inequality is not a new phenomenon impacting the United States. Although it seems that high school sports should have no relation to the topic, its system exacerbates the issue and puts the lower class at a disadvantage.
So, what is the problem? It lies in the way that conferences are constructed under the Massachusetts Interscholastic Athletic Association (MIAA). The most reasonable conference makeup would be by region, giving kids shorter rides home on late nights, fewer transportation costs, and closer rivalries. However, schools are able to enter their conference of choice, allowing the development of superconferences.
Malden sits 170th out of 242 on the USA.com ranking of median household income by city in Massachusetts. Malden High School plays in the Greater Boston League (GBL) conference, which also is comprised of Revere, Medford, Somerville, Lynn Classical, Lynn English, Chelsea, and Everett. These are all cities just outside of the Boston area, making them more urban. Most of these cities are on the lower end of this ranking. At the same time, the success of the conference's sports teams is not very high in many sports, especially ones with a high cost to play.
Why? It all starts with how socioeconomic inequality affects educational differences. These are all public schools, which means they are not getting tuition funding like private schools. This also means that these cities are less likely to have adequate facilities compared to other cities. Finally, the populations of these cities are less wealthy, which gives kids fewer athletic training opportunities due to time, costs, and accessibility.
However, the largest problem is that many kids from these cities that do have the talent and resources are not going to public high schools. For example, a talented hockey player from Malden will choose to play for Malden Catholic High School or St. John's Preparatory School, two schools that compete in the all-private Catholic Conference. Since these schools are private and have far more funding for athletics, it is usually more competitive. Those athletically talented kids choose to play for a more competitive school since it will get them more collegiate exposure in the long run, leaving the GBL schools in the dust.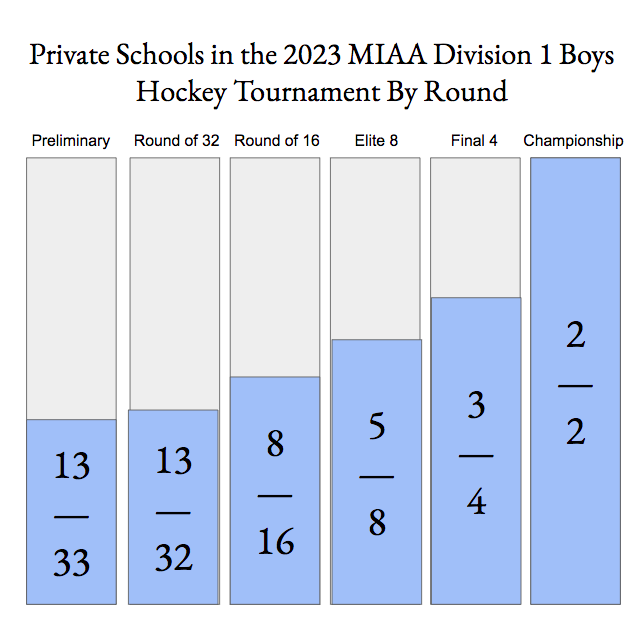 You cannot blame the athletes for this as they are just looking for the best possible athletic experience. Though, you can blame the conference and tournament structure of the MIAA. By allowing superconferences, the athletically talented kids have ventured into private schools and established a reputation that will be difficult to break. When the public schools do find a way into the tournament, they are often low seeds and have to fight through the top seeds (private schools) to advance.
One interesting thing about this is it is not seen in all sports. While those private schools are usually competitive all around, the public schools come close in plenty. A few examples are basketball, swimming, and track, in which public schools frequently compete and even beat the top private schools. On the other hand, hockey, baseball, and golf are dominated by private schools. One similarity between those three sports is that they are all expensive to play, which may make it more difficult for lesser-funded public schools to offer; in fact, many public schools are combining hockey and golf teams because they cannot field enough players.
Well, how do we fix it? There is no quick solution to change the reputation of different schools, but the best way to even out the competition would be to realign conferences based on location. While conferences may have severe talent differences at first, the athletes would spread out over time because superconferences would be limited.
Regardless of all of this, students continue to have fun playing the sports that they love. Although their competition might be far superior, there is no denying that the existence of high school sports in the first place is taken for granted. Still, we need to fix what is wrong with our system. Your wealth shouldn't have such a significant impact on your school team's competitiveness in sports. Let's do what we can to close the gap.