All photos taken by Beatriz Oliveira
"Ever since I joined the National Honors Society (NHS), I've wanted to start a service project where crocheters were able to make and donate their own work to shelters or places in our community," said Elina Yang, a junior.
In the month of May, Yang and some other students in the NHS created a crocheting project. Students were welcome to come to B452 Kathy Maglio's room during Joy to make crochet hearts so they could be donated to the elderly. "We wanted to remind them that there are people out there who care about them, even if it doesn't seem like it," said Yang.
These crochet hearts were easier to make, especially for beginners so that more people would be able to participate in the project. Members of the NHS and other volunteers were able to make around 50 crochet hearts. They attached a nice message to each of the hearts and donated it to the Senior Center. "It was really fulfilling to see our work pay off," said Yang.
Students helping each other with crochet.
Yang has been crocheting for a year now. She explained how she started this journey in her sophomore year by first learning to knit in a Joy Block run by Jessica Webber, a science teacher. This school year, she had decided to join a crochet Joy Bock run by Maglio, also a science teacher. Yang said, "It was easier to get a grasp of crocheting since I learned how to knit first, but Ms. Maglio was the one that taught me the basics."
Ever since the start of FLEX, Maglio has had this crochet session available to students during Joy Block. It was a place where students were invited to explore and learn about the art of crocheting because it had been a part of her life for such a long time. "I've been crocheting my whole life since I was probably 12 or 13. My mother, my aunt, my cousin, everybody just did it," said Maglio.
After years and years of practicing this skill, Maglio knew that she had to share it with others. With the new schedule as of last year, she took the opportunity of Joy Block to do something she enjoyed dearly. Maglio said, "Because they said, 'it's a Joy Block, you can do anything' and I said, 'anything, like anything? I can teach kids to crochet?' Because it's so non-academic and they said, 'yeah.'"
Although what Maglio had not expected was that so many students would be interested in learning to crochet. "There's always a waiting list. When I first did it, I couldn't believe how quickly it filled up. I was stunned at how many kids wanted to learn how to do this because it seemed like such an old thing and kids love it," said Maglio. Especially because she had never taught more than one person at a time, when 15 students showed up to her classroom, she was overwhelmed.
Yang explained, "What made me want to join this crochet Joy [Block] was because I knew I enjoyed knitting, but I wanted to step out of my comfort zone and learn another craft." She continued, "I saw a lot of videos online of different crochet amigurumi patterns and I wanted to get to a level where I could make anything by just following a pattern! The environment in this joy also felt really comforting and welcoming. I would see new faces there everyday and it was nice knowing that more and more people were willing to learn how to crochet."
Crocheting takes patience and time to learn because it requires the use of both hands and there are so many different stitches, yarns, and hooks. It can take multiple weeks for people to learn. Yang said, "the most challenging part of learning how to crochet was definitely finding a comfortable and effective way to hold the crochet hook."
She continued, "sometimes I would pull the yarn too tight or make it too loose because it would leave a lot of holes in my project if it wasn't consistent." This makes sense for most crocheters because one of the biggest struggles Maglio had in teaching others how to crochet was, "how to use their non-dominant hand."
Though, over time, Maglio got the hang of it. She would separate the room and gather the students who needed the most help to learn and allowed the students who were more advanced to do their own thing. "I would get them all going and some of them would really take off and understand how to just chain just how to hold the yarn and how to chain." She continued, "and then the other kids who were struggling more, I would give more specific instruction to."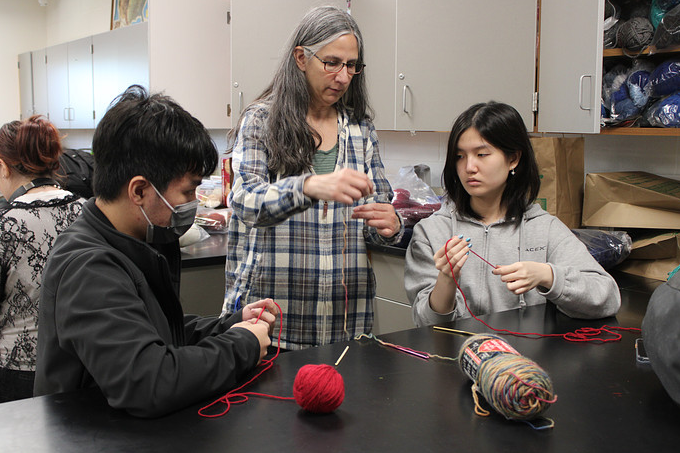 Now that crocheting has gained so much attention online, most notably through TikTok, students are more interested to come and learn about it in this Joy Block. Yang said, "This Joy Block has definitely significantly impacted me. I met so many talented people who were just as inspired as me to make something with their own hands. If I had never joined then I would've never been able to learn how to crochet and make things for our community."
She continued, "I would always look forward to coming to Joy to crochet because it was a way I could relax from the long day ahead of me, it's also just really fun to crochet with your friends and see what they end up making!"
Most crocheters share the same types of challenges when learning, and a part of that is the magic ring or magic circle. It's mostly used to crochet things like amigurumi but it hasn't always been as popular in the crochet community. "There were patterns to make critters, but it was in a much different way so this is newer. I did struggle to make the magic ring. I needed to be shown by three different people and it was the third person who I finally understood it by," said Maglio.
Yang agreed with Maglio's struggle. She said, "Another challenging part of crochet was 100% learning how to do the magic circle. That took me weeks or months to get a hang of."
(L) Aj Barchard working on a crochet ball. (R) Kyla Jobson making crochet Lilly Valley flower lights for a friend.
Anyone who has ever been to Maglio's Joy Block can note that she has a lot of yarn in her classroom available for students. Supplies like yarn can be expensive, so when asked about it, Maglio can say that half of the yarn has been donated to her.
Maglio explained that last year, Brian Morrison, a physics teacher at Malden High, mentioned that his mother has extra yarn at her church group from making blankets. Being offered this yarn, Maglio accepted because with so many students showing up, she was bound to run out of supplies.
Maglio explained, "We live a couple of towns apart, so I met her in a parking lot in the middle and she just gave me some bags of yarn and then I said, 'literally any scrap of yarn you have, we'll take.'" Every now and then, Maglio receives new scraps of yarn that all the students love working with.
Maglio and Morrison's mother grew closer because of this which is why on Christmas and Easter, she asked that the students in her Joy Block sign a thank you card to her. Saying thank you for all of the yarn they received throughout the whole year. "She was very appreciative of those cards," said Maglio.
Due to the start of this Joy Block, as well as such a beautiful NHS project, crocheting has become a common hobby of many different students at MHS. This activity has helped to unite all students from different backgrounds as they all try something new for the first time.