As the season rolls in, the Malden High School Varsity golf team enters a new season led by returning now-senior captains Tristar To and Blue & Gold member Piero Pocobene. Coaching the sport of "honor and integrity" once more is Richard Malatesta.
This year's "team is looking especially good," citing "new enthusiastic and a lot a returning players who are all ready to win," according to Malatesta. Coach Malatesta admits that the loss of "five veteran players has hurt [them] a little bit, but like To, he says that there are "some [players] coming up and they're playing well." To be able to lead such a team for the third year in a row, To exclaims how much of "an amazing honor and privilege" it is to work with the team.
Malatesta divulges that as always, the goal is "to make the state tournament, but even more than that, our primary goal is to have students enjoy golf and have it be a game for a lifetime." These sentiments are echoed b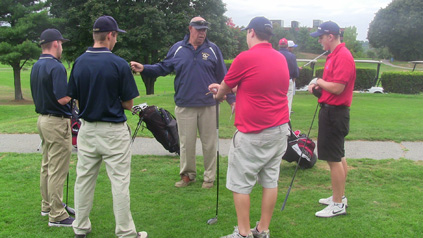 y captain To as he says that "the team goal is to have fun bring back a GBL championship [win]." Throughout his years as a Gold Tornado golfer, To has become a prime example of Malatesta's primary goal of having golf becoming "a game for a lifetime" as when asked what golf mean to him, without hesitation, To stated "golf to [him] is a lifestyle and a reference point," as it his way to "have fun and relieve stress," and "even meet new people."
Currently, the MHS Golden Tornado golfers are going 3-4-1. MHS Golf has two wins against Everett High School and one against Medford High School. Malden has also amassed 2 losses against Somerville High School, one against Medford, and another with Lynn Classical High School. There was also a tie with Medford, a match that ended 36-36. With the record not so great so far, the team works harder each day with co-captains To & Pocobene to improve their game, and their love of the game.