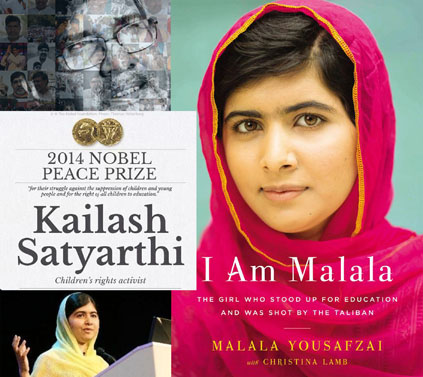 On Oct. 14, 2014 the Norwegian Nobel Committee awarded Malala Yousafzai and Kailash Satyarthi for their outstanding contributions to peace. Satyarthi and Yousafzai were praised for their, "struggle against the suppression of children and young people and for the right of all children to education."
Two years following the Taliban's attempt to assassinate Yousafzai, she has become the youngest Nobel Prize laureate and the only Pakistani to ever win the Nobel Peace Prize. Yousafzai is from Swat Valley in Pakistan, where the Taliban have banned girls from attending school on multiple occasions. When she was 11, Yousafzai wrote a blog for BBC World Service under a pseudonym instead of revealing her identity in which she described her experience and the hardships as a young girl attending school in Pakistan.
A year after posting her first blog entry, a journalist named Adam B. Ellick produced a New York Times documentary about Yousafzai's life and experience during the culmination of the Pakistani military during the Second Battle of Swat. After the documentary, Yousafzai's was interviewed by many journalists and news stations. Although her promotion of education for the girls in Swat Valley was gaining international attention, she also caught negative attention, especially from the Taliban. On Oct. 9, 2012,  gunmen from the Taliban stormed Yousafzai's school bus and shot her in the head. She remained in critical condition following the attempted assassination, but was able to recover.
The attack on Yousafzai not only captured international attention, but also an immense amount of support. The United Nations petition called "I am Malala" helped make Pakistan's first Right To Education Bill possible in 2012. She was also feature on the front page of Time magazine in 2013 as one of  "The 100 Most Influential People in the World" and the first winner of Pakistan's National Youth Peace Prize, which was subsequently named the National Malala Peace Prize in her honor. Yousafzai also co-wrote a memoir with a British journalist, Christina Lamb, called  
I Am Malala: The Story of the Girl Who Stood Up for Education and was Shot by the Taliban
.
Like Yousafzai,
Satyarthi
has also promoted his beliefs of human rights.
Satyarthi
is an Indian human rights activist who has been a leader in the vanguard of ending child labor. He left his job as an electrical engineer to expose the acts of child labor as a violation of human rights.
Satyarthi
has since helped rescue over 78,500 child slaves.
In 1998,
Satyarth
i became the leader of an organization called the Global March Against Child Labor. He has made it clear that he believes, "child labor is responsible for the perpetuation of poverty, unemployment, illiteracy, population explosion and many other social evils." The organization's goal was to protect and promote children's rights, especially their right to education.
Both Yousafzai and Satyarthi's acts of bravery have impacted children in Pakistan and India. They have helped keep them from enslavement and from being denied the right to an education. Because of this, the two Nobel Peace Prize winners and their common fight for education against extremism have left an impact on not only their hometowns, but on people all around the world.